It was surprising to find a confession coming in so early in the series. The confession comes from Zhong Shao Xi at Episode 4. Yan Li Zheng's response to Zhong Shao Xi's confession is one that explains to Zhong Shao Xi why he can't accept her like even though he does see her as someone he cares about.
Yan Li Zheng:
"From back then up to this point, I've not dared to think about who'd like me. Before knowing you, no one has ever known what was on my mind because I spoke very little. I've also never spoken to anyone about what was on my mind because I didn't know who I should go to say the things I wanted to say. I don't smile a lot and I rarely get angry. A lot of the times I don't even know what expression I have on my face because I don't know who I should be smiling at, who I should be angry at and who's feelings I should care about. That's why I'm always by myself. However, after knowing you, there are some things that aren't the same. Although I didn't know how to get along with you at the beginning, the more I got to know you, I felt that, I, a person who doesn't consider anyone to be a friend, if there is a day I became friends with someone, it should feel like this. A person who doesn't have any siblings, whenever I'm with you, if there's a day I have a sibling, it should feel like this, too. Up to this point, you're my only friend and like family. Because of this, I've never thought about whether you'd like me. So, you asking me, 'Do you like me? Do you want to be with me?' I can only say I care about you. However, I've never dared to think about liking you. I'm sorry."
Zhong Shao Xi's confession comes after a sequence of events which started from when Zhong Shao Xi's diary entries got read out to the class by the school bully, Da Mao (Zhang Guang Chen).
Zhong Shao Xi's diary entries:
"Tuesday, October 1st. It's a fine day. It's the day of his entrance exam. At the time when I asked how he went, a gust of wind blew. When he extended his hand and came closer, my heart bet so fast. In that moment, I even thought he was going to kiss me. It scared me to death."
"Friday, October 11th. It's a fine day. He really passed the entrance exam to our school. Today is the first day taking him to school to go to class. Today is also the first day going on the route to school. At first, because I didn't want to let him know I was very nervous, I didn't notice I was walking particularly speedy. I also didn't want this path to end too quickly. So, I deliberately slowed down my pace. It was also the first time a guy didn't worry about how others saw us. I don't think he'll ever know how happy I was at that moment."
"Friday, November 29th. The weather seemed to enjoy being rainy weather these days. Because of the rain, we can only be stuck inside a telephone booth. He didn't want to admit defeat around me. I taught him over and over again until he finally mastered it. It's strange. I am clearly not a patient person. However, no matter how many times I taught him, I didn't become tired of it because it's only when I'm teaching him Mandarin that I can definitely keep looking at him. If time stopped at this moment, how great would it be?"
Snippets of these diary entries get read out by Da Mao. Zhong Shao Xi speak of the moments she had with Yan Li Zheng ever since they became friends. With these diary entries that don't make any mention of Yan Li Zheng as the subject, rumours go around the school to whom Zhong Shao Xi was talking about in her diary. Those schoolmates gossiping guess correctly as they speculate Yan Li Zheng is the person Zhong Shao Xi was writing about in her diary and is the one she likes.
Zhong Shao Xi felt her like was an inconvenience to Yan Li Zheng. She felt the gossip was another inconvenience to him. Zhong Shao Xi forced Jin Yu Bin (Greg Han)—her classmate and someone she once saved from a group of high schoolers bullying him—to accept her confession she made in front of her class to divert the gossip away from Yan Li Zheng.
Yan Li Zheng was affected by this information his female classmate spread to his ears. Li Ru Ping, Zhong Shao Xi's best friend, helps to quickly clear the misunderstanding when she explained it as simply Zhong Shao Xi wanting to not inconvenience him with the gossip.
Before this whole event of Da Mao reading out Zhong Shao Xi's diary which brought a rift in their friendship as Zhong Shao Xi couldn't face Yan Li Zheng after it, Yan Li Zheng was heard sternly warning a couple of his classmates (classmates who wondered about what type of relationship he had with someone like Zhong Shao Xi who's not attractive with her guy-ish ways) that no one is allowed to bully or ridicule Zhong Shao Xi in his presence. We get to see what Yan Li Zheng does when someone does bully or ridicule Zhong Shao Xi.
Yan Li Zheng initiated a plan of building a friendship with Da Mao to get rid of him by cornering him into transferring out of their school. He approached Da Mao at the gymnasium and played a round of basketball with him. The round saw Yan Li Zheng winning easily. After this, Yan Li Zheng became friends with Da Mao. They hung out with each other at a gaming café. Yan Li Zheng brought Da Mao to come onboard with his plan to get him to cheat on an upcoming test the school had. The way in which Yan Li Zheng had Da Mao decide to cheat on the test was first getting Da Mao to see that repeating the year again from bad grades is undesirable then told Da Mao he knew the passcode to the safe in the staff room where the test answers were. Yan Li Zheng told Da Mao he would help him create a situation so he could sneak in and obtain the test answers.
Yan Li Zheng was successful in this plan of his. However, he had to deal with the aftermath of his plan on the day Yan Li Zheng had to meet up with Zhong Shao Xi at the movies. Da Mao appeared before him looking for him to explain why things turned out to be him in trouble for turning in an answer paper that had all the correct answers for the original test paper which got replaced with a new one when the teachers had noticed something odd. It was not difficult for Yan Li Zheng to deal with Da Mao. With the reasoning that his good character will make Da Mao look like a liar then making Da Mao believe he could push him over the bridge they stood on and hurl him down onto the traffic below with no consequences for Yan Li Zheng because he says no cameras in the area could capture their current position. He told Da Mao he could use suicide after cheating in a test as reason for his fall to the traffic below. Yan Li Zheng successfully gets Da Mao to transfer out of their school without implicating himself.
But this caused Yan Li Zheng to miss the meetup he had with Zhong Shao Xi at the movies. The meetup was for keeping his promise to treating Zhong Shao Xi to a movie for getting in the top 100 in the test. She placed 87th. Yan Li Zheng not turning up to the movies had Zhong Shao Xi leave the movie theatre crying and angry. It required Yan Li Zheng to ask Zhong Shao Xi to allow them to have a talk to talk this through.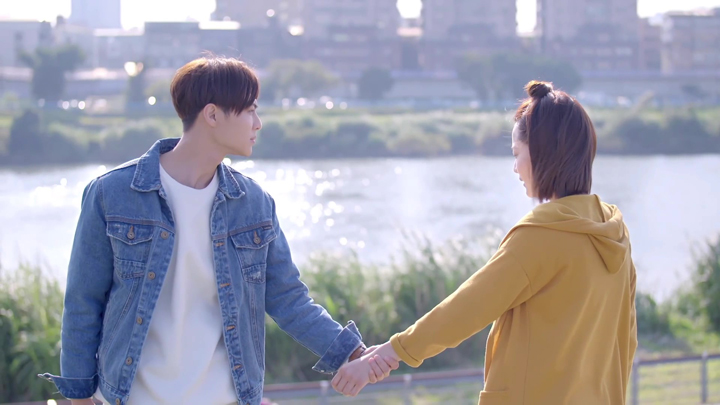 Yan Li Zheng had apologised for missing the meetup. Zhong Shao Xi's response was not anger or disappointment in Yan Li Zheng for not showing up to their meetup at the movies. She directed the blame back at herself for the outcome that came. She told Yan Li Zheng he had nothing to apologise for because she should've not understood 'treating her to a movie' to mean going to watch one together. This then led Zhong Shao Xi to apologise for breaking the promise of not keeping things in when she had made him promise to not keep things in. With this, Zhong Shao Xi decided to confess: she said she liked him then asked if he liked her and if he wanted to be with her. This confession then brought Yan Li Zheng to respond as he had and Zhong Shao Xi accepting that response he gave.
We later see in the series that though Zhong Shao Xi accepts Yan Li Zheng only knowing her to be a friend and a family member he cares about a lot, and how she will maintain just a friendship she has with Yan Li Zheng, she finds it very lonely to continue to secretly like Yan Li Zheng and keeping that like she has for him to herself.
ADVERTISEMENT