Whilst on the search for ways to watch the 2021 Chinese Spring Festival Galas online, we came across a couple very awesome Chinese streaming apps which not only streamed the Chinese Spring Festival Galas we were looking to stream, but the apps were pretty awesome sources for streaming and discovering Chinese dramas old and new plus other Chinese content like variety shows, interviews, behind the scenes, current affairs and documentaries! This being the case, we thought we'd do a post on our three favourite apps which are great sources as well as great places to discover new and old Chinese dramas and other Chinese content.
YouTube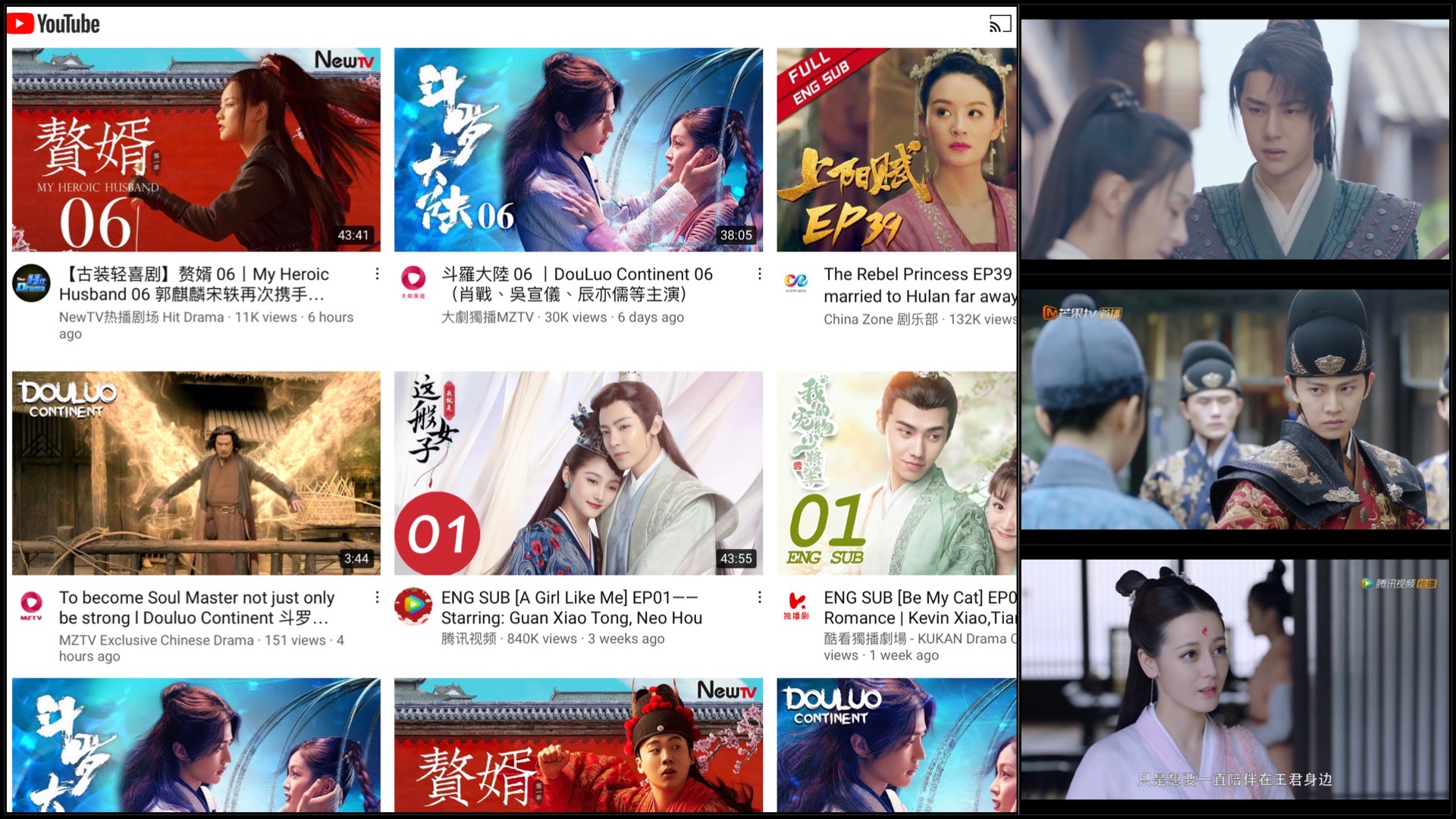 For a number of years, we've used YouTube to watching and discovering new Chinese dramas. Who would have thought YouTube was such a great place for discovering and streaming Chinese dramas, right? But YouTube has become that for us! YouTube is full of channels offering preview clips of upcoming Chinese dramas as well as full episodes of newly released and classic Chinese dramas!
Below is a list of YouTube Channels which offer access to full episodes. Over the last couple of years we've managed to curate a nice little list of channels on YouTube and served us well with keeping up with some the newest Chinese dramas airing and news of upcoming dramas, too. We recommend adding them as together they really do offer quite a nice selection and a nice way to discover new dramas!
We've also added a MGTV Idol Station that isn't a drama streaming channel, but it's a great channel to get your Wang Yibo fix as it features a lot of clips of variety shows which feature Wang Yibo!
All the above channels offer English subtitles, too, thanks to contributing viewers as well as the channel owners themselves! With casting devices like Chromecast, which YouTube supports, we can cast it and enjoy it on TV!
WeTV
The WeTV app is the second app we downloaded. Years ago, WeTV's app was only available in Chinese and its dramas also only in Chinese. There were no English subtitles in the dramas, but since then, an English version of the app is available with its content available in English, Chinese Traditional and Chinese Simplified, Thai and Malay. Just like YouTube, the app supports Chromecast allowing content to be cast onto TV screens!
央视频 Yangshipin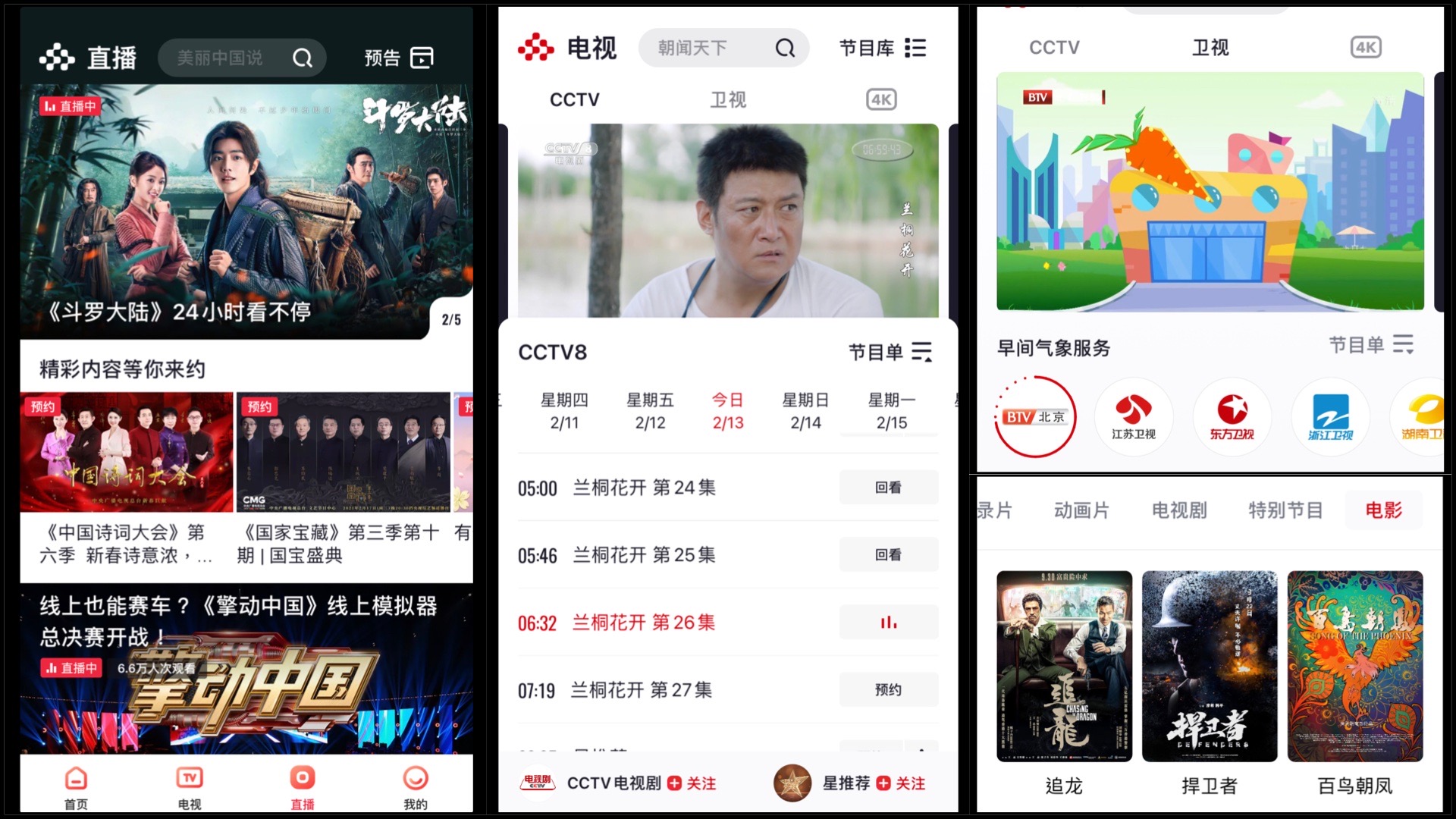 The Yangshipin app is our most favourite find (as you might be able to tell as we spend quite a bit of this blog talking about it!) Although the content available here is all in Chinese with no subtitles except Chinese, it is still a fantastic place to stream the many Satellite Chinese Television stations available in China – from CCTV 1 to CCTV 17 – plus regional channels.
This app is the one which allowed us to catch all the live feeds direct from China and we were pretty excited as one of our favourite famous people was featuring in so many 2021 Chinese New Years celebrations this year! Actor and singer Xiao Zhan had been announced as appearing in three different celebrations and this Yangshiping app allowed us the opportunity to view all three appearances at the same time as one would in China! Thanks to the live chat feature within each of the station pages, we were able to switch between CCTV 8 and Dragon TV to catch two of the three appearances which was pretty cool. The third appearance was on BTV, a channel we thought wasn't available on the app, but actually was! How sad we were when we discovered this after the live broadcast of the BTV celebrations were finished. : o( : o(.
Extra info: Wang Yibo was in the CCTV 1's Chinese New Year Spring Festival Gala celebrations. As we were already trying hard to catch Xiao Zhan's appearances, we couldn't make it to see Wang Yibo's appearance during the live broadcast, but we were able to catching his cool rapping on the app after a full-length video of the celebrations were made available after the broadcast. You can also see many of the Spring Festival Galas on YouTube now! No subtitles, though! Anyone who's a fan of Ren Jia Lun, Ayunga, Dilraba Dilmurat and Li Xian, they all appeared in the same Spring Festival Gala as Wang Yibo! Heart!
As well as getting live broadcasts and streaming of the stations, the app offers a selection of On-Demand Chinese dramas which have been aired on the channels. So, if you miss watching the broadcasts, some dramas are available to stream. It also offers On-Demand documentaries, clips of the interviews with stars, films, variety shows, food shows and current affairs clips.
Again, the content on the app is all in Chinese, but it's still a great app to download, especially for times when you want to catch the live broadcast of a programme featuring your favourite Chinese stars or for star-studded celebration like the Chinese New Year celebrations.
The live chat within the live broadcasts are in Chinese, too. If you're inclined to join the conversation, there's no rule one can't type in a different language if Chinese is not a language you can type in.
One last cool thing about this app is that even when you're not on the app, as long as the app is running in the background and the channel is playing, the audio can be played in the background while working in other apps. (This was the case when we were working on our iPads, iOS 14.4.)
It's a pretty awesome app! It's like having a TV with all the Chinese channels on a tablet or phone and more! Sadly, this app doesn't have casting functionality, but the app does support Apple AirPlay.
There you have it: YouTube, WeTV and Yangshiping. These are three of our favourite apps for streaming and discovering Chinese dramas and programmes! We know of a couple more apps which offer streaming of Chinese dramas. They are iQiyi and Mango TV, which we didn't download. You might want to give them a look if a drama you're looking to stream isn't in the ones we mentioned. We believe iQiyi has English subs available. We're not sure about Mango TV offering English subtitles, though.
2021 Spring Festival Galas
Just before we finish this blog, if anyone out there missed Xiao Zhan and Wang Yibo's appearances in this years Spring Festival Galas, we've embedded the videos below. Other cool stars such as Ren Jialun, Li Xian and Dilraba Dilmurat also feature, so keep a look out for them! Happy Chinese New Year and Happy Chinese Drama Watching!
Dragon TV (featuring Xiao Zhan)
BTV (featuring Xiao Zhan and Dilraba Dilmurat)

CCTV1 (featuring Wang Yibo, Li Xian, Ren Jia Lun, Dilraba Dilmurat)