With Diviner yet to be in touch with Immortal, the Immortal Team have come up with a unique feature on Internet celebrities, an idea which Li Hui Zhen was inspired to pitch at the team meeting after seeing Xia Qiao become so popular online. The idea went down well with the team, and hopefully this idea will go down well with their readers and save them from closure. Just as the magazine is about to go through the printers, Bai Hao Yu receives a text message from Diviner. The elusive, immensely popular author has decided he'd accept the interview. Immortal might be saved after all.
Pretty Li Hui Zhen, Episode 37 Recap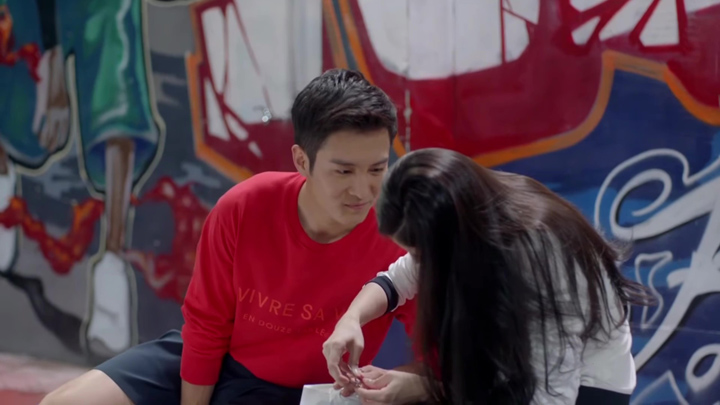 In the last episode, Li Hui Zhen challenges Bai Hao Yu to come out and play. That challenge turns out to be a game of basketball only there wasn't a lot of basketball playing. Li Hui Zhen and Bai Hao Yu on a bench at the side-line, Li Hui Zhen suddenly decides she'd buy Bai Hao Yu a sporty outfit on her mobile phone (product placement?) and help cut his nails for him.
Li Hui Zhen:
"The outcome might not turn out the way we think it will. But as long as everyone knows that you've done your best, that's enough. You don't need to be so hard on yourself."
She then tells him to not be so hard on himself because things might turn out different to what they all expect, which sets us up to see Xia Qiao feature in the magazine, Diviner surprisingly return Bai Hao Yu's request for an interview and the entrance of the chairman's son as Immortal's new direct superior.
Xia Qiao has become an Internet sensation since she unintentionally opened a live channel on social media. Her tips about beauty has gotten many followers requesting a live makeover, which has Li Hui Zhen end up being her makeover subject.
Li Hui Zhen:
"How about we do a special feature on internet celebrities? Internet celebrities are a unique community. The main point is internet celebrities are especially popular now. If we can report about it before other magazines do and try to take this step first, then aren't we being one step ahead of them?"
Xia Qiao's online popularity has Li Hui Zhen come up with an idea to feature Internet celebrities as a means of differentiating themselves from other magazine who are all featuring traditional entertainment celebrities. The idea works perfectly as it not only allows them to feature something other magazines haven't but allows them to conform to trends.
Everyone loves the idea. Li Hui Zhen is put in charge of seeking the person who could serve as that Internet celebrities to feature in Immortal—a task which Li Hui Zhen has no problems taking on since it was with Xia Qiao in mind she suggested the idea.
Xia Qiao:
"I'm an ordinary person. If you suddenly have me appear in a magazine, turning me into a celebrity, I can't accept that."
"Do you know what I really can't accept? It's using my beauty as a selling point and saying I'm really popular. Doing this online is fine because no one really knows who you are. What if I get featured in a magazine? No way. No way. I really can't do it."
Now, to get Xia Qiao to agree. She's not too keen on the idea when she's brought into Bai Hao Yu's office to discuss being featured. She can accept appearing online and being famous because no one knows who she really is on there. However, featuring in a magazine (which she implies would mean she could get recognised by people), she can't see herself doing.
Li Hui Zhen tries to convince her by bringing up how this feature will make people think and be very interested. They'll wonder how an ordinary girl can become such an Internet celebrity. Is having beauty enough?
It doesn't budge Xia Qiao on the idea. Li Hui Zhen moves to play the guilt card, using their best friend status to coax Xia Qiao into agreeing. When that doesn't work, she uses the potential closure of Immortal, joblessness, homelessness, and returning to a directionless existence as a way to get Xia Qiao to change her mind. As Li Hui Zhen applies the guilt, Bai Hao Yu uses the no-pressure approach, helping Li Hui Zhen finish sentences to make them sound nicer. Things like:
Li Hui Zhen:
"Qiao'er, you're my best friend. That's why—"
Bai Hao Yu:
"She definitely won't force you."
Li Hui Zhen:
"Even if I get unemployed in the future and can't find a job, have no goals, end up wandering the streets, and must depend on all my strength to do part-time jobs—"
Bai Hao Yu:
"She also won't blame you."
The guilt-trip the two put on Xia Qiao has her agree and she's brought in to do the photoshoot. The spreads are put together ready to head off to the press for printing. Seeing the magazine in its final stage has the team feeling down as they think about the possibly of it being their last issue. 
Diviner:
"I'm willing to accept the interview from Immortal Magazine. My only condition is that the interview must be a one-on-one interview conducted by only Deputy Editor in Chief Bai Hao Yu. If that's fine, meet at 2 p.m. this afternoon."
But, as Li Hui Zhen had unknowingly hinted, things might not turn out the way they all think. Turns out, she was right. The elusive Diviner suddenly appears before Bai Hao Yu in the form of a text message, just after learning someone at Immortal had requested printing be halted for the time being. Diviner's interview looks to be the reason behind the halt. However, it's not Bai Hao Yu who had done this. (Who could it be?)
With Diviner accepting the interview, it also looks like Lin Yi Mu's departure is approaching. Who Diviner is still has yet to be revealed, but it's all in Lin Yi Mu's words to Xia Qiao that he's Diviner:
Xia Qiao:
"When I went to your office these past few days, you really can act. You were able to pretend as if you didn't know me. I really don't want to hide it from her anymore.
Lin Yi Mu:
"Soon. Very soon, everything will be announced to the whole world. There's no need to hide it from her anymore."
It's in his words to Li Hui Zhen after their day out together:
Lin Yi Mu:
"Hui Zhen, being able to meet you is the luckiest thing to have happened to me. So in the future, you have to take good care of yourself. Don't be so foolish."
Lin Yi Mu's Diviner. He's preparing to do one last grand gesture to help Immortal, his colleagues and Li Hui Zhen one last time before he leaves.
But before he leaves, he must enjoy one last meal, one last day with her—which he does by making her think he had something very important to say to her. He makes her think it's so important she must meet him face to face to hear it. When they meet, it sounded like he really was going to tell her that important thing he wanted to tell her: he started telling her who he really was, but then he sidesteps and tells her he was just especially bored.
Maybe his goal was never to tell her the truth, but to spend a day together before everything revealed itself. This reveal looks to be happening the very next day. Our guess is this is when Immortal publishes the issue that would decide its fate.
Li Hu Zhen:
"What's up with you today?"
"Did something happen to you?"
Li Hui Zhen is left confused and feeling something is not quite right when talks about their meeting being a blessing. Despite Lin Yi Mu looking like he's up to his pranking ways and having explained his reason for asking her out is because of his 'extreme boredom' and the day being 'a particularly boring day', Li Hui Zhen doesn't believe that this is all there is to him and this day.
Lin Yi Mu doesn't answer her. He only continues in his way, saying words that sound too much like advice from a departing loved one:
Lin Yi Mu:
"Don't get bullied. This society isn't as pure as you think. You have to think about yourself more often and protect yourself well. There won't be anyone protecting you in the future."
"When you feel down, go for a run. Remember that, okay?"
"If you really can't run, just think of me."
"Hui Zhen, I am your exit. I will forever be your exit."
Lin Yi Mu's words raises the hairs on Li Hui Zhen's arm. She thinks that maybe Lin Yi Mu's sick, that he's received some bad news from the doctor's and that's why he is saying all of this. It has her worried. But then, Lin Yi Mu laughs at her, finding her innocence (or cluelessness) cute. He pulls her in for a hug, before letting go upon the fuss Li Hui Zhen makes over how the neighbours will view the scene. He then takes his leave, telling her casually he will see her tomorrow. (Will he really? Or will he just take off after very likely saving Immortal?)
For Lin Yi Mu and Li Huj Zhen, it's the beginning of the end; but for Lin Hu Sheng and Han Xue, they finally get together. Han Xue, who's been fighting hard to reject her own feelings for Lin Hu Sheng, find herself forced to admit her true feelings and run after Lin Hu Sheng.
Since last episode, Han Xue has gone and asked for a break up because they aren't suited for each each other. Lin Hu Sheng isn't ready to accept this, though.
Lin Hu Sheng:
"Then could it be that you also won't mind if Wang Shina and I see each other?"
"She contacted me again. She said that she likes me a lot and wants to be with me."
In order to make sure Han Xue realise her own feelings for him—or at least have her be sure of what she wants—he tells her Wang Shina has been calling him. Not only has Wang Shina been calling him, but she's confessed her feelings for him and wants them to date.
Han Xue lets very little show she's affected:
Han Xue:
"Then be with her. Why are you telling me this?"
Lin Hu Sheng uses this to tell Han Xue that it's because she's the one in his heart. Then, to let her know how serious Wang Shina's feelings are for him, he adds that Wang Shina's answer to her confession is that as long as he's in her heart, she doesn't care someone else is in his.
Han Xue remains stubborn. She tells him that since Wang Shina's already told him in such a way then he should just go to her.
Lin Hu Sheng, who's been speaking to Han Xue at the bottom of the steps, closes the distance to give her one last time to take him back:
Lin Hu Sheng:
"Xiao Xue, I'm going to ask you one last time. Do you really not mind me being together with Wang Shina?"
Han Xue doesn't budge. His repetitive questions only make her repeat her words, telling him to stop standing around and go to her. 
So far, Han Xue's managed to hold in any care about who Lin Hu Sheng dates, but Lin Hu Sheng's next actions of calling Wang Shina in front of her to accept starting a relationship together has Han Xue finally unable to reject the feelings she has for him.
After Lin Hu Sheng leaves on a bus trying to hold in his sobbing, she appears outside his window, shouting for him wait for her (the bus is slowly accelerating as she's saying all of this). She tells him that her words were all said out of anger.
Lin Hu Sheng tells her to meet him at the next stop, which she does. In slow-mo, they run towards each other too meet each other midway, where they share a kiss. Han Xue finally chooses to follow her heart and not money and social status.
Editor-in-Chief:
"My little flowers! Have you all received the announcement? The inauguration ceremony of the CEO has been changed to take place here."
"Now, let's form a line and silently wait for the arrival of the new CEO."
Ending off the episode, the introduction of the chairman's son! It was supposed to take place out of office, but seemingly the chairman's son wants it at the Immortal office, because for the chairman's son, the Immortal office 'means everything to him'.
So, with the venue for the introduction changed to their own office, the team is told by the Editor-in-Chief to form a line to await the arrival of their new direct superior. Will we finally get to see Lin Hao emerge through the doors? From the back view of the chairman's son's head, it sure looks like it. But to actually see him walk through Immortal office's doors, it looks like we'll have to wait for Episode 38.
Comments
We are finally here! Who the chairman's son will finally be revealed next episode with Diviner's identity in the works of being revealed! It's been a slow drama for quite a while, but this episode was a pretty good one. It feels like a drama with lots going on. It had some sad scenes (e.g. Lin Yi Mu and Li Hui Zhen), happy scenes (e.g. Lin Hu Sheng and Han Xue) and anticipation (e.g. the entrance of the chairman's son). 
We missed out recapping a short scene between Xia Qiao and her step mother above, but this scene had good development. It has Xia Qiao and her stepmother make some progress after finding out her stepmother isn't vacationing in the U.S. as she had lead her and her father to believe. Her stepmother is actually in hospital awaiting a major operation to remove her uterus.
The discovery sees Xia Qiao realise that what her stepmother said about loving her father is true. She isn't with him because of money. A reason her stepmother didn't tell her father about the operation was because she didn't want to rely on him financially or psychologically or appear lacking in terms of being a woman.
The scene ends off with Xia Qiao telling her stepmother to take good care of her health. When she says this, she can't go without adding that it's for her dad and not her. We have a feeling Xia Qiao actually does care about her stepmother, though. She then goes and suggest they have a meal together, personally suggesting it to her stepmother instead of getting her father to do it.
On to Episode 38! Can't wait to see the reactions of Lin Hao's colleagues! Can't wait for the team to find out Diviner's in their next issue and who he is, too!! By the looks of things, we don't think the team knows Diviner's accepted the interview. : oD : oD.
ADVERTISEMENT