As of October 17th 2018 (October 16th 2018 in the United States), DramaFever, the popular online streaming site for Korean, Chinese, Taiwanese and Japanese dramas closes due to it being economically unviable according to a Variety article. The huge gasps of shock we expressed when we visited the site only to see a notice written in white text against a black screen saying they have shut down and that they thank the users of the site for nine great years: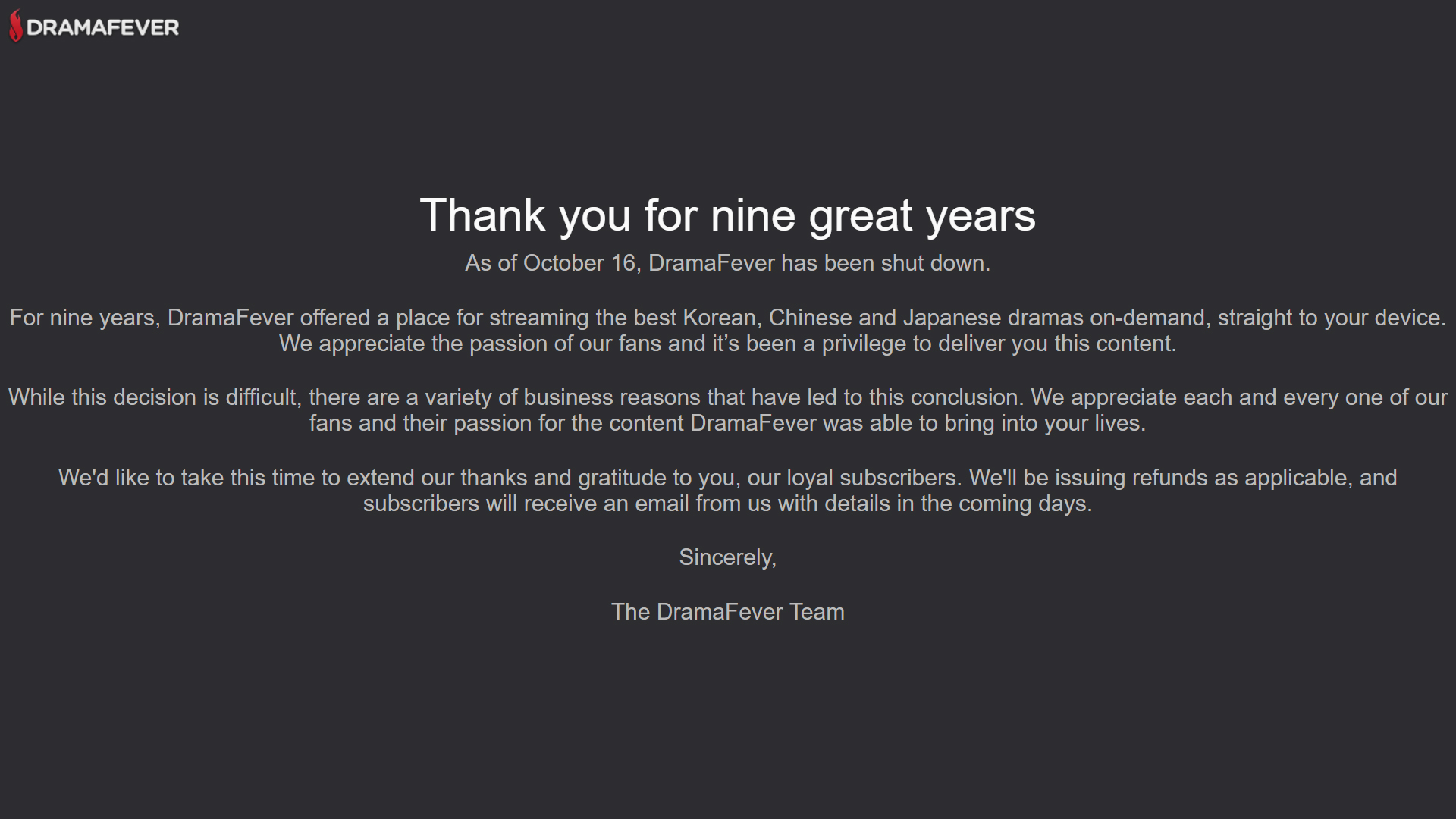 Being outside the Americas, access to Asian dramas on DramaFever has been rather limited over the years, but we still have managed to enjoy some really great dramas on the streaming site. No other site had It Started With a Kiss available for rewatching when we first joined the streaming site many years ago, at least not in good video quality. Then this year, we found we had a lot of access to dramas we came to love: Are You Human Too?, My ID is Gangnam Beauty, Miss Hammurabi as well as the currently airing 100 Days My Prince and Devilish Joy.
We're really sad we won't be able to finish the last two dramas on DramaFever. Searching around there were no articles on what will happen to these on-air dramas or whether they will be picked up by other streaming services.
But right now, we feel sad and a little empty that DramaFever is gone. We will miss the site and reading the tweets on our Twitter stream. Thanks for bringing Asian dramas to the international audience since 2009.
Addition (21 October 2018): It's been days since DramaFever shut down and we're finding ourselves browsing the Internet to see what more we could find out about its sudden closure. We came across this interesting article from Digiday which talks a little more in detail about the reasons behind the DramaFever shutdown. According to the article, DramaFever was shut down not because there wasn't an audience or profit, but as a service under a company owned by a multinational conglomerate focusing on bringing in billions of dollars rather than millions of dollars in revenue, DramaFever didn't make the cut. In short, DramaFever was small money.
DramaFever's parent company is Warner Bros., which is a subsidiary of WarnerMedia, which conglomerate AT&T owns; and it seems AT&T did not see DramaFever as having any potential for future growth. We can kind of see this point. DramaFever is a streaming service for Korean, Chinese, Taiwanese and Japanese dramas (and we think Spanish Novellas as well), but from the looks of things the biggest demand is Korean dramas. So, the only content that will keep DramaFever running and popular with users is bringing in Korean dramas. With licensing fees to Korean dramas costing so much more than when they started nine years ago, it does look like there is a point. According to the article, the cost to buy a Korean drama was $800,000 when DramaFever started; now it's between $1,000,000 to multiple million dollars per drama. We're assuming this is in US dollars. It's a jump in costs to buy dramas for this niche audience. (NB: Article says $80,000 per drama, but other sources have published $800,000.)
But it makes us wonder: if DramaFever had not been acquired by a media company under a multinational conglomerate, would DramaFever still be around? DramaFever was popular. It had loyal Korean drama fans willing to pay the subscription fee to get access to the latest Korean dramas. Under a smaller parent company, its expectations probably wouldn't have been as high as AT&T's. A smaller parent company may have still viewed the streaming service a worthwhile business despite the rising cost to license Korean dramas. To cover the rising cost of licensing fees, maybe the smaller parent company would have just gone with increasing subscription fees. We feel, under a smaller parent company, DramaFever could have survived.
The way Warner Bros. shut DramaFever down was pretty cold. There wasn't so much as an email sent to users, no media coverage prior to its shutdown to give us users the heads-up. It was only after the shutdown happened, we realised the only clue something was wrong was the little notice on every on-air drama saying new episode releases have been postponed. We don't know exactly when this message was put up, but this message was definitely not there a week before its closure. When we did notice, it was the day before DramaFever shut down. Regardless, the shutdown was still sudden, unexpected and it just doesn't feel all that right.
ADVERTISEMENT