When we think of Korean legal dramas, we think heavy or dark plot with maybe graphic crime investigations, serial killings and innocent people dying horribly. It's a genre we've watched a number of times and have found a couple of them interesting: we thought I Hear Your Voice starring Lee Jong Suk and Lee Bo Young was good and so was Suspicious Partner starring Ji Chang Wook and Nam Ji Hyun. But these kinds of dramas with their heavy storylines, foreboding events, elusive serial killers on the loose can be so hard on the heart. They're the kind which has us hesitate to call a favourite despite thinking it was a good drama.
Miss Hammurabi, though, we can finally say we love it. There's no heavy storyline with serial killers and graphic crime scenes. No loved characters are in danger of being killed.
The Story
Miss Hammurabi is a light legal drama with a very interesting story about the corruption and power imbalance between the weak and powerful; and how the cold, unfeeling and sometimes corrupt handling of cases by judges prevent justice from being served, sustaining the injustices suffered by the citizens, especially those in weaker positions.
Park Cha Oh Reum: sympathetic judge with soft-spot for weak and powerless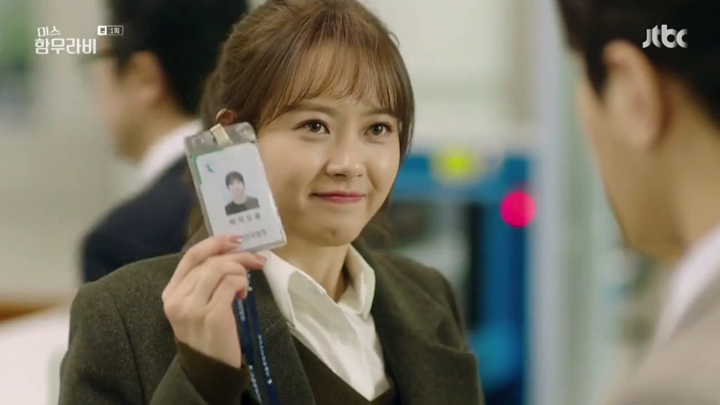 Park Cha Oh Reum (Go Ara), the new Left Associate judge entering Department 44 Civil Affairs at Seoul Central District Court, is the one to take on the place to try right the wrong through her judicial powers as well as change the way the court deals with cases.
She arrives with a past of having suffered more than her fair share of injustices. She was a victim of sexual harassment when she was a high schooler. She watched powerlessly as her mother received beatings from her late father. She had once lived in the upper class, but bankruptcy saw her and her grandma live more averagely and more modestly. So she understands what it's like to be in a weak and powerless position.
Because she understands it so well, she is particularly sensitive to any case which involves crimes and wrongdoings committed against the weak and powerless. As such, she won't hesitate to take a stand, to approach them, hear them out and do her best to get to the bottom of the cases with hope she can help them obtain justice.
She creates a whole lot of headaches for the courthouse. As a judge, she is supposed to remain impartial, not communicate privately with litigants or do anything that might affect people's confidence in the justice system. But she goes against it all. When she's called up for it by the Chief Presiding Judge (Ahn Nae Sang), she defends herself as being no different than offering free counsel which she has seen the Chief Judge (Kim Hong Fa) do one time.
Im Ba Reun: cold, unfeeling, clinical judge
Im Ba Reun (Kim Myung Soo, aka L from K-pop group Infinite), Department 44 Civil Affairs' Right Associate Judge, eventually joins Park Cha Oh Reum in her fight and becomes her strength when things get tough, but it's a clash of views and approaches at the beginning.
Im Ba Reun's view is that feelings and sympathy have absolutely no place in court, and a judge with such won't last long. He sees no point in getting worked up, taking sides and fighting to change anything either. To him the world is so messed up, it's impossible to change. So, he sees his duty as one where he protects what's left of the world by following rules to a tee and using only facts and evidence to make judgements, not challenge the world and cause trouble in trying to change it.
Im Ba Reun's cold, unfeeling approach to cases seem to come from his lack of understanding of other people's hardships and the obstacles they face. Im Ba Reun doesn't come from a privileged family: his father is often passed out drunk at home after going out saving the world the whole day (like donating blood many times the amount in his body, agreeing to be a guarantor when he has no ability to be), while his mother is left holding the fort selling insurance, make-up and anything else she can to make money. However, he has never struggled in his studies and it looks like he won't be struggling in his career.
He was a top student in high school, a top graduate in the training institute for becoming a judge, and even whilst being a judge, he had offers from law firms wanting him to pay him industry's best to switch his profession (Episode 1). Im Ba Reun is talented, very capable and has a very promising career. He can support and protect himself, he doesn't need to rely on people or bother people to help him because of that.
His ability to support and protect himself has him forget that not everyone is as capable as he is and need others to rely on. Park Cha Oh Reum points out that this is a kind of power which the weak don't have and so they must rely on others to survive (Episode 4).
Emotional judge versus unfeeling judge
The two associate judges sets up the two sides to an argument relating to judges who allow the heart to be present whilst handling cases and judges who don't. The headaches and trouble which Park Cha Oh Reum creates when she enters the courthouse, the impression she gives off is that she is too aggressive, too emotional and not like a judge at all. She comes off more like an advocate for the weak and powerless than a judge.
Using a lawsuit involving an elderly lady being sued for not paying back the money she owes her lender, we see the issues of her emotion-driven responses to cases (Episode 2). In the trial, an elderly lady adamantly claims she had paid the money back, only that she lacked the promissory note to prove it. She claimed in the trial that she had assumed that once she paid the money back, it was the end of it and had never thought to get the promissory note back from the lender.
As it turns out, this was a lie, but Park Cha Oh Reum took the elderly lady's word for it. She went to hear the elderly lady's story out in more detail to see if she could help her in the way of getting a settlement somehow. She never thought to go to the other party to hear out their side of the story, though. Consequently, she missed the truth of the situation and had mistaken the perpetrator for a victim and the victim for the perpetrator.
But in what seemly is this drama's style of providing a counter argument, the drama turns to feature a case which sees her sympathies resolve a lawsuit. The second lawsuit involves a mother suing a restaurant owner for a waitress' mistake of grazing a barbecue grill pan over the side of her son's face (Episode 2). The case didn't have evidence to prove the incident occurred as there was no proof of damage or injury was suffered, yet the mother had filed a lawsuit against the restaurant. Her superior, Presiding Judge Han Se Sang (Sung Dong Il), saw little the court could do and instructed Park Cha Oh Reum get a settlement from the two parties. Park Cha Oh Reum got it, but ended up refusing to have it processed because of a gut instinct which told her there had to be a reason for the lawsuit.
Against the instructions of her superior, she forced the hearing to continue, and managed to uncover the truth. The incident did occur. No physical injury had been suffered, but a deep emotional injury. The son had a fear of flames which he developed from a traumatic experience with hot pots. He also had a mental disability and an issue with shouting. His mother told the court the restaurant owner's angry reaction reminded him of the times his father would yell and beat his mother. Without living this young man's life, no one would understand and see the emotional injury the grill pan inflicted was much greater than what the eye could see.
Not all emotions should be erased in court
All this mother wanted was for the restaurant owner to acknowledge the incident had happened, apologise and see that his mistake was getting angry instead of just asking whether her son was okay at the time. This was the injustice the mother suffered, and the above was all she wanted. So, in cases where evidence lacks, a judge who allows the heart to feel and sympathise can actually guide the judge to making decisions which lead to uncovering the truth.
Following this case, Im Ba Reun, who had been so firm about needing to be cold and emotionless when handling cases and whilst in court, now sees the value of having some emotions in court. He notes that while a judge mustn't show any emotions in order to remain objective, it doesn't mean a judge should erase all emotions as there are things only the heart can see. He admits that it was his lack of sympathy towards the litigants that had prevented him from discovering the truth which Park Cha Oh Reum managed to do all because she didn't stop her heart from being present during the hearing.
A judge must not only listen, but listen well and until people are done talking
Han Se Sang admits to a failing during this case, too. This failing is forgetting to listen. His presiding judge had given him some wise words when he started as a judge, and that was that a judge must not only listen, but listen well and continue to listen until people are done talking. His presiding judge had told him that even after 30 years of being a judge, he still didn't know what was right and what was wrong. In order to figure this out, listening well was the key. Seeing Park Cha Oh Reum refusing to end the hearing saw Han Se Sang realise that even after 20 years of being a judge, he was still struggling to heed to that advice well.
Change towards more time spent and investment in uncovering the truth
It's a small win in Park Cha Oh Reum's fight for justice because the next case that follows sees Han Se Sang allow more time and investment in looking over trial details before making a ruling. Im Ba Reun seemed to expand his focus to beyond just the evidence and arguments presented, too.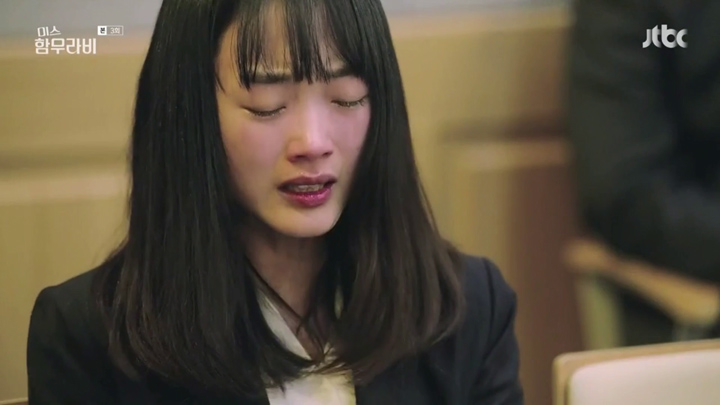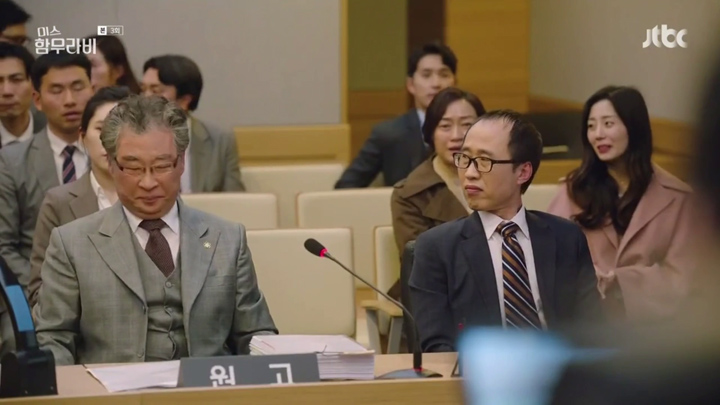 In this next case, an advertising manager sues his former employer (a marketing company) for firing him over what his attorney argues as just some racy texts meant to be taken as jokes to an intern (Episode 3). The argument that a middle-aged man who hadn't quite caught up with the times to know his jokes were inappropriate seemed pretty convincing, especially when all the female character witnesses testified in support. The fact that the advertising manager only sent texts using song lyrics to form the racy texts plus one photo of his unattractive hairy chest, and not actually physically touched her, was also used to support the argument that it was a tasteless joke and that the dismissal was unjustified.
In the beginning, Han Se Sang was able to sort of see the point the attorney was making and scolds Park Cha Oh Reum to not react so rashly as it involved the suffering of his whole family. A man fired from his job is like the death of his family he argues. This is a point which the advertising manager tries to convey as well when the trial continues again, and it's what sways Im Ba Reun towards seeing Han Se Sang's reason for being so cautious about this case.
But then the defense's lack of fight in defending the company's firing of the advertising manager has all three judges questioning the legitimacy of the case. When the defense was asked to defend their side, they only had his witness (an intern/the victim of the advertising manager's racy texts) confirm the truth of her statement and that the way the advertising manager lost his job was after the texts were published on social media after her boyfriend posted them online. It was like the defense didn't want to win the case and have the dismissal ruled as justified.
Following this, all three felt there was something off about the case. Han Se Sang likened it to a rigged baseball match which he wanted to look over again. So, he does that. He ends the cross-examination, but allows an extra day to follow a suggestion Im Ba Reun makes to exercise a judge's right to question witnesses directly. (Throughout this trial, Park Cha Oh Reum as well as Im Ba Reun seemed to have noticed this one character witness who kept looking back at the distraught victim of the sexual harassment, and that was Witness Number Four. She would be known to us in a later episode as Kim Da In.)