We originally wanted to write a brief post sharing this cool video we found of a fan meeting between Taiwanese model and actor, Zheng Yuan Chang (郑元畅), a.k.a Joseph (Joe) Cheng, and his fans in Japan; but then we got browsing through sites and more videos, and decided to do a longer post and feature a few more videos because he's that cool. The fact that this year is also 10 years since Joe Cheng's debut in entertainment, it gives us an excuse… a reason to write a full feature with videos, photos and series recommendations to celebrate the 10 years as well — our mini fan-page on the superstar that is Joe Cheng!! : oD : oD.
So, despite being fans of Joe Cheng ever since watching It Started with a Kiss / 惡作劇之吻 years ago, we've only watched these several-years-old — some are a decade-old — videos recently. We normally don't like watching much content about celebrities (this is the reason why we're so slow in getting to these videos); but as we were clicking through the videos on YouTube, we couldn't stop clicking videos featuring him (proof that, in our view, he's unlike any celebrity out there on the globe!). We've always had this idea that he had an awesome personality from watching the behind-the-scenes/blooper reel at the end of the It Started with a Kiss DVDs, but having not seen these videos, we didn't really know just how true it was!
The contrast in personality when he's in character — whether it is acting or modelling — to when he's as himself is so different. If you were to see him only in his TV series where more often than not, he's portraying serious and aloof types; or on fashion shoots, fashion covers and catwalks/runways where he holds a cool, imposing type of appearance; it's hard to imagine Joe Cheng to be someone too different — let alone someone completely opposite! As himself, he's fun and lively, charismatic, unpretentious and easy-going — real.
(In case you're wondering how we ended up watching these videos after all these years, we were watching scene comparisons between the Taiwanese It Started with a Kiss and the Korean Playful Kiss, both of which are TV adaptations of the Japanese Itazura na Kiss manga.)
Background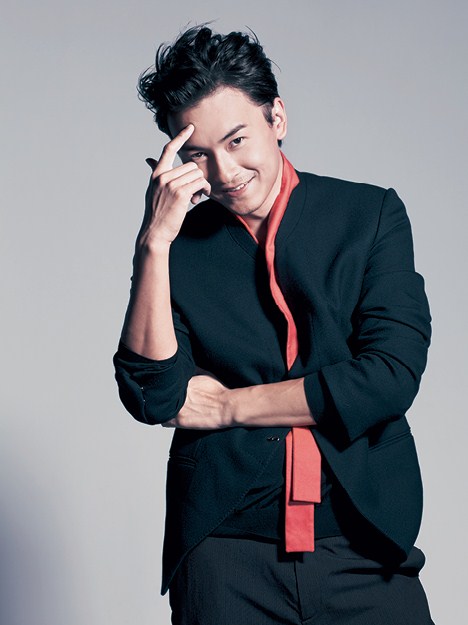 Before we get into the videos, we'll briefly write about Joe Cheng — nicknamed Xiao Zong (小综), known in Japan as Josefu-Chen (ジョセフ. チェン) and Jung Won Chang (정원창) in South Korea — and his career.
He began his career as a model, modelling for brands like Puma, Adidas and starred in runway shows for Marc Jacobs, Timberland, Levi's and Christian Dior. In 2003, he played the second male lead in The Rose / 蔷薇之恋, a series which was hugely popular. It was not until 2005, though, he shot to fame and gained international recognition with his role, Jiang Zhi Shu, in It Started with a Kiss. Since then, he continues to share his time between his modelling career and his acting career in television, film and stage, with a stint as a recording artist.
Now, The Awesome Joe Cheng Videos
Joe Cheng Fan Meetings, the Coolest in the World
In the video we were talking about sharing (below), Joe Cheng is setting up a game amongst the fans to find 'his other half'. A long red string is used to find this 'other half' — this lucky fan. She is then invited to accompany him and he starts acting out a scene where he confesses that she's always been the one he's liked! Has anyone been to fan meetings where stars are right in there amongst the fans, interacting with them the way he does with his fans?! Joe Cheng fan meetings has got to be the coolest, most fun ones in the world!
Joe Cheng's Story
The above few videos are a few interviews: one focusing on him, one asking about his It Started with a Kiss co-star, Ariel Lin, and one with Ariel Lin. These interviews are really interesting because he's so charismatic and entertaining; but also he is very honest in them when answering questions.
Joe Cheng: Fashion Runway/Catwalk Model Superstar
As we've already mentioned, Joe Cheng was a model before he became an actor as well. He did many runway shows, modelling for many international fashion brands: Puma, Adidas, Christian Dior, Marc Jacobs, Levi's, Fortis (Swiss Watches), G.B. Pedrini, Yohji Yamamoto, etc; so we were very curious to see if we could find videos of his runway work. It took a bit of searching, but we found a number of them off the Tudou site and put them into a YouTube playlist below. He stars in a lot of them, too. He's too cool for words in these!
Joe Cheng with Bianca Bai and Sonia Sui in Hello Kitty commercial!
Wow, they make those Hello Kitty charms must-have accessories for everyone. Even men! The power of models and advertising, huh?
Joe Cheng on the (fashion?) Red Carpet
We included this video simply for the clothes he's wearing. It's interesting. It's a cross between Japanese Samurai, Zorro and Crocodile Dundee.
Joe Cheng wins the Special Asia Star Award
In 2009, Joe Cheng won the Special Asia Star Award at the 2009 Asia Model Festival Awards held in Seoul, Korea. This awards event has been described as a prestigious event recognising the best of the best in the fashion and modelling industry as well as the entertainment and music industries across the Asian and Southeast Asian regions (South Korea, Japan, Taiwan, Hong Kong, China, Malaysia, etc.); so this is quite an honour from the looks of things. Yay!
An Awesome Guest Appearance
Joe Cheng and Lee Min Ho! We think Lee Min Ho's pretty great (Faith / 신의 is a good watch by the way); so out of curiosity we did a quick search to see if there was anything featuring Joe Cheng and Lee Min Ho. The result, Joe Cheng and Lee Min Ho on the same stage! Again, Joe Cheng is so entertaining and funny in this one. He's speaking to Lee Min Ho, letting him know that if he is ever in Taiwan, he would be happy to show Lee Min Ho the best places in Taiwan. Joe Cheng goes on to ask if he could ask the same favour of Lee Min Ho next time he returns to Korea. Lee Min Ho replies, "of course"—upon which Joe Cheng turns Lee Min Ho around, backs now facing the audience, and pretends to grab contact details from him. Whether the translator was fast enough to clue Lee Min Ho in to what Joe Cheng was doing, we couldn't tell. It didn't look like an act either. Anyway, Lee Min Ho played along. Joe Cheng is too funny!
TV Series Recommendations
So, after watching the videos and browsing through the cool gallery of photos at the start of the post, have we managed to get you searching and clicking to find out more about the star and his work? : oP : oP. In case there is anyone out there not familiar with his work and is curious to search out and watch a few series with Joe Cheng in it, there are two series (and a sequel) that stand out.
The first one is It Started with a Kiss / 惡作劇之吻 (2005) and its sequel They Kiss Again / 惡作劇2吻 (2007). It is the series that first introduced us to Joe Cheng's work. His multi-layered Jiang Zhi Shu captured us. He was able to reveal and instill so many qualities, characteristics and subtle emotions that gracefully transformed and humanised the cold, tin-hearted and arrogant Jiang Zhi Shu into a warmer, feeling, living being.
The second series that stands out is the TV series Joe Cheng made his acting debut on, The Rose / 蔷薇之恋 (2003): a drama based on the Japanese manga Bara no Tame ni / 薔薇のために. In this, Joe Cheng plays the second male lead, Han Kui, a playful, brat-like character with a lonely past. Han Kui harbours and struggles with a liking towards his half-brother, Han Jin (played by Jerry Huang); and later, he struggles with his realisation of having fallen for his half-sister, Zheng Bai He (played by Ella Chen). Joe Cheng showed so much acting ability and range in this. He was so good, we could easily have been fooled into believing he is the male lead in this series — had we not known he was playing second male lead. This performance, for us, may even be more impressive than the one in It Started with a Kiss.
You will have noted that The Rose involves a love triangle between half-siblings. It's not as it seems: there is a question over whether the half-siblings are blood-related. We would not have watched it through, otherwise — let alone suggest people watch something like that. The series is not so much about indulging in such themes, but to "[guide] the audiences through a deeper layer of thinking on love, family and friendship", according to the commentary on Wikipedia.
Other series we would suggest to watch is Love or Bread / 我的億萬麵包 (2008) and Love Actually / 爱的蜜方 (2012). In Love or Bread, see Joe Cheng and It Started with a Kiss co-star, Ariel Lin, switch roles as he goes all out with his super lively, comedic and in-debt, Cai Jin Lai (Frank), whilst Ariel Lin plays the more serious Zeng Shan Mei. Watch Love Actually for a matured Joe Cheng performance. He exerts a fatherly, older brother aura in this one. Starring alongside Korea's Lee Da Hae (Miss Ripley, IRIS 2), Joe Cheng plays "ice man" Chen Hao Feng, head chef of a respected family-owned restaurant. The series is slow to build, but it does pick up to be a good watch.
Ripples of Desire (2012) Film
Our super long Joe Cheng blog feature is almost done… There are just a couple more things. We thought we'd include a trailer of Joe Cheng's latest project, Ripples of Desire / Hua Yang / 花漾.
This was released in December 2012. Looking at the trailer and reading the review from The Hollywood Reporter, it might just be outside of what we usually enjoy watching; still, we would love to see it brought to theatres over here so we could get the opportunity to see it on the silver screen in New Zealand.
Photo Gallery
Happy Birthday! Happy 10 Years!
Finally, we want to mention that today, June 19th, is Joe Cheng's birthday. Just in case he happens to browse the Internet and accidentally lands on this post in the future (we know, highly unlikely! : oP : oP), we'll add our birthday wishes to the pool of Internet birthday wishes he receives. Happy birthday to you, Joe Cheng. Thank you for all the series over the last 10 years. Wishing you all the best and hope to see you in many, many, many more projects in the future!!
And to the readers, thanks for reading and letting us share!
March 2015 Update: Joe Cheng just finished a 24-episode Mainland Chinese series called Singles Villa / 只因單身在一起 which began airing in January 2015. The story is about residents living in a villa where love is prohibited and the consequences of falling in love is eviction. It's quite the typical-sounding story, but we'll be hanging out for the English subtitles to come out. What's more, Jiro Wang is in this one! He plays second lead, a love rival to Joe Cheng's character. Joe Cheng and Jiro Wang together again. That's another reason to watch this series
ADVERTISEMENT