It's been a while since we found a good Taiwanese drama watch where we thoroughly enjoyed watching it. We've been put off Taiwanese dramas after finding so many that we've picked to watch ending up disappointing after a good or decent start. Attention, Love! broke the string of disappointing Taiwanese dramas.
When watching Attention, Love! we did feel as if it was inspired by It Started with a Kiss. There were many things in Attention, Love! we thought we've seen in It Started with a Kiss. There's the main characters connected by parents who were good friends; the male lead is smart, but has a robot heart; the female lead is not-so-smart who likes the smart-robot-heart male lead; one of them moves in and lives with them and their family; there's the challenge of 'be within the top 100 positions in the upcoming test'; we see the story move from a high school setting then onto a university setting; and the female lead comes to watch a beautiful female interested in the male lead guy who has the same courses as him. There's of course a second male lead in the story. Maybe it's because Attention, Love! has a story and atmosphere similar to It Started with a Kiss that we enjoyed watching Attention, Love! so much.
Attention, Love! stars Qiu Sheng Yi (also known as Prince Chiu or Wang Zi) and Joanne Tseng. Qiu Sheng Yi plays the male lead character, Yan Li Zheng; and Joanne Tseng plays female lead character, Zhong Shao Xi. The setting for the story for the first half of the series is in high school. The second half progresses onto university.
Yan Li Zheng and Zhong Shao Xi are connected by parents who were good friends. Zhong Shao Xi's great-great-great-grandfather made a wish on his 108th birthday for them to be together. Both Yan Li Zheng and Zhong Shao Xi's names are a modification of the names Zhong Shao Xi's great-great-great-grandfather picked for them. Zhong Shao Xi's 108-year-old great-great-great-grandfather seemed to have been stuck in the memory of his time in the military when he was asked to pick the names out for Zhong Shao Xi and Yan Li Zheng. Yan Li Zheng's is gathered from 'Li Zheng'. This is the Chinese words for the military command, 'Attention!' Zhong Shao Xi's is also gathered from a military command: Shao Xi. This is, "At ease."
Yan Li Zheng and Zhong Shao Xi are binary opposites. They start out being strangers then become friends who go through many periods of patching up and tension between them before they come to be together. This is because Yan Li Zheng has no understanding of the feeling of like.
Yan Li Zheng has a background story of losing his parents at a very young age in a car accident. He was taken in by his uncle (played by Hsieh Kun Da) in Japan. As a child, Yan Li Zheng didn't like living in Japan. It was that he was bullied for not knowing the language. Yan Li Zheng comes to live with Zhong Shao Xi's family upon his uncle getting married and he asked to resume his high school studies in Taiwan.
He's a smart 17-year-old high school student with the ability to remember and master things just by seeing it once. He is in the A-band class and ranks first in exams. A person who displays little emotions and has a solitary character about him, Yan Li Zheng doesn't have friends or make friends. He has a dislike of others showing him pity.
Zhong Shao Xi, also a 17-year-old high school student, is at the low end of the academic ranks. But, she has a talent in running. Her peers mistaken her to be a gangster's daughter because her parents dress like one. In addition, her parents had given her teacher in junior high school money asking for her help to guide their daughter well. Zhong Shao Xi is also skilled in martial arts. She has a fighting skill and strength capable of defeating the guys. Zhong Shao Xi gets addressed as Zhong-ge. 'Ge' is an address for an older brother. She has a fan club of females. Hooligans and bullies target her because she intervenes in their activity of harassment of the weak.
Zhong Shao Xi immediately takes a liking to Yan Li Zheng. On her first introduction to him, the person in Zhong Shao Xi's fanciful dream imagining what 'like' would feel like is filled in with Yan Li Zheng. The dream has Yan Li Zheng dressed in white jacket, pants and sneakers. He's imagined to give her a back hug then leading her by the hand through a park. The song, "Close to You" by Karen Carpenter is the song she hears when thinking about him.
Yan Li Zheng, on the other hand, he's indifferent towards Zhong Shao Xi. He doesn't take a liking to her and neither is he difficult towards her. This changes after Zhong Shao Xi puts him in an arm lock for his rudeness of slamming the door in her face. Yan Li Zheng calls Zhong Shao Xi a friend after this.
This comes about from the event where Yan Li Zheng breaks and enters into a neighbourhood house which we find out belongs to Yan Li Zheng's uncle. In the past, this house was the one Yan Li Zheng lived in with his parents. In the present, Zhong Shao Xi's parents rents the house. They have been keeping the house in the condition it was when Yan Li Zheng and his parents had lived in it together. The reason Zhong Shao Xi's parents rent it and keep it in the state it was when Yan Li Zheng and his parents had lived in it together is so that when the house is given back to Yan Li Zheng, Yan Li Zheng can begin to recall and fill himself with memories of his parents that he lost in his childhood.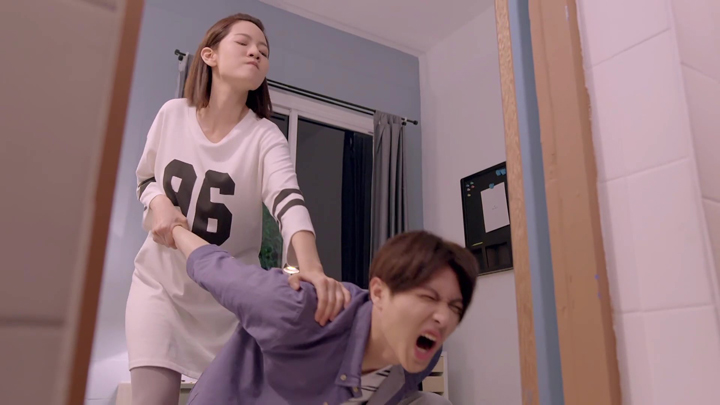 This knowledge Zhong Shao Xi had of Yan Li Zheng, Zhong Shao Xi does something that Yan Li Zheng saw as pity and reacted hatefully towards. She went to him with the keys to his house she asked her parents for. She wanted Yan Li Zheng to have the freedom to go into his house whenever he wanted to. This was when Zhong Shao Xi got that slam of the door in her face. Following, Zhong Shao Xi had Yan Li Zheng open his door back up. She placed him in an arm lock and then got him to promise to never slam the door on her face again. It is only she who is allowed to slam the door on another's face, she said. The pain going through Yan Li Zheng's arm from the arm lock, he promised.
It's the pity that Zhong Shao Xi didn't show Yan Li Zheng that Yang Li Zheng came to call Zhong Shao Xi a friend of his.
Yan Li Zheng goes to tutor Zhong Shao Xi. He gives incentive for Zhong Shao Xi to do well in her school studies. This is treating her to a movie if she manages to get into the top 100 in the upcoming test. With Zhong Shao Xi taking a liking towards Yan Li Zheng, she shows desire to work hard at this. She wants to go to the movies with Yan Li Zheng.
The feelings Zhong Shao Xi is shown to have for Yan Li Zheng develops very fast. The little moments she finds particularly special and wonderful with Yan Li Zheng, she writes them in her diary.
With Yan Li Zheng, though, nothing really looks outside of how a friend would act. He walks to school with Zhong Shao Xi—this was something Zhong Shao Xi felt happy about. She was happy that, unlike another, Yan Li Zheng wasn't bothered by the talk that came from others about an A-band student walking alongside a regular student. Yan Li Zheng takes time to stop by the athletics field to cheer Zhong Shao Xi on in her running during her practices. He also comforts Zhong Shao Xi when she's upset—like a friend would.
There are little clues during these early times that point to Yan Li Zheng liking Zhong Shao Xi more than he knows himself, though. They are small, but we see him find some of his own actions and reactions towards Zhong Shao Xi curious and surprising.
These were seen in Episode 2. Yan Li Zheng had looked at his hand with a curious expression. He looked at it after his hand remained holding Zhong Shao Xi for some time after having led Zhong Shao Xi away from a group of hooligan high schoolers seeking pay back from Zhong Shao Xi for beating them up in a previous incident.
Yan Li Zheng had again looked at his hand after a moment where he reached out to Zhong Shao Xi's ear to remove a cherry blossom petal that fell and got caught behind her ear.
This had Yan Li Zheng say an interesting line to himself:
Yan Li Zheng:
"It looks like I really don't reject her."
We don't have a true understanding of the hugeness of these words from Yan Li Zheng until we get further into the series and we hear him say that he has an aversion to skin-to-skin contact. After gaining this knowledge about Yan Li Zheng, we then understand and see Yan Li Zheng has seemingly taken a liking to Zhong Shao Xi even at this early stage and much more than we had thought during this point in time.
Read our translations for Behind the Scenes of Attention, Love! Episode 2!
ADVERTISEMENT