Li Hui Zhen is back and everyone is happy to have her back. Her first day sees her propose an idea that might save Immortal even. Meanwhile, over on Xia Qiao's side, she's still struggling to let go which sees her collapse before Lin Yi Mu.
Pretty Li Hui Zhen Episode 25 Recap
First day back, Li Hui Zhen comes up with an idea to try boost Immortal's sales. After a few more welcomes from her colleagues, a gift of breakfast sweets from Lin Yi Mu, a snack from Lin Hao, a personal apology from Han Xue and the return of Li Hui Zhen's employee badge from Ba Hao Yu, Li Hui Zhen is back to her desk. As she sits there listening to her colleagues talk about a famous blogger and their recommendations which never failed them, she comes up with an idea that might help Immortal set itself apart from other magazines.
Li Hui Zhen:
"It's like when some readers see products on Immortal's magazine, they can buy the products online on set sites. Or maybe certain products can only be purchased on our website. Wouldn't that allow us to set ourselves far apart from other major publications?"
Li Hui Zhen proposes Immortal promote products that can only be purchased online or on set sites—so, only on sites they are in partnership with presumably. Like the trustworthy blogger, Immortal would serve as a reputable source for online product recommendations it seems.
Following the meeting, Li Hui Zhen is dragged out of the office to the rooftop by Lin Yi Mu to find out only business was being discussed behind the frosted glass of Bai Hao Yu's office.
We're guessing he might have been worried that Li Hui Zhen was revealing her identity to him. She's decided to hold off on that. During the scene where Bai Hao Yu sees Li Hui Zhen about returning her original employee badge to her, she was asked the reason for changing her mind about returning. Li Hui Zhen tells him it was for herself. She also hints that their past friendship was a reason as she tells him it's something she can't say at the moment, but will do so one day.
The topic of conversation switches to why Li Hui Zhen had decided to change her look so much. Lin Yi Mu thought the hair and freckles were cute on her. Her answer is the same as the one she gave Bai Hao Yu about wanting to return: it was for herself. It wasn't for Bai Hao Yu as Lin Yi Mu had wondered. After working at Immortal, she realised that it was important to be herself, but there was nothing stopping her from finding doing that and changing to find the best version of herself. She also wanted to do this for her dad.
Li Hui Zhen:
"Xia Qiao, rather than dating a man that doesn't know your real name, wouldn't it be better to live freely and happily? Even if you break up, at least he knows who you are."
With Li Hui Zhen deciding to hold off on telling Bai Hao Yu the truth, Xia Qiao now has yet another chance to end things before she loses everything. Her run-in with her stepmother has Xia Qiao consider ending things with Bai Hao Yu.
After Xia Qiao thanks her stepmother for helping her with Li Hui Zhen, her stepmother tries to get Xia Qiao on the right path by advising her about not doing anything she will regret. Being very aware that she's dating a man under a name that's not her own, Xia Qiao's stepmother also tells her that she deserves better, that she'd be better off breaking up with him with him knowing her real name and live a freer and happier life than how she has been.
This seems to have gotten Xia Qiao up to the point of grabbing the bracelet in her hands and agreeing to meet Bai Hao Yu at a coffee shop. She got as far as standing outside the cafe where Bai Hao Yu had called to meet up before calling to cancel. Xia Qiao just couldn't let go.
She leaves the cafe to head toward a convenience store where she runs into Lin Yi Mu. Fortunately, she does as not long after running into him, she collapses.
The act she's been putting on over the last month has been so stressful, she's caused herself to develop stress-induced gastritis. Because of this, Lin Yi Mu had to send her straight to the hospital's emergency room.
It has Lin Yi Mu concerned and baffled why Xia Qiao must treat herself this way. He pleads her to end it all before it's too late. No matter how much she pretends, she can never become Li Hui Zhen, he tells her
Xia Qiao:
"If not because of you, I might have long given up. I wouldn't be in the kind of pain I am right now!"
Lin Yi Mu:
"Would you have really have given up? Or would you have fallen deeper and deeper?"
Xia Qiao tries to shift the blame onto Lin Yi Mu, saying that she might have given up already had he not told her to be brave every time she was about to give up. Her words might have truth to them if she hadn't let go of the opportunity to tell Bai Hao Yu earlier in the evening.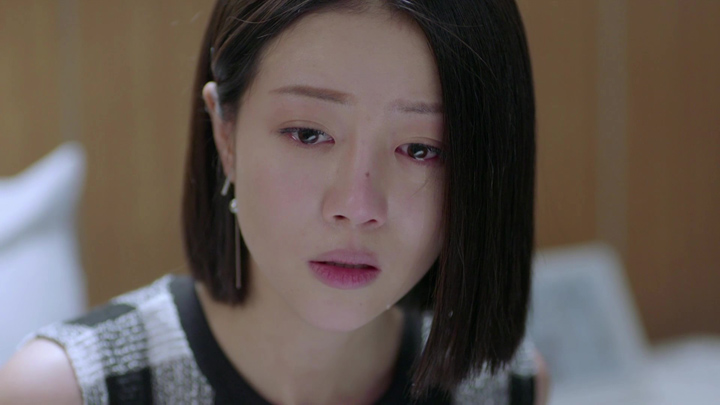 Lin Yi Mu:
"It's also my first time. It's the first time I felt myself being truly taken care of. It's the first time… the first time liking someone wholeheartedly."
Xia Qiao admits it. It was her feelings that had made her turn back on her decision to end things. She thought she would just help Li Hui Zhen out. She never thought it would go on like this where she lost control. Two months was how long she was going to stay with him. She says this with the suggestion that if he had more time to improve Immortal's sales, she probably accompany him longer. She just can't stop herself, because she's human and she too has a heart. She has feelings, too. It's the first time she felt herself being taken care of and the first time she's liked someone wholeheartedly.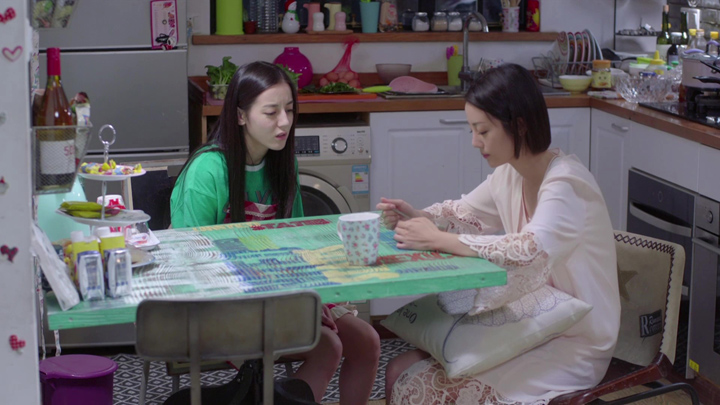 The rest of the night, Xia Qiao spends it back at home, unresponsive to Li Hui Zhen's calls. We don't get to see this: it's told through Li Hui Zhen who says that she had arrive home to find a bag of medicine in the apartment before going upstairs to find Xia Qiao fast asleep and not responding to her calls.
The next morning, Xia Qiao is up and about, only revealing that she was feeling a lot of stress probably because of work, but nothing about the fact that she had passed out and was sent to the Emergency Room because of her act. Li Hui Zhen's continued concern over Xia Qiao's stress and the possibility that she might be trying to endure something all alone has her randomly think maybe it was that her boyfriend was mistreating her. She nailed it on the head with her boyfriend being a source of stress, but obviously not with him mistreating part of it.
Still, Li Hui Zhen's advice in how to handle her boyfriend isn't advice that's not in line with what she should do:
Li Hui Zhen:
"Who cares if he a god or a top student? Didn't you say that there's a whole camp of them waiting for you. There's a whole line of them, who needs to treasure that one man? Quickly send him packing."
Night falls again, which sees Xia Qiao now yearning for the past (like how Li Hui Zhen and Bai Hao Yu have been). With her head rested on Li Hui Zhen, Xia Qiao thinks back to their simpler childhood days where they had nothing to worry about and it was just the two. This time, it's Xia Qiao's turn to voice how she missed those days.
The morning following sees Li Hui Zhen prepare for work, putting on her make up with Xia Qiao spending a moment to help fix some issues before Li Hui Zhen rushes around to make sure Xia Qiao is well taken care of with breakfast. The upcoming 20th Anniversary party is passed mentioned here and how work will be hectic for a good amount of time. There's a possibility that they won't be seeing each other for days. From the sounds of things, it a set up for what's to come.
The last few scenes revisits Li Hui Zhen's idea. It looks to have evolved into a proposal to partner up with an online store called Elleshop. It's an idea which has been previously proposed by someone by the name of President Ge. Bai Hao Yu is now looking for Team Leader Zhu Ying to give him the green light. As Deputy Editor in Chief, he only needs the Editor in Chief to approve, but he seems to have genuinely taken Lin Yi Mu's advice to work together last episode and is seeking support from everyone. He hopes that if he can get Zhu Ying's support, she'd be able to rally up support from her team as well as the Editor in Chief.
The final scene ends with Li Hui Zhen going off to have a coffee with Bai Hao Yu at the lunch area. After the meeting, Bai Hao Yu is seen gesturing her to have a cup with him from across the office, hinting at a subtle, closer relationship between the two. Standing together in the lunch area, another subtle development between the two, Bai Hao Yu is hugged by Li Hui Zhen after hearing the idea has a high chance of implementation and success. Bai Hao Yu doesn't react either way. He just lets her hug him before she parts and apologises for her actions.
Bai Hao Yu appears to want to tell Li Hui Zhen something, but he is interrupted by Lin Yi Mu who ends their coffee meeting. Lin Yi Mu then lectures Li Hui Zhen for referring to Bai Hao Yu using his first name (she's been doing this since returning to Immortal) when talking about him and just not happy about how Bai Hao Yu is now being so nice as to give her gifts (he's referring to the specially-dressed up employee badge. Lin Yi Mu's not liking the developments between the two.
Comment
That's the end of Episode 25. So, Immortal's going to try a partnership with an online store to try increase their visibility and get more sales. We're not sure what to think of this. This Elleshop the episode mentions really exists in real life.
It looks like it might be a huge product placement in the drama. It isn't the first. We've noticed quite a number of them throughout the drama. We don't mind them when they fit into the scenes (like the brand of medicine which featured during the time Li Hui Zhen caught a cold or that gold lipstick Li Hui Zhen gifted to Xia Qiao after getting her first pay). These kinds of product placements often appear or get mentioned briefly before disappearing off the screen/script. But it looks like this partnership with the online store is going to feature majorly in the drama's story. This doesn't go well with us. It's one thing to do a brief advertisement of a product within a drama, but another thing when it takes over a drama's story and direction.
Using this partnership as the potential saviour of Immortal is pushing the central theme that was so great in She Was Pretty into the background. The theme of bringing supporting/background characters out from the shadows and into the light worked so well in every sense. It's sad as well as quite disappointing to see that this great theme might be sent to the background to make way for what looks like a huge product placement within the drama.
We're not sure if Pretty Li Hui Zhen even has a central theme. We could try seeing this venture as a contribution to the "move with the times", "look forward and not backwards", "seize the present" message Pretty Li Hui Zhen seems to focus on quite a bit; but it's hard to see it as such when all we can see is another product placement.
The developments between Bai Hao Yu and Li Hui Zhen, they feel like they're a bit out of place. The invitation to get coffee together, the hug and Li Hui Zhen calling Bai Hao Yu by his first name (Li Hui Zhen's started that ever since her return, but only in front of Lin Yi Mu), it feels too soon and too forced.
Lin Yi Mu:
"Can you stop saying Hao Yu, Hao Yu?"
Lin Yi Mu said it right when he told Li Hui Zhen to quit calling Bai Hao Yu by his first name. We were saying the same thing when we heard Li Hui Zhen say it. It's only been a handful of days since he kicked her out of Immortal. Only a handful of days ago, she called him Deputy Editor in Chief, now it's Hao Yu without the Bai? Lin Yi Mu also said it was sickening seeing Bai Hao Yu giving her that fancily encased employee badge. That's not sickening, but the two getting on so well so suddenly, epecially that hug, did make us cringe a little…
This episode was yet another slowish one. The only part that was really cool is the scene where Editor in Chief couldn't recognise Li Hui Zhen when she was being greeted by her. We loved how she politely greeted Li Hui Zhen with a nod of the head before being completely shocked when Li Hui Zhen tells Editor in Chief that she's Li Hui Zhen.
The Xia Qiao with Lin Yi Mu scenes were good, too, but that's expected since these scenes are ones which came from the original.
The rest—i.e. the scenes relating to the partnership with the online store, Bai Hao Yu and Li Hui Zhen parts—not so great.
We'll see what developments the next one brings.
ADVERTISEMENT