Great episode. Love the drama in this one! :oD :oD.
The episode continues with the trouble Huo Ting En has with Taiwanese street food. There's also his mother's pressure for him to be with Meng Ru Xi. It causes a heated argument which brings Huo Ting En to direct extremely high frustration towards Wei Fen Qing. It's a huge 180° from the previous episode!
This fallout between Huo Ting En and Wei Fen Qing dissipates very quickly, though. There's no time for that when there's the huge problem of Huo Ting En and his staff not being able to make delicious Taiwanese street food for the ambassador banquet!
Episode 10 Recap
The task of producing Taiwanese street food is not going well for Huo Ting En.
Huo Ting En's acceptance to carrying out this task of making Taiwanese street food for the banquet goes up against the dissatisfaction Huo Ting En's chef, Jack, has of producing food that isn't fine cuisine. Huo Ting En tries to have Jack think about what makes cuisine fine cuisine.
Huo Ting En:
"But what is high quality? Is it that we must use high quality ingredients and cookware in order to produce fine cuisine? Where is the difference? I then thought the real difference is nothing more than putting heart and not putting heart into it. We continue to try—try and try again to produce the best cuisine to our diners. When they come to question us, we can then only boldly tell them, 'I'm sorry, these are our finest cuisine.'"
Jack disagrees. He brings Huo Ting En to lose his cool when he expresses his high regard towards Western style cuisine which he sees as conventional and low regard towards street food which he describes as disorderly.
Huo Ting En:
"Jack, I feel you should seriously have a think about whether or not you are suitable to be in my restaurant. Perhaps tomorrow I might make it difficult for you by having you make African dishes. Would you make it? If you won't make it, shouldn't you get lost?"
It has Jack fuming in the background after Peng Xiao Bin decides to call a break to stop the tension from continuing to build between Huo Ting En and Jack.
Jack:
"Huo Ting En, you have disrespected me. I will definitely make you regret it."
Peng Xiao Bin:
"Do you want to ask Wei Fen Qing to come back? It's that, right now, there is not one person in the kitchen who is an expert in night market food."
"She was raised in the night markets, after all. She understands street food well. She has also worked at La Mure and is familiar with the workflow of our kitchen. She even undergone your training for seven days. If you don't use her now, when are you going to?"
Huo Ting En doesn't wish to call Wei Fen Qing in. He doesn't want Wei Fen Qing back at La Mure. The reason seems to be that he feels his world is not suitable for her.
Huo Ting En:
"All along, I had hoped Wei Fen Qing could become a chef with a lot of ideas and open up a restaurant of her own in the future when I taught her cooking and the concepts of cooking. I had not at all hoped she return to La Mure. She does not at all belong in this world of mine. She belongs in a life that she wants to lead. I also have mine."
Huo Ting En tells Peng Xiao Bin he'd already said goodbye to Wei Fen Qing. This brings Huo Ting En to recall a moment that looks to be after the test. It's a moment where Wei Fen Qing speaks of returning her uniform and asking Huo Ting En to be her chef one last time with teaching her how to make the birthday cake we saw her celebrating Ah Wei's birthday with.
Wei Fen Qing becomes someone Huo Ting En can't easily go to for help after he becomes frustrated and loses his cool with her. It takes place after a heated argument with his mother during her visit to La Mure to discuss about Meng Ru Xi.
Prior to visiting Huo Ting En at La Mure, Huo Ting En's mother had a meeting with Meng Ru Xi. The meeting there seems to make sure Meng Ru Xi is onboard with a partnership with Huo Ting En that may just be to strengthen their position and power against enemies.
Huo Ting En's mother:
"If you must be Ting En's battle companion for the rest of your life, would you be willing to be so?"
Meng Ru Xi seems okay with this. We hear Meng Ru Xi express she has all along been aware of the business aspect when she was introduced to Huo Ting En. She reveals this during her meetup with Ah Wei after her meeting with Huo Ting En's mother. The meetup had the purpose of giving Ah Wei his birthday gift as well as to inform him of her decision to go ahead and be courageous with her relationship with Huo Ting En. Meng Ru Xi is only concerned whether Huo Ting En would agree to it or not.
Huo Ting En is of course not onboard—much to his mother's annoyance.
Huo Ting En's mother:
"I went through great pains to find you a marriage partner with a powerful family background. The goal is to elevate you and have that Gong Mei Li stop taking advantage of you."
"You oppose me in everything. Tell me: are you doing this on purpose?"
Ting Li is brought up when Huo Ting En's mother feels Huo Ting En's disobedience is due to him still being angry at her for calculatingly entering the Huo family and bringing what happened to Ting Li to occur. Huo Ting En doesn't hold back on expressing his true feelings to his mother.
Huo Ting En:
"I indeed really want to blame you. I indeed really want to place all the wrongs completely on you so that I can relieve the guilt as an older brother. If it weren't for you, the Huo family wouldn't belittle us. If it weren't for the Huo family having a lot of money, Ting Li wouldn't have been so rebellious and left home. But I couldn't do that because you're my mother. I know that you raising us both up was very difficult."
"Right now, we're not lacking anything. Mum, stop fighting. The one who will have a hard time will only be you if you continue to fight."
Even with this blame coming from Huo Ting En towards her, Huo Ting En's mother has no regrets. She would do it again if there was a do-over.
Wei Fen Qing comes in with news about having found a person called David after Huo Ting En's mother leaves. David is mentioned to be a bad person who took Huo Ting En's sister away. This seems to be the outcome to a scene in the previous episode where Wei Fen Qing had wondered about what she could do for Huo Ting En for all the things he'd done for her. This help was not well-received by Huo Ting En, however.
Huo Ting En:
"Why do you keep forcing me to face the things I don't wish to think about?"
Wei Fen Qing gets told to leave. She gets told twice. The second time, Huo Ting En appears barely managing to hold in his frustration after she lectures him on how not thinking about things doesn't make the problem disappear. She continues until she pushes Huo Ting En to the point of completely losing his cool with her.
Wei Fen Qing:
"Originally, I had wanted to say that since you helped me a lot and taught me how to make curry, I also wanted to help you resolve your ill-feelings toward night markets. But I never thought that you simply don't dare to face it. You don't dare to face the fact that your sister is already dead. You're just avoiding it!"
Huo Ting En yanks Wei Fen Qing by the collar of her jacket and has her glare up at the fury he directs at her.
Huo Ting En:
"Shut your mouth up and leave. Leave!"
A moment passing, Huo Ting En realises the error in his actions. He removes his hand off Wei Fen Qing and apologises. But, the damage is done.
Wei Fen Qing:
"There's no use in avoiding. Today, I was meddlesome. From now on, I will not step one foot into La Mure again. Goodbye."
In the midst of an impending problem of food poisoning throughout the kitchen staff where it seems to be in motion in Huo Ting En, Huo Ting En scolds himself for taking his frustrations out on Wei Fen Qing.
Huo Ting En:
"Huo Tingen what are you doing? What did Wei Fen Qing do? Why did you take it out on her?"
Memories of a time at the Huo household when younger unexpectedly enters Huo Ting En's mind during this time. We see his stepfather speaking to his mother about his wish to teach Huo Ting En cooking. However, Huo Ting En's mother felt it to be too early. She felt two years later would be a better time to teach Huo Ting En cooking. The wish Huo Ting En's stepfather has of teaching Huo Ting En cooking at that time was recognising the difficulties Huo Ting En and his mother faced living in his Huo family.
Huo Ting En's stepfather:
"I know that taking you into the Huo family and saying I want to help you both is actually putting more problems on you. It's not that I'm not aware Mei Li is making it hard for you. I just can't always protect you. I was thinking that maybe Ting En's talent can protect the three of you in the Huo family."
Huo Ting En had been listening in on this conversation between his mother and his stepfather. He'd told them both he wished to learn to cook.
Ah Wei receives a call during a casual basketball game with Ah Wang (Stanley Mei). It brings him to rush to the hospital. It's Wei Fen Qing. Wei Fen Qing had a near-collision with a truck after seeing Huo Ting En at La Mure. Wei Fen Qing is physically okay. However, emotionally, she's a mess. Ah Wei hears Wei Fen Qing express Huo Ting En is the reason she's in such a state.
Wei Fen Qing:
"Do you know Huo Ting En is truly a weird person? He always likes to compulsively help me and treat me well. When he has a difficult time, I also want to help him. I also want to be someone who's good to him. But this morning, he was like that out of nowhere. He's really a weird person. He made me become a mess. My mind is a mess. I don't want to keep caring about him, but I just keep caring about him. I don't know what to do. My heart really hurts. It really hurts. I don't know what to do. I want to see him, but I also don't want to see him."
Out of the hospital, Wei Fen Qing has calmed down considerably, but Huo Ting En's actions continue to keep her mood gloomy.
Ah Wei:
"Huo Ting En, I have never seen Fen Qing become so upset over someone. I won't let you harm her anymore. I will make you disappear from her world."
For the meantime, Ah Wei takes care of Wei Fen Qing's present fragile soul. He keeps her company at her home before he surprises Wei Fen Qing with a new stall which he had asked his night market friends to help him with earlier.
Ah Wei:
"This is where I met you and also the place where you will start your dream. You can use everything you've learned from Huo Ting En here. We will help you reclaim the Curry King title and make him furious."
During this time, Huo Ting En's situation of the food poisoning is made known to Wei Fen Qing. Uncle Spare Ribs reads an item on his phone that says La Mure is urgently looking for chefs and is willing to pay triple fold.
Ah Wei:
"Are you still thinking of going back to help him?"
Wei Fen Qing:
"Of course not. I already said I won't step a foot into La Mure again. Even if I go, I'm of not much help."
Wei Fen Qing's words are opposite to what she seems to want to do. She shows concern after rejecting the thought of going to La Mure to help Huo Ting En.
Huo Tian Zhi wanted to provide Huo Ting En assistance. However, Yang Yu Qing convinced Huo Tian Zhi he should let Huo Ting En handle his situation. Firstly, it's that Yanis is busy. Staff are needed for the annual meeting of the Restaurant Association. Second, stopping Huo Tian Zhi from helping Huo Ting En and La Mure is with Huo Tian Zhi's best interest in mind.
Yang Yu Qing:
"What Mum hopes for the most right now is that you can gain total control of Yanis. Maybe this is an opportunity. We're each hosting very important banquets on the same day and at the same time. We succeed and they don't. Isn't this an opportunity to allow you to prove you are more suited to managing the company than your older brother?"
"It's true your older brother is a very good older brother. However, the fact is, you are your father's biological son. He isn't. So the things belonging to the Huo family is just simply yours. You are only taking what's yours. What's wrong with that?"
Huo Tian Zhi:
"Only a real Huo family member can be the heir…"
Huo Ting En and Peng Xiao Bin fail to receive help from their network and connections. Huo Ting En decides he will ask for Wei Fen Qing's help. However, he makes Peng Xiao Bin call her. When Peng Xiao Bin tell him he's reached her voicemail, Huo Ting En tells Peng Xiao Bin to forget the call. Both look defeated and speak of a bleak outcome for the banquet.
But Wei Fen Qing comes to their rescue. She shows up at La Mure, herself. She brings along with her Ah Wei and the night market crew. One La Mure chef also turns up. He's Brian (Lin Jun Yong). He looks perfectly fine with no signs of having had food poisoning.
Huo Ting En, Brian, the crew of night market chefs, Peng Xiao Bin and the waitresses sourced by two of the night market girls successfully bring out the items of food to the guests.
The episode ends with the crew observing the guests, trying to gauge the feedback. Peng Xiao Bin is seen with the ambassador. Some words are whispered into Peng Xiao Bin's ears. He enters into the kitchen. The crew surround Peng Xiao Bin…
Cool…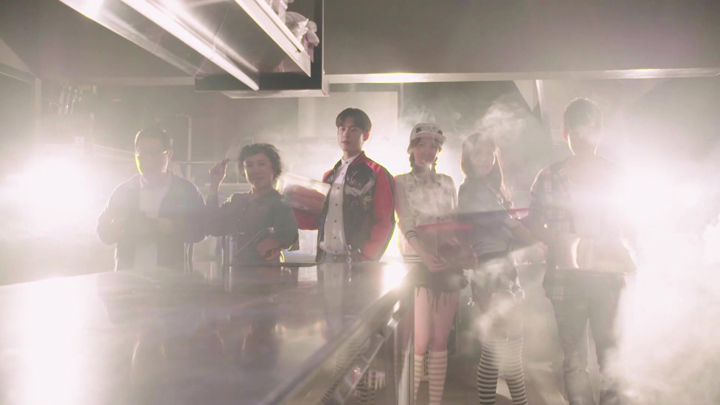 The night market crew comes in. Superheroes save the day—hopefully they did since we don't know what the feedback is yet until next episode! They're an awesome bunch!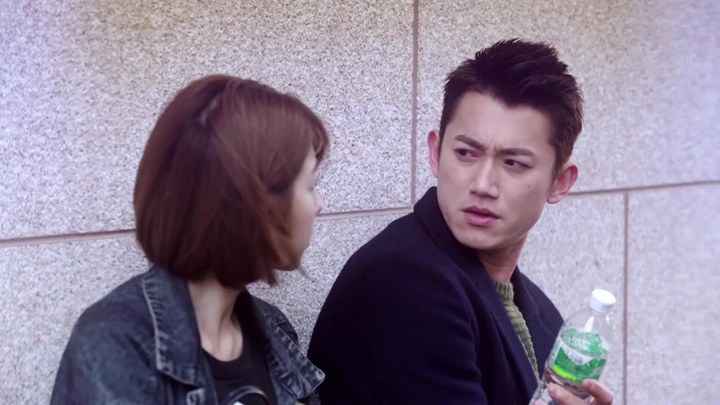 Huo Ting En's comment about whether Wei Fen Qing drank from the water bottle she handed to him to (we think) down the medicine she gave for his upset stomach was quite funny. It's that it comes after having already kissed Wei Fen Qing. :oP :oP.
Huo Ting En…
Scary moment! His mood looked extremely unstable. The complete change from utter frustration to utter happiness when Wei Fen Qing entered showed he was not in his right frame of mind and we were going to see something not very pleasant coming from Huo Ting En! Then the grab came and the furious shout for Wei Fen Qing to leave! Eek. It was like the person in front of Huo Ting En was a love rival instead of the person he liked! It looked very rough and intimidating!
This scene did show us how much Wei Fen Qing has come to care about Huo Ting En, though. Even with such hurtful actions, she still can't help but go to help Huo Ting En. Wei Fen Qing is very cool!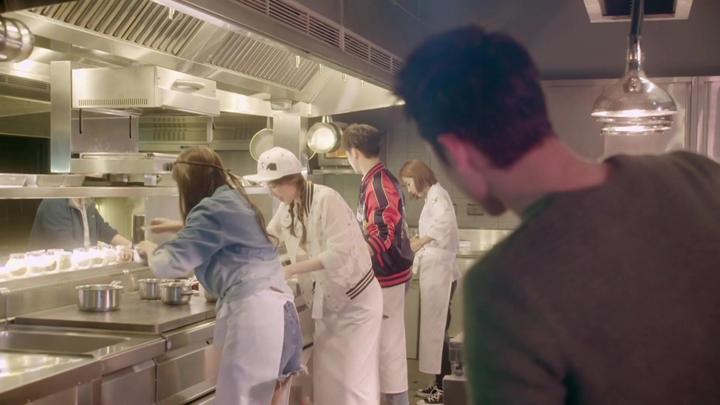 Is this scene suggesting what might be the future? Huo Ting En looks so content when he looked at the night market crew working in his kitchen. Will he exit his current prestigious world to go join the regular world?
ADVERTISEMENT