What a huge development for Wei Fen Qing and Huo Ting En in this episode! We didn't expect it to come in this soon. But, if we take into account of last week's funny backing-into-the-wall moment, that was a warning/hint the real one was coming!
It brought in the kiss. We thought this huge development for Huo Ting En and Wei Fen Qing coming in at this time when the two goes back to their original place is pretty good. With Wei Fen Qing back to her side of things (back to her night market crew) and Huo Ting En resuming with his assignment of the ambassador banquet at La Mure without Wei Fen Qing, the new level of relationship that the kiss has brought Wei Fen Qing and Huo Ting En to will keep the two connected even with them separated and back to their former routines.
We can't really guess what's coming for the two after what took place in this episode. But maybe Grandma Huo is coming in to be a problem for the pair. There was development in Wei Fen Qing being the daughter of someone Grandma Huo appears to know.
The way we've recapped this episode will be different from the way we've recapped in the past. We hope it'll be a much faster read. It should hopefully make revisiting scenes, moments and character, plot and relationship developments in the episode a bit easier. Enjoy!
Episode 9 Recap
Huo Ting En's attention is towards the night sky after reassuring Wei Fen Qing with his presence next to her. He notices how less impressive the present night sky before him is compared to the previous night. There had been a lot more stars the previous night.
Whilst Huo Ting En's attention is towards the night sky, Wei Fen Qing's is towards Huo Ting En.
Wei Fen Qing:
"Your profile is pretty good-looking. It's better than your front side."
The compliment doesn't sound pleasing enough to Huo Ting En's ears.
Huo Ting En:
"You're saying my profile is better than my front side. I know my profile looks very nice. But my front side is okay, isn't it?"
"These things shouldn't be said at a time like this. Though there are no stars today, you—a girl—with me—a guy—standing here looking at the sky—don't tell me you don't feel any sort of feelings?"
Huo Ting En is meaning a romantic sort of an atmosphere happening between them. But, Wei Fen Qing doesn't feel any. She just finds the atmosphere pretty good and 'okay'.
Some time later after returning from the mountainside, Huo Ting En has an appointment with a consultant for the ambassador banquet at the night market to select street food items for the banquet. The person who turns up is Meng Ru Xi. It's not Meng Ru Xi's purposeful act this time, it seems. She says she had no clue Huo Ting En was the person handling the ambassador banquet. She was asked by the consultant to help represent them because they had another appointment and she was qualified to do so after reading her article on the night markets.
Huo Ting En catches sight of Wei Fen Qing serving Ah Wei's chicken cutlet to customers. He's not happy she's at the night market and not preparing for the test. He pulls Wei Fen Qing away from her work at Ah Wei's chicken cutlet stall to have a word with her.
Ah Wei:
"Huo Ting En, you've watched too many idol dramas. You just take others away as you please."
Huo Ting En extends an 'L' hand gesture before Ah Wei then brings Wei Fen Qing in to help Ah Wei understand his right to take her away:
Wei Fen Qing:
"Seven day agreement."
Huo Ting En:
"She's currently on my time. I have some things to say to her."
Huo Ting En continues on in his way with taking Wei Fen Qing away. There isn't anything particular Huo Ting En had to say to Wei Fen Qing. It isn't to speak to her about not preparing for the test at all. It's Wei Fen Qing with Ah Wei that had Huo Ting En pull Wei Fen Qing away from her work at Ah Wei's for a word.
Huo Ting En:
"Seeing you standing together with that chicken cutlet guy, I felt really uncomfortable. I don't know why either."
Meng Ru Xi feels Ah Wei needs to come home. Seemingly, she sees Ah Wei as currently too inferior to go up against Huo Ting En who's very strong in gaining Wei Fen Qing's heart at the moment.
Meng Ru Xi:
"For Wei Fen Qing, don't you think you should immediately come home? One, it'll make Dad feel at ease. Two, you'll then have the status to compete with Huo Ting En."
Ah Wei is not concerned about Huo Ting En. He feels relaxed about the time he's allowing Huo Ting En to have with Wei Fen Qing.
Ah Wei:
"I don't feel I need to go home to win Huo Ting En. Furthermore, Fen Qing isn't the type to care about status."
"I don't feel that these years of getting along with Fen Qing in small amounts will lose to this uncle who has suddenly appeared. I know these seven days are very important to Fen Qing. It concerns her dream. That's why I'm giving way to Huo Ting En. But after the seven days, I will continue to be by Fen Qing's side helping her fulfill her dream. That's why I'm not afraid."
Unfortunately, Ah Wei is too relaxed towards allowing Wei Fen Qing to be around Huo Ting En—a guy who has feelings for Wei Fen Qing—as we see later on in the episode. It's the beginning of losing Wei Fen Qing, it seems. Darn that second male lead label he has!
The remainder of the time at the night market, Wei Fen Qing helps Huo Ting En with his assignment of the ambassador banquet. She introduces Huo Ting En to her night market crew and each of their special skills in Taiwanese street food.
Meng Ru Xi has a talk with Huo Ting En about Wei Fen Qing. She finds his 7-day interaction with Wei Fen Qing to be like the professor and flower seller in the American film classic, 'My Fair Lady' and feels he's brought on a problem that he will need to decide on how he wishes to proceed.
Meng Ru Xi:
"What will you do after you've transformed the woman who sells flowers? Will she continue to remain in the market or will she use her identity as a flower seller to step into high society? What will the Fen Qing you've transformed do? There are lots of things one has no way of going back to again once changed. There can only be a new place. What about you? You said you were only going to teach Fen Qing for seven days. After seven days, where will you place her and what is the best course of action for her?"
The problem that Meng Ru Xi has brought to Huo Ting En's attention goes around in his mind at home whilst making dinner. He's taken by the thought to the point of momentarily forgetting to tend to the cooking on the stove.
Wei Fen Qing, Ah Wei and the night market crew; Huo Ting En; Huo Tian Zhi and his mother; and Grandma Huo and Huo Ting En's mother tune into the same TV channel. All watch the food programme, Gourmet Pioneer, where Wei Fen Qing appears on screen speaking about food, customers and La Mure (Episode 6).
Grandma Huo is impressed with Wei Fen Qing's eloquence. She wonders who this young lady is. Huo Ting En's mother tells her about Wei Fen Qing's famous night market name on the Internet and her ambition to regain her father's Curry King title.
Grandma Huo:
"Curry King? What's her name?"
Huo Ting En's mother:
"I think her surname is Wei. Wei something… Oh! Wei Fen Qing! That was the name. Wei Fen Qing."
Grandma Huo appears to find the surname particularly interesting. Later on, we see Peng Xiao Bin bringing Grandma Huo documents on Wei Fen Qing. It seems there is some history between Grandma Huo and Wei Fen Qing's dad.
Meanwhile, Huo Tian Zhi's mother speak with spite after watching the segment.
Huo Tian Zhi's mother:
"That woman has greed for the Huo family wealth and greed for the Huo surname. The retribution is on the children now. One is dead and the other is working like a slave for the Huo family. They're getting what they deserve."
Huo Tian Zhi is unhappy and seemingly at wit's end with his mother's spiteful attitude. He shows determination.
Huo Tian Zhi:
"Okay. You said I'm obligated to pay back my deceased father's debt. There will be a day I will pay you back. I definitely will."
Test day arrives for Wei Fen Qing. It arrives on the day of Ah Wei's birthday. He has a birthday wish for Wei Fen Qing to pass.
Wei Fen Qing chooses to make her own version of Curry Lobster. Unlike Huo Ting En's Curry Lobster dish which uses high-quality imported ingredients, Wei Fen Qing's Curry Lobster dish uses fresh and high-quality local produce and ingredients. She makes adjustments to the technique and the amount of ingredients to those she learnt from Huo Ting En.
Ah Wei's wish for Wei Fen Qing to pass the test comes true. Though Huo Ting En had found Wei Fen Qing's knife skills a bit lacking and the layering (of flavour) not particularly rich, the flaws in Wei Fen Qing's dish didn't impact on a positive result. Huo Ting En passes Wei Fen Qing on her version of the Curry Lobster dish.
Huo Ting En:
"Pass!! Congrats. Chef H."
Wei Fen Qing finds these words in the note Huo Ting En dropped into a food container for her after passing her.
Seemingly, Huo Ting En had already decided Wei Fen Qing had the skill. Not only had it been hinted in the previous episode, we hear Huo Ting En reveal the real purpose of the test before Wei Fen Qing began cooking. Peng Xiao Bin had asked Huo Ting En why he chose to test Wei Fen Qing in the way he was doing today. The response Huo Ting En gave to Peng Xiao Bin had Peng Xiao Bin understand that the test was not having Wei Fen Qing show she can make Curry Lobster. Rather, it was to allow Wei Fen Qing see she is a true chef. Huo Ting En confirmed Peng Xiao Bin had accurately understood the reason he had chosen to test Wei Fen Qing in this way.
Ah Wei fulfills his other birthday wish. It's a wish to reveal his feelings to Wei Fen Qing. Ah Wei had prepared the rooftop with decorations the previous day for the occasion.
Ah Wei confesses after celebrating Wei Fen Qing's pass with karaoke. The response is unexpected. Wei Fen Qing, at first, is stunned. She takes it as how Ah Wei intended the words to come across to her—a confession. But Wei Fen Qing then changes her understanding of Ah Wei's confession when she finds herself being silly to believe Ah Wei's words was a confession to her when it could not possibly be because Ah Wei is a buddy of hers. Ah Wei simply follows Wei Fen Qing in this understanding of his confession and plays a game with Wei Fen Qing of being the louder one to say 'I like you' and who likes who more.
It's another bad decision from Ah Wei. Prior to Ah Wei confessing, Huo Ting En had also confessed to Wei Fen Qing.
Huo Ting En confessed during their time at the karaoke. He'd taken her away from the group after showing increasing irritation to seeing Ah Wei being around Wei Fen Qing. His confession had been direct and forceful. Wei Fen Qing had struggled against Huo Ting En's strength when he forced her to remain trapped in his hold and he kissed her until she yielded and kissed him back.
Wei Fen Qing told Huo Ting En it was her first kiss. She seemed unhappy he'd stolen it from her. Huo Ting En responded with saying it was his first time being so rude to a girl. Wei Fen Qing somewhat didn't take well to the response.
Wei Fen Qing:
"What is this? Sexual harassment in the workplace?"
Huo Ting En's ears had seemed to zone into the word, 'workplace'. The fact that this day was the last day Wei Fen Qing will be at his workplace seemed to have ran through his mind when he told the following to Wei Fen Qing.
Huo Ting En:
"When today is over, it isn't anymore. However, I want to say that if you run into any problems out there that you need help with, you're welcome to come back to La Mure. Come and find me anytime."
Wei Fen Qing had provided a reflexive response to this. It was rather harsh to the ears. Huo Ting En took it and received it.
Wei Fen Qing:
"Why should I go find you? I won't return to La Mure."
Huo Ting En:
"Is that so? What a pity."
This confession moment concluded with Huo Ting En saying 'Goodbye' after they hear Ah Wei calling out Wei Fen Qing's name out in the hallway where the pair were.
It sounded like quite a final goodbye and Huo Ting En seemed very saddened by the outcome of his confession—possibly more saddened by Wei Fen Qing's rejection of the kindness and care he offered her. Wei Fen Qing didn't seem to want it… Maybe Huo Ting En was hoping Wei Fen Qing could see he was wanting her to stay at La Mure… She expressed the absolute opposite instead, though… :'o( :'o( Too shocked from the kiss, we guess. Wei Fen Qing does have a habit of going the opposite way when nervous or freaked out.
The episode concludes with Wei Fen Qing back with the night market crew and Huo Ting En at La Mure continuing with the ambassador banquet. Trained in Western-style cuisine, Huo Ting En and his staff struggle to produce satisfactory Taiwanese street food. Meanwhile, another event seems to be taking place in the evening the ambassador banquet is taking place. It is the Restaurant Association's annual meeting, organised by Yang Yu Qing's family. It is to be held at one of the flagship restaurants of Yanis.
Cool…
We love it when Ben Wu dances. His character, Ah Wei, does a cooler version of the night market dance that the crew routinely does before opening the night market to the public.
Familiar…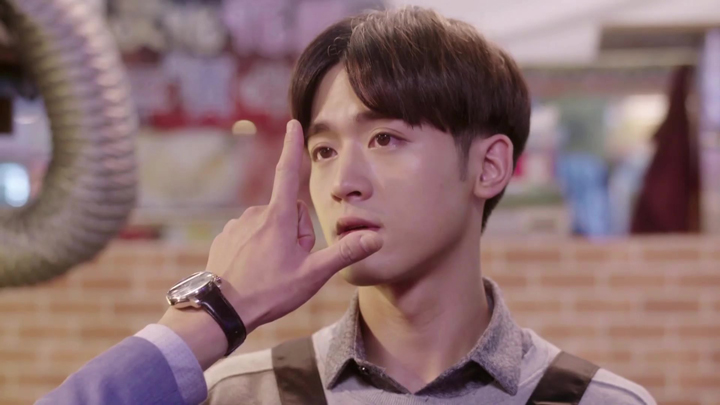 The 'L' hand gesture Huo Ting En gave Ah Wei—it reminds us of Wu Kang Ren's character in 'What is Love' and how he did the very same thing to the female lead character in that series. The scene where he extends an 'L' to the female lead character's face in 'What is Love' was a very memorable scene. Unlike in this episode, his character's 'L' gesture and constant teasing of how gullible she is makes the female lead end up calling herself a loser and completely believing it. Wu Kang Ren's character regretted his 'L' and constant teasing after that! Great series. Anyone who hasn't watched 'What is Love'—it is a very good watch!! :oP :oP.
ADVERTISEMENT