Bai Hao Yu continues with his attempts to express what he has been trying to express over the last couple episodes. With Li Hui Zhen using the familiar classical track to calm Bai Hao Yu following his dazed arrival into the foyer, it has him begin another round of questioning. His questioning was not to corner Li Hui Zhen yet again, but to have him express that despite the coincidences, despite her similarities, he seems to be past chasing down explanations. The reason? It didn't matter whether Li Hui Zhen is his childhood friend or not anymore.
Bai Hao Yu doesn't expand further when he lets Li Hui Zhen know all of this—or rather, he couldn't expand further, because, once again, Lin Yi Mu interrupts him. However, if his desperate rush to a possibly injured Li Hui Zhen at the end of the episode is anything to go by, it looks like Bai Hao Yu might have finally acknowledged Li Hui Zhen as the one in his heart.
Pretty Li Hui Zhen Episode 27 Recap
Bai Hao Yu:
"I'm sorry. I lost control just now."
Bai Hao Yu's pulled himself together enough to get to the 20th Anniversary venue. He no longer needs to deliver his speech with the Editor in Chief having handled that part of the event already, but he is still required to be present to greet his guests, which he is in no state to do so. He arrives dazed and not really all there. Trust it to Li Hui Zhen to be there by his side every time he's in this state to help calm him down, though. With the only act that seems to be sure to bring him out of such a state, she has him sit down next to her, gets out her phone and plays that all-too-familiar song in his ear.
Bai Hao Yu:
"There are so many songs on your phone. Why this one of all songs?"
"Don't use coincidence as an excuse to lie to me every time."
Bai Hao Yu questions her about the choice of song again. Li Hui Zhen again answers with it probably being a coincidence. Bai Hao Yu's over this explanation of it being a coincidence and rejects it. Before he gets a chance to pursue the matter further, a call from Zhu Ying comes through, saving Li Hui Zhen.
Bai Hao Yu:
"It's been too many times. I've told you before. You're very similar to a childhood friend of mine. Besides your looks, you are pretty much exactly the same. The way you talk, your attitude towards doing things, if I didn't see you in person, I'd really think you were her."
Bai Hao Yu comes off as still quite focused on figuring out who Li Hui Zhen is and why she possesses so many similarities to his childhood friend, but apparently it all actually doesn't matter to him anymore. The next day, Li Hui Zhen is pulled up to the rooftop to talk about the song again. He starts off telling her how important the song is to him and that there is just no possible way her picking the exact song he needed to hear at such a time could be just a coincidence. He sounds like he's tracking towards suspecting her again and wanting her to fess up about who she really is when he starts talking about Li Hui Zhen's similarities to his childhood friend again. It puts Li Hui Zhen in a very nervous state as a couple of times it feels like she was about to reveal the whole truth to him. But then, as he carries on, he unexpectedly expresses acceptance that she isn't her. Not only does he confirm he no longer suspect her to be his childhood friend, but he seems to suggest that despite her not being his Li Hui Zhen, he was going to acknowledge her anyway:
Bai Hao Yu:
"It's a pity you're not her. But that's okay. Even if you're not her, I'd—"
Bai Hao Yu's reason for bringing it all up wasn't tracking towards renewed suspicions. It was tracking towards words he's been trying to tell her over the last couple of episodes, but never managed to get out because of interruptions from a certain second male lead. Like the previous two times Bai Hao Yu tried to express whatever it is he's trying to express (it's looking like the words he's been trying to express might be related to his feelings! :oO :oO), he never manages to as right as he tells her that it's okay she's not her, Lin Yi Mu shows up to break the two apart, saying that Zhu Ying was looking for her.
Team Leader Zhu Ying:
"Do you have any interest in writing an article?"
"I've watched you this past period. You did pretty well with the news reporting related tasks I gave you."
With Li Hui Zhen having done some great work at Immortal, Zhu Ying wants to give Li Hui Zhen an opportunity to grow her creative potential by contributing an article of her own.
Li Hui Zhen lacks the confidence in herself, though. It requires her to come up with a suitable topic and researching it—something she doesn't believe she has the ability to do. Zhu Ying reminds her about the idea she came up with that was used for the 20th Anniversary issue. She can do it, she tells Li Hui Zhen. However, Li Hui Zhen is still reluctant, seeing the request as too specialised for her and thinks she should better stick to assisting the reporters and editors.
Zhu Ying insists she can do it, but she tells Li Hui Zhen she can have a think on it, try write something and she'll read it over and help her edit it before letting her go back to her desk.
Lin Yi Mu:
"You're really not going to give it a try? Not everyone is born knowing how! Maybe you're gifted! You'll know how to do it once you try."
Lin Yu Mu, who had heard the exchange between Li Hui Zhen and Zhu Ying, tries to encourage Li Hui Zhen to give it a go, because until she does, she won't know whether she can do something until she tries. True as that may be, it doesn't change her mind on rejecting the opportunity to write for Immortal:
Li Hui Zhen:
"Even if I try, it won't do. I just can't do this."
Lin Yi Mu tries tricking her into raising her hand to accept, but it doesn't work as the action has Zhu Ying tell Lin Yi Mu off for joking around she everyone's working.
Bai Hao Yu also tries his hand at encouraging Li Hui Zhen—although, when he approaches her to do that, it wasn't obvious he had gone to her for that reason.
At the end of the work day, Bai Hao Yu stops by the bus stop where Li Hui Zhen is waiting. He sits down and randomly starts telling her about his childhood friend. He talks about how she was a very outstanding kind of person ever since she was a child. She was seen as young goddess by her peers, she had everyone's trust. Any task given to her, she'd be sure to get it done. He then makes a direct comparison between his childhood friend and Li Hui Zhen:
Bai Hao Yu:
"When I was looking at your notebook, I felt that you were very similar to her. You have the same kind of perserverence. You have the power to move people. Like sunlight, you brighten up this world. I think you have potential, otherwise, I wouldn't have set my pride aside and ask you to return."
What sounded like some random sharing about the kind of person his childhood friend was is in fact his way of getting her to think back about how talented she was and how when she put her mind to achieving something, she can achieve anything. Of course, since Bai Hao Yu has yet to figure out that he is actually speaking to his childhood friend, he wouldn't know that his words would have Li Hui Zhen think back about who she once was. His only intention is to get her to see that the qualities which his childhood friend had are also the kind of qualities he sees in Li Hui Zhen and that she should consider taking up the opportunity to write that article for Immortal.
Although Li Hui Zhen doesn't end up picking up on the purpose of Bai Hao Yu telling such a story about his childhood friend, it does have her return home to look through her box of certificates and the her old school notebook. Looking through that, she hears his words, Lin Yi Mu's words and Zhu Ying's words. Together, it has her decide that she would take up the opportunity and submit and article to be published.
Li Hui Zhen's decision to accept the writing assignment sets up the desperate rush to Li Hui Zhen's side when the love rivals, Lin Yi Mu and Bai Hao Yu, find out she could get herself in a serious accident after mistakenly taking the keys to Ya Ling's broken car.
To write her article, she's needing to do a bit of traveling to meet her interviewee. Zhu Ying had offered Li Hui Zhen her car and told her that the keys to her car were on her desk. Li Hui Zhen heads over to her desk and grabs the set which sat on her desk, not knowing that these was the key to Ya Ling's broken car. The set that Li Hui Zhen should have taken are the ones which sat hanging over Zhu Ying's desk.
Ya Ling's car has been introduced to be having problems since last episode. One of the known problems is the engine would randomly cease to run. When asked about the breaks, Ya Ling couldn't say whether they're working. In short, the car is not fit to drive. The thought that Li Hui Zhen is traveling on the highway using such a car has the team extremely worried.
Lin Yi Mu's asked to call Li Hui Zhen which gets no response. Li Hui Zhen is in no danger at this point. She missed Lin Yi Mu's call because she was practicing her interview whilst driving and didn't hear or see her phone vibrate and light up. The phone sat behind her opened laptop.
Thinking the worst, Lin Yi Mu rushes off on his motorbike with not even a helmet on, following the road she took for her interview as rain pours over him.
Bai Hao Yu learns of the potential danger Li Hui Zhen might be in during a call he makes from a cafe to Zhu Ying wanting to know about when online data relating to Elleshop would be available. The call has Zhu Ying tell him about the broken car Li Hui Zhen is currently driving on the highway and not having heard from her about the state of things. It is around this point here, Bai Hao Yu reads the following headline on his tablet:
Newspaper Headline:
"Traffic accident near Hangzhou highway. Female driver, approximately 25 years old, seriously injured."
Immediately, Bai Hao Yu thinks it's Li Hui Zhen. He packs up his things and he head out of the cafe without noticing he had just passed by Xia Qiao who he was supposed to meet originally.
Xia Qiao had finally decided to break up with him had called him the night before to tell him she wanted to end things with him. Unlike her last attempt she was seen standing outside the cafe unable to bear breaking up with him, this time, she was committed to her decision. The silver heels which represented him had been donated again and she was about to get to the cafe door and walk in to break up with him, but it would seem it's now not her own heart stopping her from going through with things. It's now the situation which stops her.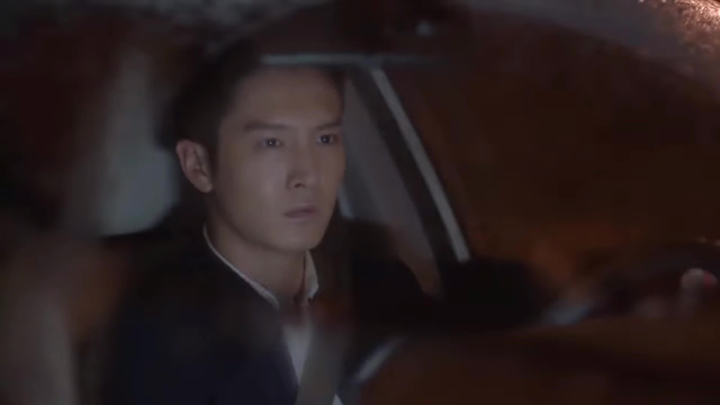 Bai Hao Yu gets in his car and takes the road Li Hui Zhen took. The rain is pouring, but it doesn't stop him. He is so worried about Li Hui Zhen that he seems to have not noticed he was driving in the rain quite well.
Comments
This is where the episode ends! Episode 27 was a pretty good episode. The chat Bai Hao Yu had with Li Hui Zhen at the bus stop was very cool. All those kind words, it's pretty much a confession that he likes Li Hui Zhen. Then there's that chat on the rooftop. We love how he tells her how it's such a pity she's not Li Hui Zhen. It says so much. It pretty much confirm that her not being his Li Hui Zhen was the only thing stopping him from liking her—at least that was back then. Now, he seems to have changed. He's all but confessed to her we think. All those times Bai Hao Yu was looking to say something to Li Hui Zhen, it might be that he likes her! We're not too sure, but these little attempts to confess might be a small change in Pretty Li Hui Zhen. We don't remember Ji Sung Joon doing the same thing… could be wrong since it has been two years since watching the Korean version. Like.
There was a couple clues about who Diviner is in this episode, too:
Lin Yi Mu:
"In reporting circles, when you mention the name, Lin Yi Mu, it's a name everyone knows."
"I descended to the world to be friends with you mortals."
Lin Yi Mu being a great reporter, a god who's come down to be friends with mortals? If that's not hinting at Lin Yi Mu being the famous writer, Diviner, then we don't know what is. We're not sure if we would have picked up these two clues had we not watched She Was Pretty. These clues are super super subtle. This particular clue was weaved into a conversation which has Lin Yi Mu offering his help to Li Hui Zhen for her article. His words aren't taken seriously by Li Hui Zhen, though, and she's seen going to Zhu Ying for advice instead.
Pretty Li Hui Zhen actually has been slotting in this 'who's Diviner?' as well as 'who's the heir?' game throughout every episode, hinting at a character as possibly being either Diviner or the Heir, but then there would be a scene put in either with the same episode or in a different episode to oppose the possibility.
For example, in this episode, Lin Yi Mu's claim of being a great reporter and his joke about having come down to be friends with mortals hint at him being Diviner, but earlier the episode Lin Yi Mu was told the publisher of Diviner's upcoming new book release wanted Lin Yi Mu to do a book review on it. Surely the publisher would know who Diviner was. If in fact Lin Yi Mu is Diviner then it doesn't make sense for the publisher to request Lin Yi Mu do a book review, because that would mean Lin Yi Mu is doing a review in his own book, which is just odd.
So, we think we'd might not be so confident in guessing who Diviner is or who the heir is if we hadn't seen She Was Pretty. We'd be second-guessing ourselves a lot with all the hints and hints countering those hints.
Pretty Li Hui Zhen is back on track and carrying on with the original direction of the story after the Immortal partnership with an online store. It's looking like this partnership has finished making a feature and is now moving into the background without affect very much of the original story—which is good to see. We can now think of the last two episode as a huge product placement, maybe a bit episode fillers as the drama tries to fill the slightly longer drama which Pretty Li Hui Zhen will be.
Can't wait to see what we know should happen in the next episode!
ADVERTISEMENT