Li Yan Shu needs a place to live. It's Gu Cheng Ze who she troubles of course!
We see Gu Cheng Ze is not all mean. It's a show of Gu Cheng Ze's soft and caring side that we haven't seen before in this episode when Gu Cheng Ze has to take care of a sick Li Yan Shu!
The Fox's Summer – Episode 5 Recap
Han Jun Yao makes Li Yan Shu make true of her words of leaving the Han's family home. When Li Yan Shu comes home after choosing an outfit Gu Cheng Ze had instructed his employees to help pick out for her, she finds suitcases in the entrance way. Han Jun Yao had never welcomed Li Yan Shu into her home ever since she moved into her home 8 years ago after Li Yan Shu's father died and Li Yan Shu came to live with her mother in the Han family. It's Han Jun Yao helping Li Yan Shu pack her belongings into suitcases for her to kick her out.
Li Yan Shu goes to Gu Cheng Ze and asks him to allow her to stay for a couple of days. she tells him it's because her place has been taken over by the owner. Gu Cheng Ze, however, doesn't welcome her with her track record of telling lies.
So, Li Yan Shu has no choice but continue to hang about in the corridor outside Gu Cheng Ze's place whilst Gu Cheng Ze goes about his evening. He cooks dinner then goes to sleeps.
About two in the morning, Gu Cheng Ze gets woken up by a male resident of the apartment complex. It's Gu Cheng Ze's neighbour and he's not impressed with Gu Cheng Ze's poor treatment towards Li Yan Shu. The poor treatment Gu Cheng Ze is giving Li Yan Shu is him kicking his girlfriend out of their place because they fought. This is what Li Yan Shu had told the gentlemanly, but misinformed, male neighbour of Gu Cheng Ze's.
Li Yan Shu continues portraying herself as a docile girl who Gu Cheng Ze is treating unreasonably. She agrees with Gu Cheng Ze when he corrects the male neighbour that she isn't his girlfriend. However, she makes Gu Cheng Ze look worse with saying she is a female subordinate who he doesn't want people to know about their secret rendezvous. She apologises to Gu Cheng Ze for telling their affairs to this male neighbor of his then holds the shirt of his that she still has in her possession because she isn't able to let go of it.
The male neighbour takes pity on Li Yan Shu. He offers his place to Li Yan Shu to stay for the night. Li Yan Shu doesn't end up staying the night his place, though. Gu Cheng Ze ends up taking Li Yan Shu in and allows her to stay at his place for the night. The thought of her staying with the male stranger she'd just met made him decide to take her in.
Gu Cheng Ze gets himself into more than he bargained for when Li Yan Shu has a fever. He spends the entire night taking care of her and accompanying her until she falls asleep when she wouldn't let him leave her side. Every time Gu Cheng Ze tried to leave Li Yan Shu, she called him back and held onto his hand. In Li Yan Shu's feverish state, she calls out for her dad—to which Gu Cheng Ze assumes the role.
Li Yan Shu is all better after Gu Cheng Ze's care the next day. She begins work at Sheng Hong as Gu Cheng Ze's Special Assistant. Zhu Dan is incredibly unhappy with Li Yan Shu coming into the product design team she works for. Zhu Dan expresses to the superior taking care of introducing Li Yan Shu to the team of her dissatisfaction towards Li Yan Shu being hired because she's the person who plagiarised her work. However, Zhu Dan is told that any issues she has with Li Yan Shu being hired can be directed to their CEO because hiring her is their CEO's idea.
Things to Take Away From Episode 5
Han Jun Yao kicks Li Yan Shu out of her home
Han Jun Yao:
"Li Yan Shu, I said I would definitely kick you out."
Li Yan Shu:
"Congratulations. You got your wish."
Han Jun Yao:
"You're wrong. I'm off by a step from getting my wish. The next one is your shameless mother."
Li Yan Shu:
"Well, you'll have to try harder, then. She's not someone you can kick out because you want to."
Gu Cheng Ze's male neighbour misunderstands the relationship between Gu Cheng Ze and Li Yan Shu
Gu Cheng Ze's male neighbour:
"Mr, no matter how angry you are, it's very late at night. You also can't have your girlfriend sleep in the corridor."
"Miss, since your boyfriend is such a bastard. Seeing as you don't have much good feelings left, how about you stay at my place for the night?
Gu Cheng Ze:
"As you're being so protective towards women, just bring her into your place then!"
Gu Cheng Ze takes Li Yan Shu in
Gu Cheng Ze:
"Crazy! She actually slept in front of my door. Does she have a brain? She wouldn't actually go stay at that guy's place, right?"
"Are you not coming in?"
Li Yan Shu has a fever. Gu Cheng Ze makes himself take care of her
Gu Cheng Ze:
"You got sick, huh? It's retribution. You just go run its course. Run its course."
"Am I crazy? I'm making her ginger ale. Seeing as she's sick, I'll let her off this time. A gentleman's demeanour. A gentleman's demeanour."
Gu Cheng Ze tells Li Yan Shu to sleep when she calls for her dad in her feverish condition
Li Yan Shu:
"Dad, don't abandon me. Don't leave me behind."
Gu Cheng Ze:
"Be good. Dad isn't leaving. Dad's not leaving. Dad's not leaving. Be quiet. Or else, I'm afraid you won't see the sun tomorrow. You're scared now, aren't you?"
It seems Li Yan Shu's relationship with her dad was very good unlike her relationship with her mum. We were shown in the previous episodes that Li Yan Shu's dad had passed away. We saw Li Yan Shu visit her father's grave in Episode 1. It seems he died from too much drinking from the despair of Li Yan Shu's mother leaving him for Han Jun Yao's father.
This scene was very cute and sweet. We like that Gu Cheng Ze stayed at Li Yan Shu's side even after he managed to stop her from holding onto him and stopping him from leaving.
Gu Cheng Ze's subordinates awkward after Gu Cheng Ze speak of his private affairs
Secretary Gao:
"In all these years, I have never seen you take a nap. Also, it's not even eleven in the morning yet."
Gu Cheng Ze:
"It's all because of that wretched woman. I haven't gotten a good sleep for two days. I even helped her bathe."
Aside from Secretary Gao—to whom he has a somewhat close relationship with—being in the room, two others—directors we think—who he's not very close with, were in the room. Gu Cheng Ze tried to undo the misunderstanding when he found them in the room after he told things he hadn't intended to tell to the other two in the room; but, the other two quickly apologised then left Gu Cheng Ze to himself with no chance to clear the misunderstanding. Big oops. Hehe.
Li Yan Shu finds Gu Cheng Ze very unlike him when she shows up to work late
Gu Cheng Ze:
"It's your first day of work and you're late. I'm deducting half day's pay from your wages. I've informed the HR department. Immediately go report to them."
Li Yan Shu:
"He actually didn't get mad. Did he take the wrong medicine?"
Gu Cheng Ze was definitely forgiving when Li Yan Shu was late. He didn't scold her or lecture her.
Li Yan Shu is Gu Cheng Ze's means to get Gu Jin Yun to come to work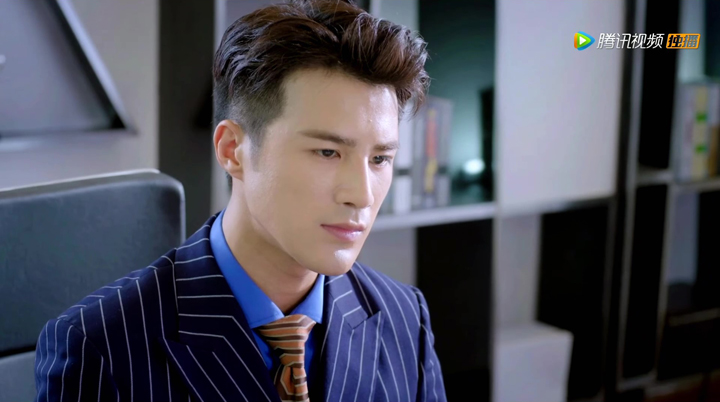 Gu Cheng Ze:
"Li Yan Shu, it's best you don't disappoint me. Only you can make Gu Jin Yun work at the company. Even if you tell lies, I can put up with it for the time being."
Zhu Dan unimpressed with Sheng Hong recruiting Li Yan Shu
Zhu Dan:
"Director Li, I'd like to know what the criteria is for recruiting people in Sheng Hong. Everyone knows that two days ago, at the lingerie showcase, she plagiarised my product. With someone like her who isn't professional and has no morals, how can they be recruited into Sheng Hong? Director Li, have you thought about how the industry will see us recruiting this person in Sheng Hong?"
Director Li:
"Hiring Li Yan Shu is the CEO's idea. Miss Zhu, with any issues you have, you can directly call the CEO."
Li Yan Shu to Zhu Dan:
"I've said it once before. You must report to me."
ADVERTISEMENT