The business trip over, Li Hui Zhen's decision to reveal everything to Bai Hao Yu draws near. The planned date is after the deadline for the 20th Anniversary issue of Immortal has passed, after the cover shoot. 
There's every possibility that Li Hui Zhen's decision could spell the end for Xia Qiao's relationship with Bai Hao Yu; and with Lin Yi Mu realising he likes Li Hui Zhen, he could be losing her to Bai Hao Yu; but, without personally finding out and confessing, neither would know the real answer. 
And so, it's the episode of confessions—confession of feelings from Lin Yi Mu and Xia Qiao.
 
Pretty Li Hui Zhen Episode 19 Recap
Lin Yi Mu:
"Don't you think this boat is too small? How about you take one alone, and us two take one? If there's anything you need, just give us a shout."
"Must you play like that? You ditched me! Come back!"
Lin Yi Mu's attempt to get in between Bai Hao Yu and Li Hui Zhen during this business trip doesn't quite work out. Last episode, Bai Hao Yu and Li Hui Zhen wore matching T-shirts and enjoyed popsicles together while Lin Yi Mu was left at the side playing hoops by himself. This episode, he's found playing catch up as Bai Hao Yu and Li Hui Zhen travel around the place capturing shots of the scenery.
A boat ride Bai Hao Yu suggests taking with Li Hui Zhen leaves Lin Yi Mu on a separate boat shouting at them for leaving him behind. Lin Yi Mu had been made to think Bai Hao Yu had accepted his suggestion for Bai Hao Yu to take a boat alone whilst he and Li Hui Zhen rode together. So, off he goes to get a ticket for the extra boat. The moment he leaves, Bai Hao Yu turns on his agreement and tells Li Hui Zhen to hop on. (Bai Hao Yu's so cheeky!)
Come time to return to the city, Lin Yi Mu does manages to catch a ride home with the two, but not without an attempt from Bai Hao Yu to have Lin Yi Mu catch the bus first. Since the mode of transportation Lin Yi Mu claimed to have used to get there is a bus, Bai Hao Yu suggests Lin Yi Mu take that. (Lin Yi Mu actually drove his car, but telling him that would mean Bai Hao Yu is left alone with Li Hui Zhen.) But why make him take the bus when there's so much room in the car, Lin 
Yi Mu argues.
And so, Lin Yi Mu is allowed to join them; but there was no way Bai Hao Yu was going to let Lin Yi Mu sit at the front like he wanted. Bai Hao Yu tells Lin Yi Mu to sit at the back, claiming he needed to speak with him. However, no talking happens.
Xia Qiao:
"Zhen-er, when do you plan on telling him?"
Li Hui Zhen:
"I wait till the deadline's passed, until we get through this busy period."
With Li Hui Zhen back and having made the decision to tell Bai Hao Yu everything, Xia Qiao needs to make a decision quickly about whether she wants to continue in her ways and risk hurting her best friend or end things. Li Hui Zhen reveals her plan to reveal her identity will be after the deadline for the 20th Anniversary issue when everything won't be so busy.
Xia Qiao tries to talk Li Hui Zhen out of it, using many of the things Li Hui Zhen thought about already: what if it changes the way he thinks of her because of her appearance, what if he gets angry or what if it causes problems at work as her colleagues wonder why they're acting so strange all of a sudden?
Hearing Xia Qiao try talk her out of telling the truth has Li Hui Zhen suspect Xia Qiao as liking Bai Hao Yu at one point. It was only a joke, though. An outsider listening to Xia Qiao would think that way, but since it's not an outsider listening but Li Hui Zhen, it's taken as concern from a best friend to a best friend.
Li Hui Zhen remains resolute. She tells Xia Qiao what she told Lin Yi Mu about Bai Hao Yu having not changed from the Xiao Pan Yu she knew. Not only that, some things should be tested out. Only then will she know will she know what the outcome is.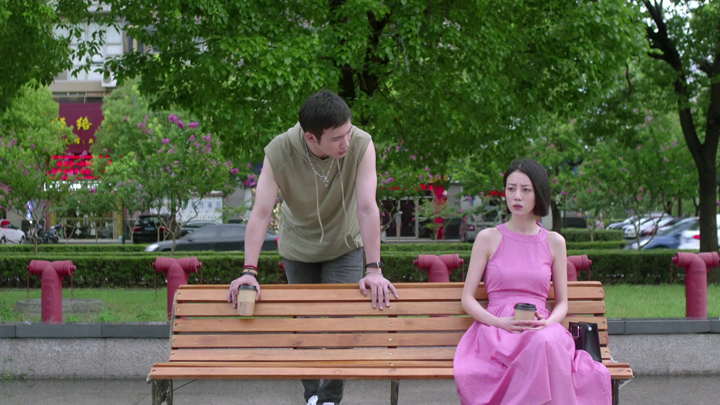 Xia Qiao:
"Because I listened to you, I was brave."
"If I continue being brave, I will hurt my best friend."
Lin Yi Mu:
"Love must be mutual. There inevitably be some who'll hurt and some who must back off. What's most important now is what the person you like thinks."
Troubled by her best friend's resolve, Xia Qiao invites Lin Yi Mu out. She doesn't really want to talk about her problems. She just wants him to sit and accompany her. Lin Yi Mu isn't fine to just sit and let them both sink into depression. He has her speak and reveal her worries about being brave like he told her to, but now she's worried that if she continues being grave, she'll hurt her best friend.
But love has got to be mutual. Lin Yi Mu tells Xia Qiao to ask the person she likes if he likes her back. That way everything is solved.
If Bai Hao Yu's lack of contact since his return is a sign, feelings for Xia Qiao only go as far as wanting to keep the promise Bai Hao Yu made to protect her because he thinks she's the Li Hui Zhen from his childhood. Had Xia Qiao not contacted Bai Hao Yu the next day, it's hard to tell when he'd contact her. He admits having forgotten to contact her when she calls him. After that, he doesn't even spare a minute to stay on the phone with her, only fitting in an apology and telling her he'd contact her after the deadline before hanging up.
Interestingly, he seems to remember to contact Li Hui Zhen the night before. Li Hui Zhen had texted Bai Hao Yu to check in with him sometime in the day, after they returned to the city. She's just an intern at his work place, he could have left the text unanswered. But he comes back with a text telling her to rest well and that he'd see her in the morning as Li Hui Zhen was about to turn in for the night. Clearly Li Hui Zhen was in his thoughts just before they went to sleep.
The relationship between Bai Hao Yu and Li Hui Zhen has noticeably changed when they arrived to work in the morning. Not only are they pretty much walking side by side when they walk in, but Bai Hao Yu has a smile and even encourage the team to do their best.
Bai Hao Yu is even acknowledging the sandwiches Li Hui Zhen leaves at his desk, thanking her with a wave all the way from his office.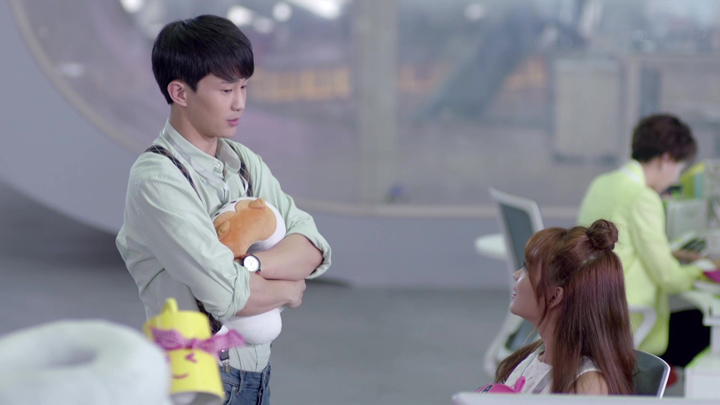 Han Xue:
"I've finally thought it through. Pursing him, dating, Mrs. Lin, Madam Lin have nothing to do with me. I better just stick to being Little Xue Xue."
"I think I might as well resign myself to being with a slob like Lin Hao-ge."
Han Xue tells the Editor in Chief of her failure to show her best side to Lin Hu Sheng and become the Chairman's daughter-in-law. In the process, she calls Lin Hao, someone who is could actually be the nephew of the Editor in Chief and the heir, a slob in front of said Editor in Chief.
Han Xue worries that she's ruined her chances of becoming Mrs. Lin, of becoming Madam Lin (i.e. the wife of an heir to an empire). The chances of the latter might be nil (if Lin Hao is revealed as the actual heir), but the former, it's still very possible.
Lin Hu Sheng is seen asking her out to a movie after getting through the busy period.
Li Hui Zhen:
"Umm… I'm not sure if you're free after the cover shoot, but umm… I feel very sorry about that matter of the photo frame. So, I want to treat you to a meal. At the same time, I also have some things I want to tell you."
The deadline has passed, and as Li Hui Zhen had said she would do, she's going to tell Bai Hao Yu everything. It won't happen just yet. There's still the cover shoot to go. She would do it following that. She heads into his office and lets him know she wants to pay him back for the shattered frame with a meal, and whilst there, she'd use the chance to reveal everything.
Lin Yi Mu, who had watched Li Hui Zhen go into Bai Hao Yu'a office, questions Li Hui Zhen about the necessity of her decision whilst out eating some instant noodles. He, too, seems to be trying to stop her from going through with it, because if she does it'd be she'd be with Bai Hao Yu and not him.
Li Hui Zhen shares with Lin Yi Mu the other reason she has to do it. Apart from needing to tell the truth, she, too, made a promise to him when they were younger:
Li Hui Zhen:
"We promised to come here after graduating middle school and university. It was clearly a promise, but nobody ever followed through with it."
"This should be a promise I should carry through. This broken fate of ours should be reconnected by me. I must bring him here and explain everything to him."
Just before what appears to be the last time the two would be together and Bai Hao Yu had to leave China for the US, they had promised each other to return to a wall where Bai Hao Yu left a small drawing of the two. They had promised they would fill the wall with drawings after graduating middle school, high school, and to return after any important date. However, that didn't happen. (Li Hui Zhen has been returning every summer to colour the drawing, though.) This broken fate of theirs, she needed to reconnect it. She needed to keep this promise they made to each other.
The last part of the episode has Lin Yi Mu and Xia Qiao make their confessions. Li Hui Zhen finds out she reminded Lin Yi Mu of his late little sister who's not actually his little sister, but his dog called "Mei Mei" (Sister). 
Following the visit to the wall, Lin Yi Mu treats Li Hui Zhen hot pot. Lin Yi Mu had nagged Li Hui Zhen about being treated at first, wanting her to treat it as payment for talking about another man and upsetting him. But seeing how reluctant she was about shouting again, Lin Yi Mu offers to treat her to a hot pot instead.
After eating their hot pot which Lin Yi Mu pays for, Li Hui Zhen notices a photo of Lin Yi Mu's dog in his wallet. She gushes over how cute his dog is, after which he reveals to her that his dog is his "Sister".
The realisation that she's been compared to a dog all this time has Li Hui Zhen angry and wondering why he's always pranking her like that. That's when Lin Yi Mu realises it's probably because he has feelings for her:
Lin Yi Mu:
"It seems I've fallen for you. Think about it. When I was on the business trip alone, you were on my mind the whole time. If you were here, it'd be so much fun. Then I returned. When I returned, I discovered you were with Bai Hao Yu and would spend the night with him. I was quite upset at that time."
Li Hui Zhen listens to Lin Yi Mu with open ears as he explains why he thinks this way. He explains to her how he had thought about her during the business trip and how upset he was when he found out about her spending the night alone with Bai Hao Yu. He's been watching her and Bai Hao Yu in the office, wondering if they got together without him knowing. He hasn't slept well thinking about the possibility she and Bai Hao Yu might get together.
Li Hui Zhen seemed to believe what he was telling him for a time. He came off so genuine, but he was also quite genuine when he was talking about having a sister who had passed away, and then there are all the times he pranked her. It's hard to take him seriously.
Although Lin Yi Mu is telling the truth, Li Hui Zhen takes his confession as another prank.
Xia Qiao:
"I'll make a bet. If I see a female after opening my eyes, I will back out. If I see a male, I'll be brave one more time."
Below the bridge where Lin Yi Mu and Li Hui Zhen stands, Xia Qiao's set to make her confession to Bai Hao Yu.
Xia Qiao had considered backing out from her relationship with Bai Hao Yu—that is if using a bet and then losing twice can be considered as "considering backing out". Standing at the top of an escalator, she had told herself that if the next person she sees is female she'd back out. Both times, a woman was seen. Not accepting the outcome, she promised herself that her third go would be her final.
Third time round, Bai Hao Yu shows up right in front of her. It's not a woman or just any man. Bai Hao Yu himself. Being so, she treats this as a kind of fate. It's true the first two people who appeared before her were women, but at the most unlikely of places, whilst she stood wondering whether she should back out, Bai Hao Yu himself shows up before her.
Just as Lin Yi Mu had advised her, Xia Qiao takes this chance to find out Bai Hao Yu's feelings for her. Does he care for her because she's Li Hui Zhen? Would he have treated her so well if she wasn't the Li Hui Zhen from his childhood? Between her and the Li Hui Zhen at his office, who does he feel closer to?—
Xia Qiao:
"If you only met me after coming back to China, and in your heart there's me and that trainee Li Hui Zhen, who would you want to be closer with?"
She move to confess to him:
Xia Qiao:
"In my heart, you're no longer a mere childhood friend. I like you. It's the kind of like between a woman and a man."
And then the kiss we thought might have been cut out happens. Xia Qiao leans in and kisses Bai Hao Yu.
Comments
It's still pretty hard watching this scene play out again in Pretty Li Hui Zhen! Knowing that a kiss between Bai Hao Yu and Xia Qiao should/does happen in the story because we've seen the original doesn't make the *gasp* and "ahh!" go away.
It's fortunate Pretty Li Hui Zhen is a remake and we've seen the original, though, else we'd be so antsy about getting to the next episode so we can move away from this kiss which we really prefer not to have seen happen between Xia Qiao and Bai Hao Yu. Why couldn't it have been Lin Yi Mu and Li Hui Zhen? We would have liked seeing that.
We suppose if it did go our way, Bai Hao Yu might not see how little he feels for the one he believes is Li Hui Zhen. There was no response from him when she confessed to him nor when she kissed him: he just stood there, eyes wide open. He should hopefully be seeing that he is closer to Li Hui Zhen. If not that, at least, it'd get him thinking about the questions Xia Qiao asked and start to seriously think about what his real feelings are for Li Hui Zhen. This we would like to see, too.
But, poor Lin Yi Mu. He was being genuine with his confession, but it was taken as a prank. We can't blame Li Hui Zhen's reaction. Lin Yi Mu pranked her too many times. Not only that, he does it so well that it really sounds like it's the truth. The fact that he can come off so genuine-sounding about matters such as his sister passing away, it's hard to not think that this confession of his might be another prank.
And just before we end this recap, we found a scene between Lin Hao and Team Leader Zhu Ying interesting. We have this feeling this might have been in the original, too, but it might not have been: Lin Hao covers Team Leader Zhu Ying with a jacket upon his return to Immortal. This short scene reminds us of how Bai Hao Yu covered Li Hui Zhen with a jacket in Episode 15, which makes us think maybe it's a hint there's something between Lin Hao and Zhu Ying. If not that, then maybe it's meant to serve as another clue that Lin Hao is the heir: when Zhu Ying wakes, she greets him before going off to get Lin Hao a coffee. We think Lin Hao is under her leadership, so she shouldn't be getting Lin Hao coffee. It should be the other way round.
Also, we found the Editor in Chief's tone interesting when Han Xue expressed she should just settle for Lin Hao. She tells her, "No", like she was saying, "Please don't." Right after Han Xue leaves, the Editor in Chief is seen looking down onto Lin Hao, Lin Yi Mu and Lin Hu Sheng, defending her nephew's demeanor. This appears to be in response to what Han Xue said about Lin Hao.
The clues to who the actual heir is is starting to point to a particular someone. We're purposely not stating who it is just in case we spoil it for those who have yet to watch Pretty Li Hui Zhen or She Was Pretty—though, we're thinking, we're probably not doing a good job at not spoiling things since we've been mentioning about who it might be so much.
When watching She Was Pretty, we definitely missed the clues. We weren't really playing close attention to them and as a result didn't pick out who it was. We also weren't recapping the Korean version, which sometimes we find make us pay more attention to details in episodes than say just watch them. So, it was only after watching the whole drama, seeing the secret identity being revealed and thinking back on it's theme, we found out who it was and why this person had to be the heir.
Okay, onto the next episode. We can't quite remember specifically what happens after the kiss  between Ji Sung Joon and Min Ha Ri, only what happens with Kim Hye Jin, so we'll be looking forward to seeing Bai Hao Yu and Xia Qiao remind us in the next episode! : oP : oP.
ADVERTISEMENT