Li Hui Zhen is at it again. She's called Bai Hao Yu by his nickname again and talking about the past which sound uncannily like the one Bai Hao Yu shared with the Li Hui Zhen from his childhood. It causes Bai Hao Yu to return to wondering who exactly this intern Li Hui Zhen is.
But Bai Hao Yu's been shown proof already. Despite Li Hui Zhen being unconvincing in her explanation, Bai Hao Yu realises he shouldn't be suspecting her anymore. Xia Qiao is Li Hui Zhen not this Li Hui Zhen before him.
But Li Hui Zhen is his Li Hui Zhen and Bai Hao Yu should be with Li Hui Zhen. After the incident, the episode moves to return Bai Hao Yu's heart to where it was before Xia Qiao fooled him with the puzzle she took from Li Hui Zhen's vanity desk.
Pretty Li Hui Zhen Episode 18 Recap
Episode 17 left off with Bai Hao Yu and Li Hui Zhen switching on the TV to play a video game called Street Fighter which they both remember playing as children. It's Round Two now and Bai Hao Yu's making recommendations to Li Hui Zhen to surrender. He's won Round One, and since he's had a lot of experience playing this game—he grew up playing this game in fact—he seems to be predicting he's going to take it out.
Li Hui Zhen:
"When I was younger, I liked playing Tetris. But then, because of my friend, I started learning to play Street Fighter. He told me that as long as I learn to play Street Fighter and win at this game then can I rule the whole school."
But Li Hui Zhen's had a bit of experience, too. She tells Bai Hao Yu that because of a childhood friend (i.e. Bai Hao Yu), she's been practicing the game since then. He had told her that she could only be considered the ruler of the whole school if she could play this game and win. So, there was no need for her to surrender to him just yet.
Li Hui Zhen's slipped again in front of Bai Hao Yu, but she manages to have him let go of his question wanting her to repeat herself by pointing out to him that she was beating him in the game.
But she's not so lucky with her second slip-up:
Li Hui Zhen:
"You really haven't improved at all, Bai Pan Yu."
Bai Hao Yu's compliment of how Li Hui Zhen can really play the game has her unwittingly call him by his nickname. With her already having gotten his attention for the first slip-up, there was no mistaking it. He stops her from playing the game wanting an explanation. He tells her to turn to look at him and repeat the name she had used. 
Li Hui Zhen's refusal to look at him and attempt to get him back to the game shows she's finally realised what she's done. She tries to explain away her mistake with not having pronounced his name clearly, saying that what she said was actually "Bai Hao Yu" and apologises for doing so.
Bai Hao Yu isn't fooled. He heard everything clearly and demands Li Hui Zhen answer his questions again. He gets up off his seat, grabs the controller from her grasp and repeats his questions:
Bai Hao Yu:
"How did you know about Bai Pan Yu? Who told you about that? What about ruling the whole school? And what about this habit of shaking your legs since you were little?"
With Bai Hao Yu standing overhead, his gaze squarely on her, there was no avoiding for Li Hui Zhen. Bai Hao Yu even caught her habit amidst his questioning. She tries to brush off this shaking of her legs as nothing but common habits and the part about ruling the whole school as something all boys say when they play games. She attempts to draw his attention back to the game, but Bai Hao Yu won't hear any of it.
Bai Hao Yu:
"Answer me. Who are you really?"
Li Hui Zhen:
"I am Li Hui-Li Hui Zhen. Deputy Editor in Chief, I'm intern Li Hui Zhen. What's wrong?"
Li Hui Zhen's become too suspicious. He pulls her up and demands she tell him her real identity—a demand which is met with the only answer Li Hui Zhen is willing to give. She's intern Li Hui Zhen. She says this whilst staring directly into his eyes, in a tone which made it look like Bai Hao Yu was behaving like he was crazy.
The hotel receptionist interrupts here, letting them know their two rooms were ready for them, allowing Li Hui Zhen to escape from Bai Hao Yu's interrogation.
Bai Hao Yu goes to his room and he is seen pacing before seating himself on his bed. He is heard asking himself what was wrong with him for acting the way he did with Li Hui Zhen earlier. If him questioning his behaviour is anything to go by, he seems to have realised he might've been unnecessarily suspicious again.
Xia Qiao's call which comes through amidst his thoughts—a call which he cuts short—might have gotten him to remember the evening before. He had seen the key evidence to prove Xia Qiao was Li Hui Zhen. Li Hui Zhen is just the intern Li Hui Zhen who reminds him a lot of her, but the real Li Hui Zhen is the one who works at the hotel. He had promised the one who worked at the hotel he wouldn't doubt her identity or mistaken someone else for the real Li Hui Zhen anymore, too.
Li Hui Zhen:
"I can't keep lying to him like this. If he's unwilling to accept it, or lets say he's unwilling to accept my apology, then I will continue apologising until he's willing to accept it. If he wants to fire me, I think that sounds fair. Right. I committed the mistake first, so he should be angry and would want to fire me."
Bai Hao Yu sets out to see Li Hui Zhen in her room to apologise, but not before Li Hui Zhen makes it to his with the intention of telling him the truth about herself.
A call to Xia Qiao which started off as asking to borrow money (to pay off the debt to the restaurant and maybe meals during their return) finishes off with Xia Qiao reminding Li Hui Zhen not to let on about the lie they started. Li Hui Zhen promises she won't let on anything before the calls ends, but the mention of it seems to have put Li Hui Zhen onto contemplating revealing the truth after it.
As far as Li Hui Zhen is aware, the worse that can happen is he'd get angry and fire her. With Xia Qiao having hid her involvement in the lie as going much deeper than just pretending to be Li Hui Zhen and disappearing overseas, Li Hui Zhen isn't able to consider how much this will affect Xia Qiao. So, thinking the decision only affected herself, Li Hui Zhen decides she would tell Bai Hao Yu the truth about herself.
Li Hui Zhen go to Bai Hao Yu's room where she runs into Bai Hao Yu just outside his hotel room. She had gone to tell him the truth, while he (as mentioned above) had wanted to go to her to apologise for his behaviour earlier. He tells her that she knows clearly she wasn't his childhood friend, but she was just so similar to his childhood friend.
Li Hui Zhen look to tell him the truth then, but she doesn't manage to get it out because Lin Yi Mu's arrived. He arrives on the pretense of coming to their aid after hearing from Team Leader Zhu Ying that something happened to them so he drove all the way to them to see if he could help them (as opposed to the real reason of being there to get in between them).
Lin Yi Mu:
"Here, let your brother open a can of alcohol for you."
Bai Hao Yu:
"Brother?"
Lin Yi Mu suggests going out for some drinks which has Bai Hao Yu sit through a display of Lin Yi Mu's close relationship with Li Hui Zhen. There seems to be an attempt to make Bai Hao Yu see how well he and Li Hui Zhen gets along. Lin Yi Mu opens a can of beer for her, purposefully calling himself as her brother as he does so. He feeds her food, too. This has Bai Hao Yu's brows knit together as his gaze trains it on Lin Yi Mu before it goes over to Li Hui Zhen. It has him compare Li Hui Zhen to the Li Hui Zhen from his childhood:
Bai Hao Yu:
"No wonder you're Li Hui Zhen. You can get along so well with anyone."
Bai Hao Yu then take a drink of the alcohol he had previously said he doesn't drink. It's not clear if jealousy's made another visit to Bai Hao Yu, but he doesn't seem too happy about what he's seeing. Not only that, Bai Hao Yu seems to still see traits of Li Hui Zhen from his childhood in Li Hui Zhen.
Lin Yi Mu follows this display with a prank involving a cockroach on Li Hui Zhen's head, which has Li Hui Zhen take the cockroach (which she soon realises is fake) and throw it onto the floor near Bai Hao Yu. Li Hui Zhen follows that up with a high five with Lin Yi Mu.
We're not too sure if it's because he hates seeing Lin Yi Mu pranking Li Hui Zhen or that he's viewing it as another example of how comfortable Lin Yi Mu and Li Hui Zhen are around each other or that he just hates pranksters, but the pranking upsets Bai Hao Yu. Bai Hao Yu gets up and smacks Lin Yi Mu across the back of the head a few times before clapping the air claiming mosquitoes were around. Bai Hao Yu loses consciousness soon after as the alcohol takes effect.
The sequence of events in the next few scenes (minus a couple scene where Han Xue and Lin Hu Sheng is scene still traveling on the road, lost, which slots in between) plays out almost exactly the same as the opening set of scenes in Episode 14 next, with a tiny mixing and mashing of some of the memorable Bai Hao Yu-Li Hui Zhen moments that occurred between Episodes 10 and Episode 16.
Bai Hao Yu is brought back to his room by Lin Yi Mu with the help of Li Hui Zhen. (There's no need for an access card this time round.) There's a request from Lin Yi Mu for some water which Li Hui Zhen doesn't get him this time round. She just leaves.
Lin Yi Mu:
"Are you really planning on telling Deputy Editor in Chief your real identity?"
Li Hui Zhen and Li Yi Mu head to Li Hui Zhen's room where Lin Yi Mu learns that Li Hui Zhen's made the decision to tell Bai Hao Yu about her real identity. She tells him that because of her lying she's been living in fear ever since they met again. She doesn't want to continue this any longer as she worried she could ruin the view he has of her in his heart if she did.
Li Hui Zhen:
"I thought Bai Hao Yu changed, but slowly, I realised that Bai Hao Yu is still that Bai Hao Yu. He's kind and pure. When he works, he's very earnest and accountable. Although his EQ is quite low, he's a very fair-minded person—although he can be overly righteous and a little foolish."
This business trip seems to have helped Li Hui Zhen think things through. It helped her see that Bai Hao Yu, who she thought had changed, really hasn't changed all that much. It was this belief that he had changed that had caused Li Hui Zhen to worry that maybe he wouldn't be able to handle seeing how much she's changed. But, after being on this business trip, she sees that Bai Hao Yu's like the Bai Hao Yu she once knew. Getting into trouble at the restaurant, working together at the farm and playing games together, it had her feel like they were old friends who understood each other very well.
Li Hui Zhen:
"We were once such good friends. Even if we sat together and didn't talk, we knew what the other was thinking. I can't think he won't accept me just because my outer appearance changed. Isn't this underestimating our relationship?"
Li Hui Zhen blames herself for being weak and a coward for hiding herself from him so he couldn't find her. She was in effect underestimating Bai Hao Yu and the strength of their friendship. Having thought this all through, she lets Lin Yi Mu know she's going to tell Bai Hao Yu about everything. She would muster up the courage and go find Bai Hao Yu this time.
Lin Yi Mu:
"You sure have a lot of thoughts inside your little head. That's right! You must make yourself happy, okay?"
Li Yi Mu is a pretty good friend. This whole time he sits listening to her, nodding and smiling. He even pushes her towards Bai Hao Yu by supporting her happiness—even if that means going to Bai Hao Yu and not him. Her decision to go to Bai Hao Yu worries him, though, as his smiling expression straightens after expressing his support.
Lin Yi Mu leaves his phone in Li Hui Zhen's room which has her going to look for him. However, upon seeing Bai Hao Yu's door open, she stops by Bai Hao Yu's room instead to check up on him. In Episode 14, Lin Yi Mu had gone in Li Hui Zhen's place to check on Bai Hao Yu who was sick. This time, Li Hui Zhen checks up on him. She's the one who covers him with cushions. 
Seeing Bai Hao Yu lay there asleep, she goes to pinch his cheek before uttering a "Xiao Pan Yu". Lin Yi Mu walks in then, causing Li Hui Zhen to stutter as she tries to explain her reason for being in Bai Hao Yu's room when she was looking for Lin Yi Mu. She exits quickly after that which has Lin Yi Mu wonder to himself what was up between the two.
Bai Hao Yu, who must have woken by the conversation between Li Hui Zhen and Lin Yi Mu, is seen smiling to himself after they all leave.
This scene with Li Hui Zhen visiting Bai Hao Yu and covering him up with cushions also doubles up as the scene at the Immortal office where Bai Hao Yu covers Li Hui Zhen with a jacket when she was tired from her cold and took a nap (Episode 15).
The night ends with Li Hui Zhen in bed, smiling happily to herself; Bai Hao Yu tossing and turning, in thought; and Xia Qiao in bed, holding her phone, clearly worried about what will become of her, of her and Bai Hao Yu and probably of her and Li Hui Zhen.
Lin Yi Mu:
"Are you two going to wear the same? That's so embarrassing."
Bai Hao Yu:
"I don't mind."
In the morning, Li Hui Zhen and Bai Hao Yu shop for some clothes before getting on with their on-location survey. They try on some traditional clothes before eventually picking out a couple of T-shirts with a panda print on them. Essentially, what they've picked out are couple tees. Lin Yi Mu comes in and asks whether it's a bit embarrassing that they're wearing such similar designs. Bai Hao Yu doesn't think so and is quick to let Lin Yi Mu know he doesn't mind!
Does Bai Hao Yu like the thought of the two being a couple? He (nor Li Hui Zhen) corrected the sales lady when she referred to them as a married couple for choosing the same style either.
Bai Hao Yu:
"I remember when I was younger, every P.E. class I'd be punished with running laps. I'd then pretend to be sick and secretly go off to buy some. When no one was paying attention, I'd eat it all."
Li Hui Zhen:
"He's finally telling the truth. Back then, he lied to me and said he didn't eat them."
After Li Hui Zhen, Bai Hao Yu and Lin Yi Mu spend some time strolling the traditional-looking streets, they all take a break under a pavilion to have some popsicles together. Bai Hao Yu and Li Hui Zhen sit at the side licking popsicles with Bai Hao Yu sharing some memories about the younger days when he would sneak around eating popsicles and Li Hui Zhen grinning away as she listened to those memories—some shared and some she didn't know about.
Bai Hao Yu:
"Truth is I rather go back to how things were when I was younger."
Li Hui Zhen:
"Right. When I was younger, the littlest things could satisfy. Even eating a popsicle felt like I had the whole world."
Bai Hao Yu expresses his preference to return to his younger days. Her response about about how easily satisfied they were, how it felt like a simple thing like a popsicle felt like the whole world was in their hands has him turn to look at her like she had completed his thoughts.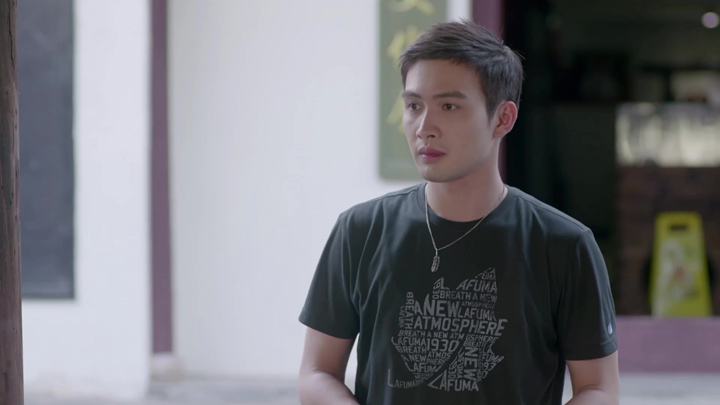 While Bai Hao Yu and Li Hui Zhen reminisce about eating popsicles, Lin Yi Mu is playing hoops on the other side of the pavilion. The relationship between Bai Hao Yu and Li Hui Zhen is getting a lot more natural and a lot more comfortable and it troubles him. The girl he clearly has feelings for is getting closer to her childhood friend; and that childhood friend seems to be responding to her and opening up a lot more, too.
Lin Yi Mu can only stand by and watch it seems. He did give her his support for doing whatever makes her happy after all. It looks like Lin Yi Mu will lose to Bai Hao Yu—not only because Bai Hao Yu is the lead and this story is about him and Li Hui Zhen—but when Li Hui Zhen picks out a toy for Lin Yi Mu to hoop, Lin Yi Mu misses. Bai Hao Yu hoops it on his first go.
Li Hui Zhen:
"It'd be great if there was a lamp and postcard here."
"Even though you're traveling alone, there has to be someone you're thinking about. When you come across beautiful scenery, things and people, you'll definitely want to share it with them. So, it'd be great to have postcards to post your longing anytime and anywhere."
Closing off the episode, Li Hui Zhen offers a great idea for the concept of the photoshoot Immortal's working on. She suggests a lamp and postcards as something they could include in their concept as the lonely traveller would probably be thinking about someone on their travels. Having a lamp and postcards would allow them to write about them on the postcards and send them to that person in their thoughts.
Bai Hao Yu connects to Li Hui Zhen's idea. Having left to America, he felt quite alone, since no one befriended him whilst over there. He had a friend he would always look forward to receiving letters from. It gave him the power to keep on working hard—so as to not disappoint her. But then she had stopped writing all of a sudden. He knew she had moved houses, but he still felt quite pained by it.
Li Hui Zhen moves to try console him. She hints her previous family situation as having bankrupt as being behind why she stopped writing: she promises him that if she were to one day travel on her own, she'd make sure she'd keep her bank balance around ¥850. That way she'd be able to transfer the money to him if he ever got himself into any problems needing her help.
Li Hui Zhen's promise has Bai Hao Yu grin and joke about the ¥3600 she owes him for shattering his crystal frame. He jokingly accuses her of attempting to escape responsibility, which has Li Hui Zhen whimper about owning so much money and saying how ¥1000 was already too much for her to owe.
Bai Hao Yu's teasing then turns into a lingering gaze which he seemed on keeping until Li Hui Zhen looks away to break it and occupy herself with taking more sample photos.
Comments
Episode 18 was an interesting episode. At first we thought this episode didn't live up to the developments in She Was Pretty. We really liked the developments in She Was Pretty, so we had hoped and expected Episode 18 to go in a similar way She Was Pretty went. We wanted to see the jealousy in Bai Hao Yu that was supposed be there since this was what Ji Sung Joon (Bai Hao Yu) displayed when Kim Shin Hyuk (Lin Yi Mu) was seen to hold Kim Hye Jin's (Li Hui Zhen's) hand. It had us quite disappointed when we didn't see this. Signs that Bai Hao Yu's heart was still with Li Hui Zhen and was moving back towards her again wasn't clear enough. We found the scenes weak as well as quite confusing at first.
It was not until we got to the part where Bai Hao Yu passed out drunk, was carried back to his room and Lin Yi Mu asked Li Hui Zhen for water, we saw that episode was indeed in the process of returning Bai Hao Yu's heart back towards Li Hui Zhen. Just that it wasn't going to do it in a way which has Bai Hao Yu show it through jealous gazes and being captivated by Li Hui Zhen whilst taking sample photos (this was what happened in She Was Pretty).
Having the story reference all the developments between Bai Hao Yu and Li Hui Zhen and returning Bai Hao Yu's heart to the position it was before Xia Qiao entered with the puzzle was how Episode 18 was going to do it. Episode 18's opening scene where Li Hui Zhen slips up twice and Bai Hao Yu pulls her up to demand answers, we now realise, is a reference to the slip-ups made in Episode 10 where she calls him by his nickname and references to a past she shouldn't know about. The suspicions about Li Hui Zhen's identity back in Episode 10 was where much of the developments between Bai Hao Yu and Li Hui Zhen really began. Then (as we already mentioned), the rest of the developments right up to the point just before Xia Qiao went and put a stop to the developments in Episode 15 are referenced.
Going back to the first half of Episode 15, before Xia Qiao went and stole the puzzle to use as proof that she was the real Li Hui Zhen, Bai Hao Yu had made the decision to forget the past and seize the present. Right after making this decision, he was found staring at Li Hui Zhen during the Immortal meeting discussed this business trip they were currently on. The last scene in Episode 18 where Bai Hao Yu's gaze lingers on Li Hui Zhen, it appears to be the reference to that scene in Episode 15.
With Bai Hao Yu back to noticing Li Hui Zhen like he did in Episode 15, Bai Hao Yu's heart's returned to moving towards Li Hui Zhen again. We're not too sure whether we like this technique or not like this technique. It's a creative way of doing things, but we almost missed the point of the episode and dismissed the scenes for being a weak version of the original.
But since we haven't missed seeing what Episode 18 was doing, it does make us appreciate the episode so much more. We like the role reversal seen in the scene where Li Hui Zhen goes and covers Bai Hao Yu with cushions and is caught by Lin Yi Mu, after which Bai Hao Yu is then seen to smile to himself. Bai Hao Yu's smile after being visited by Li Hui Zhen is a really nice bit of development. That in itself is an example of Bai Hao Yu moving back towards Li Hui Zhen.
Let's see what Pretty Li Hui Zhen has in store! Bai Hao Yu looks to be back to where he was with his heart. He's taking on Li Hui Zhen's ideas and joking around with her a lot, too. We remember it's not smooth-sailing, yet. So, we're expecting there will be some drama coming up, but probably not before some nice Bai Hao Yu-Li Hui Zhen moments.
ADVERTISEMENT