Bai Hao Yu and Li Hui Zhen finally reunite. But it's not happy times yet for the childhood friends. While Bai Hao Yu is happy to move forward and be an official couple, Li Hui Zhen's got Xia Qiao's and Lin Yi Mu's feelings to consider. Both aren't doing too well following their reunion. Xia Qiao is trying hard to hide her heartbreak, while Lin Yi Mu looks to be considering leaving Immortal.
Pretty Li Hui Zhen Episode 30 Recap
Li Hui Zhen and Bai Hao Yu take their reunion to a place outdoors. Based on Bai Hao Yu's comments about having come one after the other, and how everything Li Hui Zhen did, she had done for the two of them, the place is likely to be the one they had promised to return to together, but wasn't able to keep. In Episode 20, they had left a drawing of the two on a wall and had promised to add to it following each milestone in their lives, but as the episode reveals, Bai Hao Yu failed to return to keep this promise. Only Li Hui Zhen did; she returned often to refresh the colours of the drawing and watched over this promise on their behalf.
It has Bai Hao Yu ask Li Hui Zhen why she didn't say anything about it earlier. Li Hui Zhen explains it was because she was no longer the Li Hui Zhen in his memories. She tells him that this was what was behind having Xia Qiao stand in her place when they were supposed to meet that day when he came back to China. She tells him she had gone to meet him, but he had walked right past her. From that time on, she felt like she couldn't match him.
Bai Hao Yu:
"Your outward appearance may have changed, and you're only an intern, but I still fell in love with you, didn't I?"
"As long as it's you, I will definitely fall in love with you."
Bai Hao Yu moves to make sure she sees that despite how things began, despite her belief, he still fell for her in the end. The things that she worried about did nothing to stop him from being attracted to her.
It troubles him that he didn't recognise her, though. He suffered so much carrying the feelings he had for her whilst trying to face reality with the other Li Hui Zhen. However, he doesn't blame her for that. It was he who took so long with his own feelings and made her wait—a fact he's sorry for.
Li Hui Zhen continue to tell him about the time she met up with him again at Immortal. She had thought things had finished (presumably) after having Xia Qiao take her place, but then she met him again as her Deputy Editor in Chief. With her being a lowly intern, she couldn't possibly go up to him and claim to know him. And so, she decided to just continue pretending.
The mention of this time has Bai Hao Yu reflect back and scold himself for the way he treated her. This time, Li Hui Zhen moves to take the blame. She tells him that had she been honest with him right at get-go, none of this would have happened.
Bai Hao Yu:
"If I was still a fatty when we first met up, would you still love me?"
With Bai Hao Yu having clearly fallen for Li Hui Zhen despite her appearances and status, there's no doubt that Bai Hao Yu's feelings are more than skin deep. But Bai Hao Yu's not so sure it's the same with Li Hui Zhen. He asks if he hadn't lost the weight, if he wasn't successful and if he was still the way he used to be in the past, would she still love him.
Li Hui Zhen tells him there was never a question of whether or not she would've loved him or not, because she had fallen for him a long time ago without realising it. What's more, she believes she's actually been waiting for him all along. She tells him she never had a boyfriend before probably because of the way she looks, but her parents have tried setting her up with guys. Each time she met up with them, she found herself wishing they were him. For her, time had stopped the moment he left for the US and didn't start again until that day he came back and she met up with him.
Bai Hao Yu moves to suggest they forget the past and look forward, which is quite a change from the way he's thinking all this time. As if suggesting that finally Bai Hao Yu's found the right one, like this is the person he's meant to spent the rest of his life with, Li Hui Zhen disagrees with forgetting the past. She tells him that although the past had Bai Hao Yu look down on her, she still thinks it's a beautiful one. It's one where in the end he fell for her. When they're old and grey, she wants to be able to look back and say to him that he almost lost her back then in jest. Bai Hao Yu adds that his elderly self would then say thankfully he didn't.
Bai Hao Yu moves to hold her hands in his before telling her that he would never ever let go again.
With things explained and cleared up between them, Li Hui Zhen moves the conversation to Bai Hao Yu's meeting with Xia Qiao. She was told Xia Qiao had planned to meet up with him. Bai Hao Yu tells her Xia Qiao didn't say anything, but he confesses that even if she had, he wouldn't have had any interest in hearing about it.
This has Li Hui Zhen return home with worry. When she arrives home, Xia Qiao's nowhere to be found either, which has her wonder about where she could have possibly gone at such a late hour.
Xia Qiao is at a nightclub. She's getting herself drunk and in dangerous situations following her failed meeting with Bai Hao Yu. She's allowed a man (who seems to know her from her partying days) to cling on to her the whole night whilst she drank away shot after shot. A trip to the bathroom later in the night has the man follow her there and making advancements. This man could've easily had his way with her in her state. It's just fortunate Lin Yi Mu was at the club, too, and stopped anything from happening.
By the looks of things, Lin Yi Mu cops a bit of a punch to the stomach following his saving act. It's that or it caused further injury to an injury he sustained from his motorbike accident. Xia Qiao is seen treating his bruising with some medicine after being taken outside to a café.
Lin Yi Mu:
"Do you know how dangerous it was? If I didn't arrive sooner, do you know what would've happened?"
"Is it because you were feeling down after confessing the truth to Bai Hao Yu?"
Xia Qiao then receives a bit of scolding for her recklessness before being asked about the reason her current state. He thinks it's because of Bai Hao Yu and having finally come clean about her at, but is told she never got a chance. He just turned and left after finding out the truth.
Bai Hao Yu's reaction has made her feel like the worst, most shameless, most disloyal and most untrustworthy person there is. Because of this belief, she doesn't have the face to go home and see Li Hui Zhen. Because of this, she must get drunk.
Xia Qiao eventually returns home, though, drunk as she said she would become, with Lin Yi Mu supporting her. Xia Qiao is brought upstairs to her room before Li Hui Zhen returns downstairs to thank Lin Yi Mu for bringing Xia Qiao back. 
Lin Yi Mu seems not in the mood to hang around much more after that. He attempts to announce his leave twice, which has Li Hui Zhen stop him twice. The first time, it seems she was just curious about why he was the one to bring her home. Considering how they shouldn't know each other, it was probably a surprising sight for Li Hui Zhen to see her best friend with her recently declared close friend together. She also asks whether they knew each other. This has Lin Yi Mu tell her exactly as it happened, avoiding exposing the whole truth: he happened to meet her at the nightclub where he was drinking with a friend. (Was he there because he was suffering the same way as Xia Qiao? We think he might be.)
The second time, she stops him to ask about his injuries. Li Hui Zhen seems genuinely worried about him. After discovering the truth behind his injuries, and by extension, how serious he was about his feelings for her, she didn't really get much of a chance to properly make sure he was okay before rushing over to Bai Hao Yu earlier in the evening. Li Hui Zhen seems to want to use this meeting to check to make sure he was actually fine, but Lin Yi Mu seems particularly uninterested in hanging around to talk about things. He simply brushes off his injuries as no big deal before making his way towards the door to take his leave.
The next morning, Xia Qiao's also the same when it comes to talking about the events of yesterday. In order to avoid it, Xia Qiao's gone and put on an animated, energetic act following an early morning run. When Li Hui Zhen tries to talk to her about it, Xia Qiao insists it's all fine: she tells her that what happened last night was all within her expectations. She excuses Bai Hao Yu's lack of interest in listening to what she had to say as him being in a hurry to find Li Hui Zhen. As for not being able to come clean before being discovered, since it was her plan to tell, it didn't matter it came out a little earlier than intended.
Obviously, Li Hui Zhen knows it's all just a front. Not only does she know because Xia Qiao came home drunk last night, but she knows Xia Qiao hiding the fact she had a lot she wanted to say Bai Hao Yu, but wasn't given the chance. Last night, whilst doing laundry, Li Hui Zhen had found a torn-up letter to Bai Hao Yu Li expressing everything she wanted to say. It looks like she'd torn it up after being found out.
Xia Qiao:
"The important thing is that you found each other. You two are together. Everything is very perfect. Perfect!"
Xia Qiao tells Li Hui Zhen that not being able to say anything she wanted to say isn't important. All that matter is she and Bai Hao Yu are now together. It's all perfect.
At this point, Li Hui Zhen notices the different coloured socks Xia Qiao put on. Xia Qiao is not fine. She's suppressing her feelings. Li Hui Zhen tries to get Xia Qiao to agree to talking about it after work, but Xia Qiao's really not interested. She wants the matter in the past and tells Li Hui Zhen that if she wants what's best for her, then they should not talk about it.
Seeing Xia Qiao's state has Li Hui Zhen wanting to be just friends with Bai Hao Yu, which has him not understand:
Bai Hao Yu:
"Last night, we were clearly a couple. Why did your attitude change overnight?"
Bai Hao Yu had thought that since they've reunited and they pretty much confessed to each other their feelings the night before, they would officially be dating. So, his suggestion that it's only natural to want to bring her as a girlfriend to an upcoming employee dinner on their way up to the office shouldn't have her thinking it as awkward nor make excuses about having something else on just so she can avoid going as his girlfriend.
Li Hui Zhen denies last night as them having gotten together as a couple. She calls last night as just two people reminiscing about their childhood. She makes it feel like things they said and felt was from the past.
Bai Hao Yu refuses to accept that:
Bai Hao Yu:
"We're standing in front of each other in reality!"
"Do you know what emotions I had when I looked for you? It was so hard to find you. How could I give you up?"
Li Hui Zhen challenges Bai Hao Yu's words:
Li Hui Zhen:
"Give up what? That's too serious. You didn't even obtain me; how could you call it giving up?"
In order to allow Xia Qiao to get used to things, in order to consider her best friend's feelings, Li Hui Zhen's being quite cold-hearted about it.
Bai Hao Yu:
"Do you want me to pretend to be regular friends with you?"
Li Hui Zhen:
"Yes."
Because of her best friend, it has Li Hui Zhen confirm to Bai Hao Yu about wanting to stay just friends for now.
Lin Yi Mu is someone who's on Li Hui Zhen's mind, too. When she sees him in the hallway, she tries to take responsibility for his injuries by offering to accompany him to the hospital and pay for the fees, but he rejects it all. For one, he didn't think there should be discussions about money in a relationship like theirs (he's saying if she considered their relationship close, there is no such thing as needing to pay back for anything). Secondly, everything he did in the past, he did out of his own free will; so, there's no need for her to take responsibility for anything. He tells her that she should do what she wants to do and not think so much, because seeing her happy will make him happy.
Lin Yi Mu is finding it hard to be genuinely happy, though. He was seen sprawled out across on his bed in the morning, staring blankly at the ceiling of his hotel like he had a sleepless night. A team lunch sees Lin Yi Mu leave the gathering early after not being able to stand seeing the happiness that's clearly on Bai Hao Yu. This comes after hearing Bai Hao Yu mention about a shout of strawberry cream cake for everyone.
Bai Hao Yu's choice of dessert seems to have something to do with it being a cake he and Li Hui Zhen had enjoyed in their childhood. Bai Hao Yu's very likely chosen the cake with Li Hui Zhen in mind.
Lin Yi Mu looks to be considering leaving Immortal, too. One of the many people Lin Yi Mu had once talked about wanting to poach him is seen calling him about—what appears to be—this said poaching. Initially, Lin Yi Mu looked to be uninterested in hearing out Old Jiang (as this potential poacher is called), but he soon changes his mind. Shortly after getting off his phone, he advises enquiring hotel staff to hold off extending his booking at the hotel, seemingly having decided he will hear out this Old Jiang.
A meeting is held between the him and Old Jiang in a bookstore sometime following the team meal. No one at Immortal is told about this meeting. As far as the team's concerned, Lin Yi Mu is interviewing a film director. However, Lin Hao—who's returned from Elleshop HQ (hint for 'Who's the heir?' arc)—catches Lin Yi Mu's lie when he sees photos of food posted on social media from the film director. He surmises that Lin Yi Mu can't be at this interview with said film director, because if he was then the film director wouldn't be posting photos of his food.
Li Hui Zhen eventually finds out about Lin Yi Mu's true whereabouts through a call from the man himself. Lin Yi Mu doesn't hide this fact when she asks his whereabouts and what he's doing judging by her shocked tone in response to a conversation we don't hear.
This has Li Hui Zhen rush over to the bookstore to talk to (or rather lecture) Lin Yi Mu about leaving Immortal when it's just starting to make some traction towards their goal of top position in sales. She questions him about whether he was doing this because of personal reasons, because if he was then she considered it quite irresponsible.
Lin Yi Mu bites back with a question about whether she was being too selfish of her to think that he should continue on unconditionally at Immortal just for Bai Hao Yu, knowing he could lose his job in the end. He believes it's not too unreasonable for him to plan for his future.
Li Hui Zhen tells him that it's not because of Bai Hao Yu but making sure he doesn't leave with regrets. Immortal is the product of the team's painstaking effort. Even if the Editorial Department were to close, could he see himself leaving without wondering about what the outcome would have been had he stayed. She gets up to leave then, allowing him to think about what she's said to him. Before she leaves, she tells him that she'd keep his meeting a secret, just like when he helped her kept her secret.
Comments
And that's the end of Episode 30! Bai Hao Yu and Li Hui Zhen are finally back together as childhood friends, but not yet as an official couple. We're not sure what it is, but we're finding this pairing not all that exciting or interesting to follow, which isn't a great place to be in considering how there's still 10 episodes to go focusing on this couple. 
This was quite different with She Was Pretty. We rooted for Kim Shin Hyuk, but Ji Sung Joon and Kim Hye Jin was the pairing we went for. We loved all three the same, too. With Pretty Li Hui Zhen, only Lin Yi Mu is awesome.
We're thinking it might have something to do with Peter Sheng Yi Lun's version of Ji Sung Joon. Bai Hao Yu comes off as quite stiff and moody. We just can't connect with him which means no connecting with the Li Hui Zhen-Bai Hao Yu pairing either.
We hope that the drama does something to make this couple interesting. We're not holding our breathes for that, though.
Interesting scene: Bai Hao Yu and Li Hui Zhen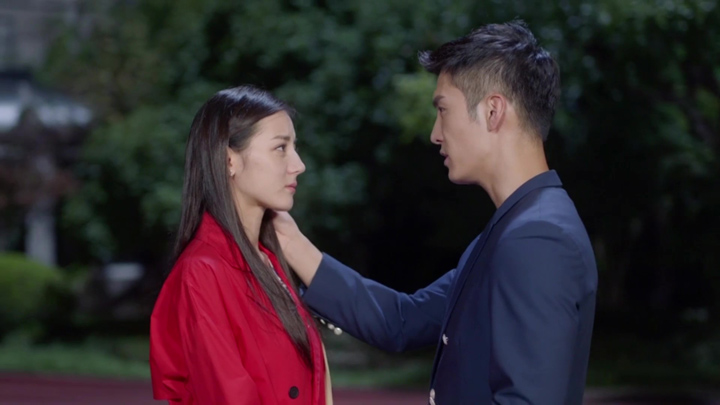 The start of the episode opens with an interesting shot which has the camera circling around Bai Hao Yu and Li Hui Zhen. It makes us think that this might be a subtle reference to the Pierre-Auguste Renoir's Dance in the Country painting that was used in She Was Pretty.
ADVERTISEMENT