Everything is all out! Xia Qiao's time has truly run out this episode. Last episode, Li Hui Zhen learned Xia Qiao was pretending to be her and dating Bai Hao Yu behind her back. This episode, it's Bai Hao Yu's turn to learn the truth. Through a magazine featuring Xia Qiao as the face of the hotel, Bai Hao Yu finally learns that she's not his childhood friend. Li Hui Zhen, the intern at his office, the one he recently confessed his feelings to is the real Li Hui Zhen from his childhood. With Bai Hao Yu learning the truth, it also spells the end for Lin Yi Mu and Li Hui Zhen. : o( : o(.
Pretty Li Hui Zhen Episode 29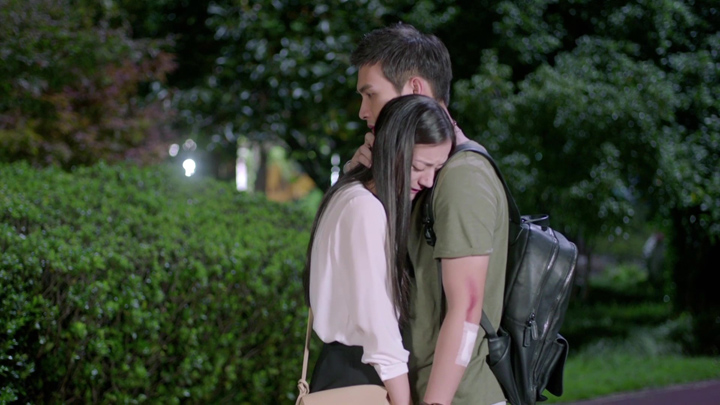 Li Hui Zhen's sad and looking like she can't see past Xia Qiao's deception. Walking home with Lin Yi Mu next to her, Li Hui Zhen questions why Xia Qiao lied to her for so long and struggles to agree to giving her best friend a chance when Lin Yi Mu makes the suggestion.
Having been by Xia Qiao's side and listened to her thought process this entire time, Lin Yi Mu's able to help Xia Qiao convey some of the distress she was under to Li Hui Zhen. He tells her that everyone makes mistakes and believes (rather, knows) Xia Qiao must have been quite torn about it, but her feelings for Bai Hao Yu must have been as strong as the feelings she has for their friendship causing her to carry on.
Lin Yi Mu's words has Li Hui Zhen recall Xia Qiao's promise to tell her everything once she's thought things through. Li Hui Zhen also remembers Xia Qiao's stress-induced gastritis. Recalling this seems to help calm Li Hui Zhen: it doesn't make her feel better, but she's able to give that chance Lin Yi Mu suggested she give Xia Qiao. She decides she will wait for when Xia Qiao's ready to tell her everything.
Lin Yi Mu:
"When that time comes, how are you going to answer Bai Hao Yu? Are you going to start over again or continue being colleagues?"
With a decision made about what to do with Xia Qiao, Lin Yi Mu asks Li Hui Zhen what her decision is with regards to Bai Hao Yu's confession. She tells him exactly as she feels:
Lin Yi Mu:
"I want to be together with him. I like him, so I want to be together with him."
But until Xia Qiao's thought things through, Li Hui Zhen tells Lin Yi Mu that she will pretend like nothing ever happened.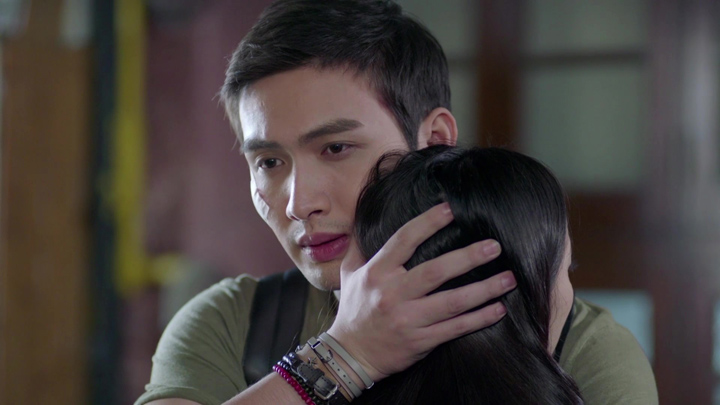 The answer has Lin Yi Mu pull Li Hui Zhen into a tight hug, which has Li Hui Zhen wonder why he was being this way with her. She tries to break free from the hug, but Lin Yi Mu holds on tight.
Lin Yi Mu:
"I'm afraid I'll never see you again."
He knows his fight for Li Hui Zhen is nearing its end.
Li Hui Zhen:
"I'll wait for you then."
Xia Qiao:
"So you have to listen to me from now on, okay?"
Li Hui Zhen:
"I'll definitely listen."
When Lin Yi Mu finally lets Li Hui Zhen go a short moment later, Li Hui Zhen heads back into her apartment. She's greeted by Xia Qiao in the living area attempting to glue the broken soles of Li Hui Zhen's old shoes (they're the same ones which lead to Lin Yi Mu ripping his pants).
There's not a lot to take away from this scene except Li Hui Zhen showing Xia Qiao she's prepared to wait for her to explain the truth, and when she is ready, she will promise to listen to every word. This is shown through Xia Qiao's talk about Li Hui Zhen's old shoes. She had wanted to throw out, but decided against it because Li Hui Zhen would just go and fish it back out from the rubbish. This led Xia Qiao to gluing the sole back together, but she tells Li Hui Zhen that one day, she will drag her out to get a new pair.
This has Li Hui Zhen agree to wait for her. Li Hui Zhen isn't talking about the shoe shopping trip. Li Hui Zhen is talking about the truth. Xia Qiao isn't to know that, though; so, this has Xia Qiao wonder why Li Hui Zhen is being so cooperative about it. Li Hui Zhen tells her that it's because she's listening to her. This pleases Xia Qiao as she thinks Li Hui Zhen is recognising how good she is being to Li Hui Zhen and tells her to listen to her from now on, which Li Hui Zhen reassure she will definitely do that—again, not the shopping trip, but when Xia Qiao finally decides to own up to the deception.
Xia Qiao owning up to her act happens the very next evening when she learns from Lin Yi Mu that Li Hui Zhen's found out.
Meeting at a cafe, Lin Yi Mu not only reveals that Li Hui Zhen's found out, Bai Hao Yu's confessed to liking Li Hui Zhen and he plans on breaking up with her. It has Xia Qiao in a panic, not so much over Bai Hao Yu, but losing Li Hui Zhen as her best friend seem to worry her the most.
Lin Yi Mu tells her that despite how things are, the situation can still be saved as long as she tells them earnestly about it all. He assures her that she won't lose Li Hui Zhen because they are friends who are as close as family. She will give her time to adapt.
Xia Qiao does exactly as Lin Yi Mu advises. Sometime after the meeting at the café, Xia Qiao is back home with a lot of gifts. She's also gone and done some cooking for when Li Hui Zhen arrives home. The sight has Li Hui Zhen wonder why Xia Qiao's gone to all this trouble. Though Li Hui Zhen arrives home appearing to not know why Xia Qiao was cooking again or why Xia Qiao had gone and maxed out her credit card on all the gifts, Li Hui Zhen picks up on the reason soon enough when Xia Qiao tells her they're all for her before a remorseful "Zhen'er…" shortly follows.
Xia Qiao:
"I also know I was very silly and stupid, but can you forgive me? I really can't lose you."
Li Hui Zhen:
"I forgive you. I told you before that whatever mistake you make, I'll forgive you."
Xia Qiao then admits to being wrong and asks for forgiveness. Li Hui Zhen gives it very easily. Li Hui Zhen not only forgives Xia Qiao, but she sympathises with her. After Xia Qiao tells Li Hui Zhen about how it all began (it started off with feeling touched by Bai Hao Yu's sincerity before feeling herself lose control as she felt what it was like to be loved for the first time), Li Hui Zhen reveals that she doesn't hate Xia Qiao for her deception as Xia Qiao thinks. In fact, Li Hui Zhen feels for her because she wanted so much for Xia Qiao to find happiness, and was so happy when she thought she found it.
Li Hui Zhen then tells there is no right or wrong when it comes to love and so they shouldn't look for someone to blame either. She ends with telling Xia Qiao that she doesn't need to pretend to be someone in order to find happiness, because she is Xia Qiao.
It's a pretty great outcome for Xia Qiao and Li Hui Zhen in the end. Xia Qiao's forgiven and she's still best friends with Li Hui Zhen. The next part of the episode has Xia Qiao try again to meet Bai Hao Yu to tell him the truth.
Xia Qiao receives a call from Bai Hao Yu later in the evening. He calls to apologise for standing her up the other night. With Bai Hao Yu on the phone, Xia Qiao decides then to meet the next day to try coming clean with him. With how he stood her up the previous time, Xia Qiao tells him he must be there on time.
But the meeting is not to be (at least not how they intended). When it's almost time to meet the next evening, Xia Qiao is called to the hotel by her superior to see the guest off. (This guest is the same one Xia Qiao was seen to go out of her way to replace the guest's tie in Episode 28.) Bai Hao Yu's work meeting is also taking place at the hotel at this time. The fact that there was a high possibility Xia Qiao was going to run into Bai Hao Yu isn't the biggest concern. The problem is that even before Xia Qiao is seen in the hotel, Bai Hao Yu's discovered her act.
The above-and-beyond act Xia Qiao did in replacing a guest's tie which got her a recommendation from her superior also got her to be the face of the hotel in the form of a magazine cover. On this magazine cover, Xia Qiao's name is clearly printed, exposing her to Bai Hao Yu as an imposter.
When Xia Qiao walks through the door, coming face to face with Bai Hao Yu, it's all over. She is called by her real name before he frowns at the employee tag on her blazer. 'Xia Qiao', it reads. He then moves to have her say her own name with her own mouth:
Bai Hao Yu:
"Who are you? Are you Xia Qiao or Hui Zhen?"
Xia Qiao tries to explain herself, but Bai Hao Yu isn't interested in any of that. All he wants to know is for her to confirm who she is. The two times tries to explain herself has Bai Hao Yu repeats his question. Xia Qiao has no choice but to answer him: she tells him she's Li Hui Zhen's friend, Xia Qiao. This leaves Bai Hao Yu one more question:
Bai Hao Yu:
"Tell me. Has the real Li Hui Zhen been by my side all along?"
Xia Qiao confirms it. With that, Bai Hao Yu leaves, seemingly not caring to spare a second more for an explanation from someone who is now no more than a stranger to him.
The last part of the episode sees Bai Hao Yu and Li Hui Zhen reunite as childhood friends, but before that happens, one more truth must come out. That truth being the reason Lin Yi Mu injured himself, and with that, the truth behind Lin Yi Mu's feelings for Li Hui Zhen.
During a team relaxation session at Immortal minus Lin Hao and Lin Yi Mu, Li Hui Zhen wonders where Lin Yi Mu is. (There's no wondering where Lin Hao is: he's in France on a work assignment apparently.) Li Hui Zhen's question has Han Xue rhetorically ask if there was anyone who should know where Lin Yi Mu is it should be Li Hui Zhen. She seems to be referring to their close relationship and possibly that he's at the hospital (we think). This leads to the revelation of the motorbike accident which resulted from having rushed over to Li Hui Zhen on the highway, all because he worried she might have gotten into a car accident from taking Ya Ling's broken car:
Han Xue:
"Last time, when he heard you drove Ya Ling-jie's car, he rushed out to find you. As a result, he got into an accident. Such a big incident, could it be you didn't know about it?"
Finally finding out the truth behind Lin Yi Mu's injuries, Li Hui Zhen gets up and leaves Immortal immediately to look for Lin Yi Mu. She calls Lin Yi Mu to find out his whereabouts before going straight to confronting him about what she heard from Han Xue:
Li Hui Zhen:
"How did you get your injuries? Did you follow me on that day I had my interview? Did you then get into an accident with your motorbike and that's how you got your injuries? Hurry and tell me! Is that what happened?"
Lin Yi Mu, who had been quiet and hesitant to respond, submits and confirms it.
The answer seems to have Li Hui Zhen understand the truth behind Lin Yi Mu's feelings now, as her next question sees her asking him whether he saw the whole scene on the highway. (She's referring to the hug she and Bai Hao Yu shared.) Again, Lin Yi Mu confirms it. It has her ask why he didn't say anything:
Li Hui Zhen:
"I asked you so many times how you got injured. Why didn't you tell me?"
Lin Yi Mu's answer? —
Lin Yi Mu:
"Why should I tell you? Isn't it great to watch from afar and wish you both well?"
Li Hui Zhen appears to want to say something then, but Lin Yi Mu stops her. Knowing he will never gain Li Hui Zhen's heart, he only lets her know he'll always be there for her should she find Bai Hao Yu not treating her well. He tells her that he may not have the 10-year relationship or the childhood memories like she and Bai Hao Yu has, but if there is a time she needs him, he'll appear before her at any moment's notice.
Meanwhile, Bai Hao Yu is closing in on the office. A call comes through Li Hui Zhen's phone. Li Hui Zhen takes a look at the phone. It's Bai Hao Yu. Li Hui Zhen puts the phone back in the pocket she took it out from, probably thinking it wasn't the best time to pick up his phone considering the seriousness of the conversation.
Lin Yi Mu, who seems to have caught the name of the caller, stops her, and brings her hand holding the phone back out. He tells Li Hui Zhen to pick it up. He tells her that in front of him, she should never do anything against what her heart wants.
Bai Hao Yu:
"Hui Zhen. Are you Li Hui Zhen?"
Bai Hao Yu:
"Yes. I'm Li Hui Zhen."
Bai Hao Yu:
"Hui Zhen, it's been awhile."
And so, Li Hui Zhen picks the phone up to hear Bai Hao Yu greet her as if he was talking to her for the first time in a long while. As if recognising his mistake all those months ago when he automatically assumed the attractive person he went to sit across was his childhood friend, this time he makes sure she's Li Hui Zhen before saying anything else.
Li Hui Zhen confirms her identity, after which Bai Hao Yu then proceeds to tell her it's been awhile.
Li Hui Zhen doesn't understand why he's saying all this, especially since they just saw each other earlier in the day when they were at the art gallery. They even took a photo together in front of that familiar painting Bai Hao Yu (and Li Hui Zhen) seem to treasure so much. It hasn't been that long ago since he saw her.
Bai Hao Yu doesn't explain himself. He just repeats his greeting:
Bai Hao Yu:
"It's been awhile. Have you been living well?"
This time Li Hui Zhen understands. He's finally recognised her to be his childhood friend.
Li Hui Zhen:
"It's been awhile… Bai Hao Yu."
Bai Hao Yu tells Li Hui Zhen he'll be seeing her at the office soon before he ends the call.
Without Li Hui Zhen needing to say anything, Lin Yi Mu already knows the situation. He tells her to go to him. She hesitates, as if she wasn't sure how to leave/reject him without hurting him. Lin Yi Mu knows he's not the one in her heart, though, and sends her towards Bai Hao Yu:
Lin Yi Mu:
"It's okay. Go. Go be with the person you like."
Li Hui Zhen:
"I'm sorry."
Li Hui Zhen is seen running through the building entrance, through the security barriers to finally meet Bai Hao Yu who appears before her. They take turns to call each other's name before Bai Hao Yu pulls Li Hui Zhen into a hug.
Bai Hao Yu:
"I've finally found you."
Comments
This episode was both hard to watch and so very sad! Xia Qiao being found out by Bai Hao Yu the way she was found out, it took so much to not skip through this part of the story. We did not enjoy seeing Xia Qiao walk into the hotel and get exposed by Bai Hao Yu like that.
It's true Xia Qiao got herself into this by not backing out when she could have backed out, but we can't help to feel sorry for her. Not only is this her first time liking a guy so much, but this all started because Bai Hao Yu got it wrong first. He made the mistake first by going to her thinking she looked most like his childhood friend. Then Li Hui Zhen made her act as his childhood friend because she was too afraid to face Bai Hao Yu in the state she was at the time.
Lin Yi Mu. Oh so sad! The reunion between Bai Hao Yu and Li Hui Zhen should have been the scene to bring out the tears. But no. Lin Yin Mu saying it's okay when it probably isn't okay and him sending Li Hui Zhen towards Bai Hao Yu when it probably hurts him so much to do so, that brings out tears!
Sad as it was, we're not too heartbroken Lin Yi Mu didn't get the girl. Since he's the second lead, there was no way he'd end up with the girl, so all we hoped for is that Lin Yi Mu gets a satisfying exit from the romance arc—which we think he did. Last episode, Lin Yi Mu got Li Hui Zhen chasing him and worrying about him; he was even given a chance to dish Bai Hao Yu a bit of payback when Li Hui Zhen chose to leave with him. This episode, Li Hui Zhen ran to Lin Yi Mu, recognised his feelings for her and she even thought about not picking up Bai Hao Yu's call.
We like that Lin Yi Mu was allowed to somewhat take control of the situation, too. Him telling Li Hui Zhen to pick up the phone, that it's okay she goes to Bai Hao Yu are examples of that.
Great episode again! Lin Yi Mu might have exited from the romance arc, but there's still the 'who's Diviner?' and 'who's the heir?' arcs. There's no confirmation which of the two Lin Yi Mu is or even if he is either, but we think there are enough clues given through the episodes to suggest he's one of the two. So, now we wait for this part of the story to reveal who he is as well as who Lin Hao is! We cannot wait!
Interesting shots: Bai Hao Yu and Li Hui Zhen
The above shots are pretty nice. The one on the left-hand side is Bai Hao Yu and Li Hui Zhen looking at that all-too-familiar painting, and the one on the right-hand side is the last scene in the episode when Bai Hao Yu and Li Hui Zhen reunite as childhood friends at the foyer of their workplace. Bai Hao Yu and Li Hui Zhen are dressed in the same colours as the subjects in the painting. The backdrop of the scene in the foyer also looks like the painting, too. Nice touch.
ADVERTISEMENT