Li Hui Zhen's absence is greatly felt the morning after as they all struggle to keep up with all the work they have to take care of. They now see just how hardworking and valuable to the team Li Hui Zhen was. They want her back, but Bai Hao Yu won't hear of it. His personal issues with Li Hui Zhen has him decide it's better to leave things be.
With everyone failing to talk to Bai Hao Yu about it, Lin Yi Mu makes Bai Hao Yu act by pitching an idea not his own and one which has everyone buzzing about, including Bai Hao Yu. This idea is Li Hui Zhen's and if Bai Hao Yu wants to use it, he must personally request permission to use it. Whether Bai Hao Yu can separate work matters from personal matters and take the step to see Li Hui Zhen and get her permission is the question.
Pretty Li Hui Zhen Episode 22 Recap
Carrying from last episode, Episode 22 opens with a meeting between Lin Yi Mu and Xia Qiao. Despite what's happened to Li Hui Zhen, Xia Qiao's still not giving up Bai Hao Yu. After Li Hui Zhen is brought back home, Xia Qiao heads back out to meet Lin Yi Mu. From the looks of things, Lin Yi Mu's search for Li Hui Zhen last episode ended with a call to Xia Qiao. Xia Qiao reports to Lin Yi Mu that Li Hui Zhen's settled down to sleep before Lin Yi Mu uses this met-up to advise Xia Qiao to give up Bai Hao Yu. It's at this point Xia Qiao reveals her intention to continue with Bai Hao Yu.
Xia Qiao:
"I really feel that Bai Hao Yu and I are still possible."
She tells Lin Yi Mu she had thought about ending things so many times (like in Episode 7 when she was having a hard time because of her step mother and when he showed up after she made a bet with herself to end things in Episode 19), but each time Bai Hao Yu showed up before her. These coincidences say to her that it might be fate, that she and Bai Hao Yu could happen.
Lin Yi Mu:
"You and Bai Hao Yu indeed are fated. Meeting is a kind of fate. Brushing past each other is also a form of fate. Even liking to eat the same things, living in the same city, these are also a form of fate. But fate is just fate. It can't change destiny. When all is said and done, Li Hui Zhen and Bai Hao Yu are the ones destined to be together."
Lin Yi Mu doesn't deny there probably being a predestined relationship between Xia Qiao and Bai Hao Yu, but it doesn't mean they are destined to end up together. He tells her that her coincidences are only to help Li Hui Zhen achieve her destiny. Not only that, things have shown that despite her taking up the part of his childhood name, she couldn't stop Bai Hao Yu's sights from going towards Li Hui Zhen. There's a suggestion that this fact is in itself a sign they are destined to be together.
The morning after, everyone feels Li Hui Zhen's absence. The notes Li Hui Zhen left for each of her colleagues let them realise just how hardworking and valuable she was to their team. Before she left, she made sure all the task she was given to do were all checked, organised, printed and obtained.
Li Hui Zhen:
"Thank you so much for your care and help over this period. You must remember to eat breakfast even when you're busy. Li Hui Zhen."
Bai Hao Yu was left a note, too. Despite having just been scolded and told to leave in such a harsh manner, she worried about his wellbeing. In her note, she thanks him for his care and support before reminding him to eat.
Seeing these notes, as well as generally believing Bai Hao Yu's actions to be totally over the board yesterday, has everyone wanting Li Hui Zhen back. The moment Bai Hao Yu walks into the office, Team Leader Zhu Ying tries to have a talk with him about it, but he walks away without response. Even the Editor in Chief, who Han Xue thought would have the power to get Li Hui Zhen back, couldn't manage it.
Han Xue looked like she was trying to escape acknowledging her part in Li Hui Zhen's departure. When everyone was saying they had received a note from Li Hui Zhen, she denied having received one. She came off as not feeling guilty enough to even admit that she had received a note from Li Hui Zhen. She was even seen to question whether she was to blame for what happened.
But through Lin Hu Sheng persistence, he got her to reveal that she did get a note from Li Hui Zhen, leading to her revealing that it was her own laziness that had caused Li Hui Zhen's departure. Not only that, she reveals that following Li Hui Zhen's departure she had actually tried getting Li Hui Zhen transferred back to the Logistics Department where she originally began working. It seems she was thinking that since Li Hui Zhen wasn't able to work at the editing department, at least she could try get her back to her original job. However, she wasn't able to get that actioned. They had told her that it was out of their hands.
So, although it looked like Han Xue didn't feel guilty enough about the situation, she actually felt so guilty she had tried to fix things even before going to the Editor in Chief for help.
Lin Hu Sheng:
"Did you really tell Editor in Chief about it well?"
Han Xue:
"Naturally, I also needed to let Editor in Chief know that letting Hui Zhen return is also your intention. Otherwise, what use is it to be saying all of this on my own?"
The scenes between Han Xue and Lin Hu Sheng weren't only to reveal the amount of guilt Han Xue had over Li Hui Zhen's departure, but also used to develop a bit more of the 'who's the heir?' story-arc.
After the Editor in Chief fails to convince Bai Hao Yu to have Li Hui Zhen return, Lin Hu Sheng questions Han Xue about whether she had made the situation clear enough to the Editor in Chief. Han Xue assures him she did. She even used his name to show he supported Li Hui Zhen's return. Being the heir, it should have some sway. That's what Han Xue was implying. Lin Hu Sheng comes off as genuinely confused by that when she mentions having used his name. Why would his name help? He's either playing dumb (like Han Xue thinks) or he really has no idea why Han Xue did that. Han Xue's settled on Lin Hu Sheng being the heir. She's going to be disappointed if she finds out she's got it wrong.
Xia Qiao:
"I want to ask for your help. There's something I want your help with."
"If you're willing to help me ask this favour of my father, I will be grateful to you."
Xia Qiao's feeling guilty about the situation, too. Seeing Li Hui Zhen on the phone about job prospects so early in the morning, Xia Qiao tries to make up for what she feels she owes Li Hui Zhen by getting her a job at her father's company. She could go directly to her father about it, but apparently her father doesn't like Li Hui Zhen all that much. So she's forced to go to the person her father is more likely to listen to—her stepmother. Despite her step-mother being the last person she'd ask favours from, she does it, which shows just how much Xia Qiao feels she owes Li Hui Zhen for the situation she's in.
Her stepmother agrees to help her, but she can't promise she will succeed.
Xia Qiao's stepmother comes off not like the typical stepmother characters in dramas where they're often seen to cause rifts between 'original members' in the family. Xia Qiao's stepmother isn't out to do that between daughter and father. She wants them to get along, which is why she always ends up agreeing with whatever Xia Qiao wants—even if it does take some antagonistic-looking actions or words before agreeing.
The issue between them looks to be Xia Qiao's loyalty to her mother. She's not willing to accept her stepmother because she isn't her mother, but Xia Qiao does seem to care a little. Just before she leaves, she tells her stepmother to cut down her appointments for skin-lightening as it's not good for her health. This comes after hearing her stepmother's assistant mention about needing to attend a hospital appointment which her stepmother explained as being such.
Xia Qiao's stepmother looks to be lying about the skin-lightening appointment, though. It was a cover-up for something else.
Lin Yi Mu:
"We can use new ways to retell an old subject. We can move the focus on lead characters to the supporting characters in children's stories."
Back at Immortal, Bai Hao Yu suggests changing themes for their 20th Anniversary Issue at the team meeting. (This issue looks to be different from the special issue they were shooting for the day before.) Though not clear, we're guessing the change might have something to do with not having quite reached top position in sales with their recently published issue and Bai Hao Yu is trying to get the team to come up with a better idea that would give them a better chance of reaching that goal.
Lin Yi Mu suggests the magazine do an issue which turns the light around to shine on supporting characters in fairy tales. This has the whole team buzzing with ideas to not only have the supporting characters become the focus of the issue, but they suggest changing up the appearance of lead characters with the intention to challenge what is normally and stereotypically accepted appearances of the lead characters.
Basically, the concept is like how Pretty Li Hui Zhen is doing with Li Hui Zhen, Lin Yi Mu, Lin Hao and Lin Hu Sheng. Give it to Lin Yi Mu to suggest this idea. He's one of the characters whose appearance has been changed up—or rather, changed down. He's clearly rich, but he dresses and acts like he doesn't have a cent.
Lin Yi Mu:
"The truth is the idea isn't mine. It's Li Hui Zhen's. Because this idea is hers, if you want to use this theme, I think that you need to get Li Hui Zhen back. We must respect copyrights."
This idea of Lin Yi Mu's is so well received that it even puts a smile on Bai Hao Yu. A green light is given to the team to run with it. The only thing is, this idea isn't Lin Yi Mu's to begin with. It actually needs permission from the owner of the idea. That owner being Li Hui Zhen.
Pitching an idea that's not Lin Yi Mu's is Lin Yi Mu's way of getting Bai Hao Yu to get Li Hui Zhen back. After the meeting, Lin Yi Mu presents Bai Hao Yu Li Hui Zhen's notebook detailing the concept. As Bai Hao Yu connects the reason behind showing him the notebook with what he will have to do with be able to run with the idea, Bai Hao Yu immediately closes the notebook and moves to have Lin Yi Mu arrange another meeting, seemingly with the intention of getting the team to change the theme again.
Bai Hao Yu doesn't actually finish his sentence to say this. However, judging from how Lin Yi Mu interrupted with the idea being creative and being the best, Bai Hao Yu comes off as wanting to ditch the idea simply because he has to go speak to Li Hui Zhen about using it.
Lin Yi Mu:
"I can only think of one explanation, and that is, anything to do with Li Hui Zhen, your bottom line and rationality will completely disappear."
Lin Yi Mu calls Bai Hao Yu out on his particularly sensitive reactions and responses to Li Hui Zhen next. He points out Bai Hao Yu's particularly watchful eye and excessive response to mistakes that often weren't completely her own. She is just an intern: he shouldn't use expectations typically expected normal employees or even someone of higher rank on Li Hui Zhen. It has Lin Yi Mu then call Bai Hao Yu out on his feelings for Li Hui Zhen—as it's the only reason he can think of for Bai Hao Yu's behaviour towards Li Hui Zhen: 
Lin Yi Mu:
"Could it be because you like her?"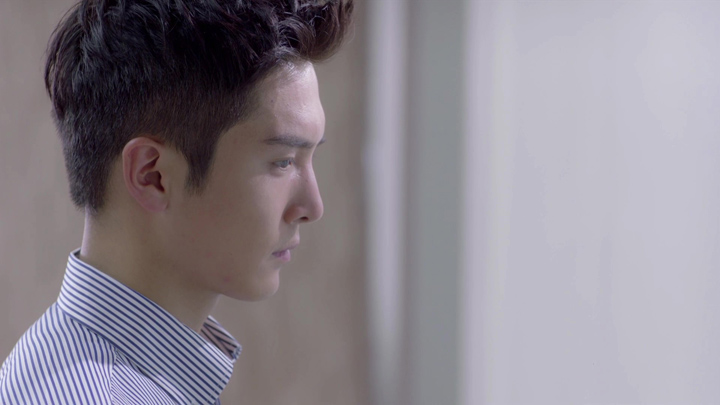 Surprisingly, Bai Hao Yu doesn't exactly deny it.
Bai Hao Yu:
"So what if I do?"
"Even if I do have special feelings for Li Hui Zhen, even if I do like her, she and I will also not have any progress. That's why, it's better not to speak. It's better not to see each other again."
But, because of that childhood promise, he thinks it's not like they could develop into anything, so it's just better to not speak or see each other.
Bai Hao Yu's response has Lin Yi Mu lecture Bai Hao Yu about his cowardice in facing his feelings, his selfishness and lack of consideration for Li Hui Zhen's feelings. It has Lin Yi Mu ask him how he could be like this to her and whether he feels any ounce of pity for letting her go, knowing how much she treasures that employee badge.
Bai Hao Yu doesn't respond. Instead, he picks up on how much Lin Yi Mu cares about Li Hui Zhen:
Bai Hao Yu:
"You keep talking about me. What about you? What right do you have to say these things to me? Could it be that you have feelings for Li Hui Zhen?"
Unlike Bai Hao Yu who won't come out and say it, Lin Yi Mu lays his feelings out plain and simple for Bai Hao Yu to hear:
Lin Yi Mu:
"I like her. I like Li Hui Zhen. I do have special feelings for her. Are you satisfied with this answer?"
Then, seemingly fed up with Bai Hao Yu's reluctance to act and make things right, Lin Yi Mu tells him he's submitting his leave. He will continue to submit his articles so it doesn't impact the magazine, but he won't be coming into the office.
Lin Yi Mu uses his leave to give Li Hui Zhen a visit. She's got no time to sit down and chat, though: ever since she left Immortal (it's already been a few days since then), she's been out seeing companies, responding to ads and sending out her CV and hasn't had any luck securing a job. Lin Yi Mu suggests Li Hui Zhen be his assistant. This has Li Hui Zhen asking why he would even need an assistant. Lin Yi Mu tries to use his second wish to get Li Hui Zhen to do as he wants, but that doesn't work. She tells him he's already used his second wish during the time he split his pants and needed her to cover him. But, that aside, she really just need to keep searching in order to have her parents at ease. Furthermore, she doesn't want anything more to do with Immortal.
Seeing as a paying job is what Li Hui Zhen is after, Lin Yi Mu offers money to be his assistant. That works. Li Hui Zhen accompanies him as he wants. He has her go around with him, taking photos of each other as well as photos together. It looks more like fun than work for the whole day and right into the night.
Lin Yi Mu:
"If you can't find a job, you might as well be my assistant."
Li Hui Zhen:
"Why would I be an assistant to a good-for-nothing guy like you?"
They end up outside a cafe eating cake where Lin Yi Mu brings up his suggestion for her to be his assistant again. This comes up after Li Hui Zhen accuses him of spending this time with him because he wanted to convince her to go back. Lin Yi Mu takes this opportunity to express his feelings to her again, telling her that he actually doesn't want her to return to Immortal. He doesn't like seeing her and Bai Hao Yu together because he likes her.
His confession is dismissed as him having her on again, while the suggestion to be his assistant is received the same way as earlier: why would she be an assistant to a good-for-nothing guy like him?
If only she knew Lin Yi Mu is definitely not a 'good-for-nothing' guy and his offer might potentially be an opportunity to be the assistant of either an heir of an empire or famous writer, Diviner. But, as she has no idea Lin Yi Mu is hiding his real identity, Li Hui Zhen doesn't take his offer seriously and ends up seeing and taking a job advertised at the very cafe they were eating cake presently.
(Note: the exact words Li Hui Zhen uses to describe Lin Yi Mu is "bu zheng jing ren". In this context, that's like saying he's not a serious-minded person, he's someone who's always joking around. The translation "good-for-nothing" fits here we think since they're talking about being an assistant for Lin Yi Mu. With the way he's always joking around with her, he doesn't appear like he'd be someone who would get that far in life to need an assistant.)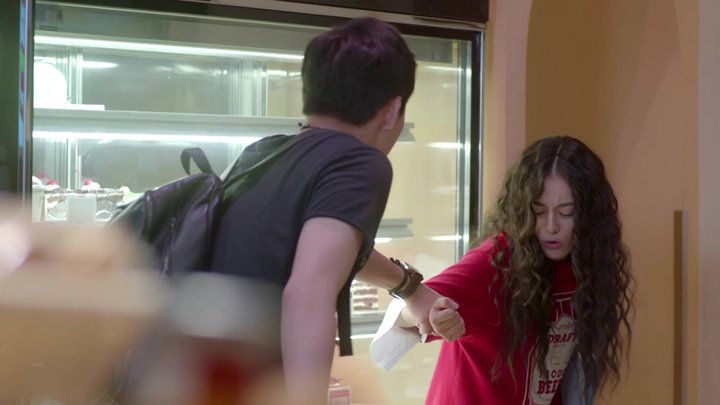 Lin Yi Mu:
"Why must you choose to work at this bakery?"
Li Hui Zhen:
 
"What's wrong with working in a bakery? I can leisurely stand over there and be a cashier."
Lin Yi Mu doesn't approve of her working at a bakery. For one, he thinks she could do better by being his assistant. The job isn't good enough for her. Second, he thinks she's settled for this job because of Bai Hao Yu. Maybe it's true or maybe it's not. Just before Li Hui Zhen saw the vacancy, she had thought back to the time she and Bai Hao Yu ate cake together when they were children.
Since being made to leave by Bai Hao Yu, thoughts of Bai Hao Yu entered a couple times. The first time was whilst grocery shopping. The onions had her think of the purple onion he gave her and how caring he was to give that to help her cold. The second time being the time she ate cake with him as children.
Li Hui Zhen:
"I know that during my time at Immortal, I wouldn't have been able to continue on if it weren't for you. Every time I get sad, you'll go and try lift my spirits. I know all of that."
She goes on to acknowledge all the support Lin Yi Mu's showed her in the past and how grateful and fortunate she is to be able to meet another person she considers a friend and as important as Xia Qiao. And as a friend she considers so important to her, she wants him to support her with this decision of hers. With Li Hui Zhen asking him so earnestly, he does.
The episode ends with Bai Hao Yu going to Li Hui Zhen. In the end, Bai Hao Yu chose to take a look through Li Hui Zhen's notebook. He seemed to enjoy it quite a bit, too, as a couple of the pages made him chuckle to himself. Then, after realising that the handwriting was the same as the note he kept in his draw (it's the one he received from Li Hui Zhen, through the librarian, after handing her notebook in to the librarian), he heads off to Li Hui Zhen's apartment.
We're not exactly sure what the significance is with this discovery, but we're guessing he's linking the hard work she did back then right up to now to come up with this concept, which clearly is deserving of being used as the 20th Anniversary theme.
When he gets there, Li Hui Zhen is still out with Lin Yi Mu so he's made to wander around outside. He wanders around a few moments before he decides he'd head back to his car to head home. Just as he begins to put on his seatbelt, Li Hui Zhen appears before him. To his displeasure, she's come home on Lin Yi Mu's motorbike!
Comments
And that's the end for Episode 22. Pretty nice episode! We like how Lin Yi Mu gets acknowledged for all that she does for Li Hui Zhen. The only minus is that through Li Hui Zhen's acknowledgement of all he's done, she defined their relationship, calling him a very important friend! Boo!
But then, it's not like Lin Yi Mu doesn't know what role he plays in this triangle. He told Xia Qiao Bai Hao Yu and Li Hui Zhen, and she's there just to help the two complete that destiny. That means he knows he, too, plays the part of getting the two together. This we like and also don't like. Lin Yi Mu stating it like that means we won't be seeing him jealous or feeling down, which is good. But then it also means Lin Yi Mu and Li Hui Zhen will never happen. It's not news since Lin Yi Mu is second lead, but did the drama have to make it so final so early?
It looks like Li Hui Zhen will be working at the cake shop for now. This wasn't in the original if we remember correctly, so there'll be some new scenes in the next episode. That should be interesting considering the last scene left off with Bai Hao Yu seeing Li Hui Zhen with Lin Yi Mu.
ADVERTISEMENT