The Fox's Summer is a 2017 Chinese modern romance-comedy drama that's set in the business world of fashion. It's adapted from a Chinese comic called, 'When the CEO Falls in Love (当总裁恋爱时)' by Shen Cang Mei. Currently, there are 21 episodes in the first season and we think there are 23 episodes in the second season of The Fox's Summer.
All 44 episodes can be found on YouTube (Season 1, Season 2). Unfortunately, not all 44 episodes have English subtitles on this channel belonging to the official online broadcasters of The Fox's Summer. Season 1 has over half of the series subtitled in English and Season 2 has 3 episodes subtitled in English. (We segmented and English-subbed those 3 episodes in Season 2. So, you can at least enjoy 3 episodes of Season 2 fully subtitled in English! Hehe :oD :oD). This place has super HD video quality, so that's a plus as well.
We've already watched the first season of this series and totally looooved it! We're currently going through the second season and it continues to be oh-so-entertaining! Since this drama is so fun to watch, we thought we just have to recap it! :oP :oP.
The Fox's Summer – Episode 1 Recap
Gu Cheng Ze (Jiang Chao), the male lead character, is a CEO of a group called Sheng Hong Group. He is someone who has an obsession with cleanliness and has obsessive-compulsive disorder. The acceptable level of cleanliness is far beyond the average person's acceptable level. Surfaces must come out immaculate and germ-free. A rogue feather in the air is a no-no. Sanitiser spray is an accessory his secretary has to help him santise himself after contact with things.
There's one more thing Gu Cheng Ze can't stand: lies. He has allergic reactions to them. In comes Li Yan Shu (Tan Song Yun), the female lead character, who puts Gu Cheng Ze's body on overdrive with her lie.
On a blind date Li Yan Shu has at a café with a very rude and ungentlemanly guy, she has to prove to this blind date of hers with the fact that she does indeed have the ability to marry a rich man such as the guy on TV with the surname 'Gu' of Sheng Hong Group—even with the trashy look and the self-assured and gold digger attitude that she puts on for her blind date to dislike.
Gu Cheng Ze exposes Li Yan Shu's lie with his presence and his question asking her if he knew her. He had been sitting some tables away and hearing his name used in this conversation between Li Yan Shu and the blind date of Li Yan Shu's compelled him to head over to Li Yan Shu's table.
Li Yan Shu's blind date is smug about the unfortunate situation Li Yan Shu brought upon herself. She pushes on after some moments cowering in Gu Cheng Ze's presence. She creates a story to reason why Gu Cheng Ze didn't know her after she had boasted about how the rich man with the surname Gu of Sheng Hong Group was someone she couldn't dump even when she dumped him. She paints Gu Cheng Ze as someone she had made heartbroken in the past. She had rejected his marriage proposal that occurred under the Eiffel Tower in Paris, France. It's the reason why Gu Cheng Ze was now pretending to not know her, Li Yan Shu explains.
Luckily for Li Yan Shu, because of the lie, she gets Gu Cheng Ze to put on a good demonstration for the rude and ungentlemanly blind date of hers. The lie makes Gu Cheng Ze truly look like a man who Li Yan Shu made heartbroken: tears well up in his eyes. He also flops over Li Yan Shu's shoulder and tightly holds onto her in (real) distress after she pulled at his arm to stop him from leaving and he wasn't able to support himself because his body seized from her lie. It takes Gu Cheng Ze extreme willpower to snap himself out of his feverish reaction to Li Yan Shu's lie. He could only manage to recover many, many moments after Li Yan Shu's blind date had left, defeated.
Li Yan Shu therefore makes a bad first impression on Gu Cheng Ze. However, Li Yan Shu doesn't show any concern towards having made a bad first impression on Gu Cheng Ze of Sheng Hong Group because there is a dislike she has towards him.
Li Yan Shu:
"In the book of family names, 'Gu' is a surname I hate the most."
And so, a hate-hate relationship begins between Gu Cheng Ze and Li Yan Shu—the lead characters of The Fox's Summer! Oooh! Fun start! Awesome stuff!
Things to Take Away From Episode 1
Gu Cheng Ze – CEO who can't stand lies, has mysophobia (obsession with cleanliness) and OCD (obsessive-compulsive disorder)
Gu Cheng Ze detects lies with sneezes. He has a personal doctor who he seems to need to be in regular contact. He also has an interesting futuristic-looking machine that gauges his body's condition in his walk-in-wardrobe! With Gu Cheng Ze having an extreme need to have everything germ-free and how he isn't able to have anything or anyone near him who is not germ-free, it's great setup for the romance side of things!
Li Yan Shu – fashion designer who is part of the Han family
Li Yan Shu's family consists of her mother; her stepsister, Han Jun Yao (Wang Yan Zhi); and Han Jun Yao's father. Li Yan Shu's mother married into the wealthy Han family who owns a group called, Han's Group. Han Jun Yao doesn't like Li Yan Shu or Li Yan Shu's mother.
Han's Group fails collaboration discussion with Sheng Hong Group
Han Jun Yao leads the collaboration talk. She goes to see Gu Cheng Ze to discuss about collaborating on Sheng Hong's new online shopping platform, New Face. It's a challenge Han Jun Yao's father set for her after she complained about Li Yan Shu entering their company as Manager immediately after graduating. The reward for successfully getting the deal is a promotion from Manager to Vice General Manager. The talk is unsuccessful when Gu Cheng Ze says he doesn't collaborate with low level companies whose consumer group is the low-end consumer group. Sheng Hong's consumer group is the high-end group.
Sheng Hong Group's heir – Gu Jin Yun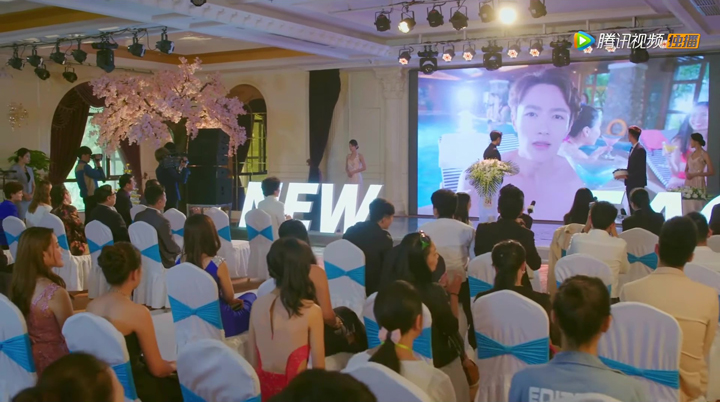 Gu Jin Yun (Zhang Xin) is the younger brother of Gu Cheng Ze. The heir to Sheng Hong Group is Gu Jin Yun and not Gu Cheng Ze. This is because Gu Cheng Ze is an adopted son of the Gu family. Gu Jin Yun was going to be announced as the Chief Operating Officer of New Face at its announcement conference. However, Gu Jin Yun likes fun and play. He doesn't seem to like responsibility.
Gu Cheng Ze's blind date fails
Gu Cheng Ze was on his own blind date before being brought into Li Yan Shu's blind date. It didn't go well. This is because Gu Cheng Ze made his blind date wait until he finished work after she arrived late and she said she was fine to wait until he finished his work. Gu Cheng Ze took the words of his blind date as truth and he made his blind date wait for two hours! That's three orders of orange juices later! If the blind date didn't become fed up with waiting and complained at this time, we can see it would have been longer! The blind date withstanding two hours of waiting is still incredibly patient! Gu Cheng Ze had no ounce of realising how poor his manners were when she complained. He didn't see himself as having done anything wrong. He just continues working and indifferently answers the blind date. Yup. That's Gu Cheng Ze for you! He's very good-looking; but, he doesn't have any sort of social skills or good manners because he only knows how to be truthful.
A hint on Li Yan Shu knowing Sheng Hong Group's heir
When Li Yan Shu told her blind date that the guy on the TV with the surname Gu of Sheng Hong Group is someone she couldn't dump even when she dumped him, the image on the TV around this time was Gu Jin Yun. When the blind date looked to the TV behind him, the image already switched out and he saw Gu Cheng Ze. Li Yan Shu didn't go correct him. It's a trait of Li Yan Shu. She just lets people think however they like and just carries on. She's pretty cool like that.
Gu Cheng Ze appears heartbroken from Li Yan Shu's lie
Li Yan Shu's blind date was proven wrong when he sees with his own eyes that Li Yan Shu has the ability to marry a rich man. Those tears of Gu Cheng Ze's and him hugging her like he can't live without her is proof enough! We know better, though. Gu Cheng Ze is exhausted from Li Yan Shu's huge lie!!!
ADVERTISEMENT