Episode 9 Recap
Qu Guang Ya is one of the Song Bai members and so far she has been coming off suspicious. Qu Guang Ya likes Fang Ting Hao and we can't tell if she's going to turn and do something against Qi Bai Cao because of her like towards Fang Ting Hao.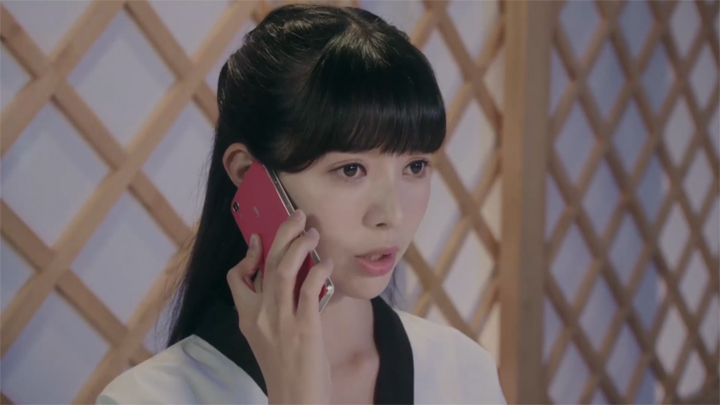 She seems harmless enough at this point. We can't decide at the moment.
Chang An and Qi Bai Cao head to Japan for the competition. It's the first time Chang An shows he is no longer nonchalant towards Qi Bai Cao and starting to be affected by her!
Chang An was very worried when he didn't find Qi Bai Cao at the spot he told her to wait whilst he went to get something for her to eat in the street market. He helps Qi Bai Cao cool the kebab of takoyaki balls he bought for her when she finds them too hot. Chang An offers to hold Qi Bai Cao's backpack. This gets Qi Bai Cao and Chang An into close proximity. With Qi Bai Cao insisting that Chang An didn't to help hold her backpack and Chang An insisting he would help her with it, Qi Bai Cao becomes unsteady and Chang An catches her and pulls her into him. :oD :oD.
Chang An and Qi Bai Cao come to share a room. It's got a partition in the middle that separates Chang An and Qi Bai Cao, though—as Chang An demonstrates when Qi Bai Cao goes to ask for another room. It's a setup for some moments for the two!
Back at Song Bai, the new character's name is Lu Fei Yu. He is definitely not who he seems to be. He's going to other halls and giving warnings with flags in Song Bai's name.
Chang An sees Qi Bai Cao nervous at the press conference for the upcoming competition where Japanese opponent, Jia Teng Ying Bai He, is a favourite. Chang An gives Qi Bai Cao something to calm her nervousness by way of a saying: "He who knows nothing fears nothing." Qi Bai Cao thought Chang An meant she should think of this competition as one at home and not on Jia Teng Ying Bai He's turf. But that wasn't it. Chang An meant that Qi Bai Cao shouldn't be nervous because she can't understand what they're saying! So smart Chang An is! After that, Chang An looks to tell Qi Bai Cao to enjoy the lack of media attention on her in the press conference and relax when he hands a can of drink to Qi Bai Cao.
Chang An felt quite different here. He's not stiff or uptight. He's rather relaxed and easygoing. We're liking the development a lot!
Qi Bai Cao hears noises coming from the other side of the partition in the room she shares with Chang An. It's Chang An's knee acting up again. What comes from this is Qi Bai Cao helping Chang An relieve the pain he tried to hide from Qi Bai Cao when he tells her he's fine after Qi Bai Cao asks if he's okay. Qi Bai Cao's caring gesture has Chang An very mesmerised by her! He's thinking about her at night and stopping himself from thinking about her. :oD :oD.
A bit more of Chang An doing cute things comes in the morning! Chang An has a plaster for the finger Qi Bai Cao burnt when she went to make the heat pack for his knee. It takes a bit of forcing before Chang An could have Qi Bai Cao allow him to wrap the plaster around her finger. We can't help think that if it were Fang Ting Hao trying to do this, even if he insisted in getting that plaster onto Qi Bai Cao's finger like Chang An had, Fang Ting Hao would have failed to get it around her finger and would have met with Qi Bai Cao insisting she doesn't need a plaster for her burn or she'll do it herself. At this moment, Qi Bai Cao not rejecting anything Chang An does look simply like respect for Chang An as her instructor. But… we want to think otherwise! :oP :oP.
ADVERTISEMENT