We loved Ji Chang Wook in Healer! He's looking quite cool in Whirlwind Girl 2, too. Ji Chang Wook's character is Chang An. He's a former instructor of Feng Yun Martial Arts Hall, teaching a martial arts discipline known as Yuan Wu Dao. He leaves this Feng Yun Martial Arts Hall in the United States for Song Bai Hall in An Yang, China because he was invited to instruct the students of Song Bai Hall.
Qi Bai Cao is the female lead character and she's played by An Yue Xi. She has the aspiration to win the City Youth Competition.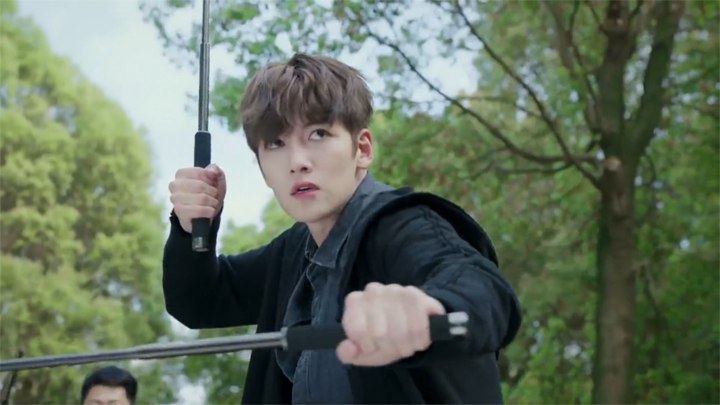 Ji Chang Wook as Chang An: he has a lot of makeup. He's got heavy eyeliner, a pale complexion and rouge-coloured lips. We're noticing how bold the red is on his lips. It doesn't take away the fact that Chang An is a character we're going to enjoy watching, though! It's going to be super fun seeing Chang An change that I-don't-have-one-bit-of-care and you're-just-another-face-in-the-crowd attitude towards Qi Bai Cao.
Whirlwind Girl 2 is looking light and fun and it's got a recipe for some great romance!
Episode 1 – 4 Recap
So, Chang An has been coming across to us as a person who doesn't get affected by much or get ruffled much. He has a cold and distant attitude towards people. He pays no attention or care to Qi Bai Cao's extreme generosity and kindness of suddenly helping him pay for his bus fare when he pulls out American dollars that the bus driver found him odd for pulling out currency he didn't recognise.
In this sequence of scenes at the pool side, we see Chang An concerned when he sees Qi Bai Cao lying on the pool floor not coming up! Even though the concern has no hint of feelings in it and it's simply a natural reaction—it's different from what we've seen. Chang An leaps into action to save Qi Bai Cao as soon as he realises Qi Bai Cao was not coming up from the pool floor!
How the saving came about was Qi Bai Cao got lost in her thoughts. She was thinking about someone called, Ruo Bai. We don't know much about this Ruo Bai, but he's seemingly very important to Qi Bai Cao and the others. We think we'll know who Ruo Bai is and why Ruo Bai is so special to Qi Bai Cao if we watched the prequel.
Qi Bai Cao thinks about Ruo Bai whilst lying on the pool floor for some time. Chang An, who was walking along the pool side after his unpleasant talk with Fang Ting Hao (Chen Xiang)—who doesn't like Chang An very much and doesn't want Chang An to be Qi Bai Cao's instructor and leave Song Bai—spots Qi Bai Cao and immediately goes to her. The cool sequence comes in: Chang An throws his outer layer of clothing off, runs towards the pool, dives in, swims towards Qi Bai Cao, scoops her up into his arms, and pops up to the surface surprising everyone with the sudden spectacle of him carrying Qi Bai Cao in his arms and shaking off the water and hair that got in his way!
We wish Chang An didn't immediately step aside for a very worried and pushy Fang Ting Hao to take over in tending to Qi Bai Cao, though. Chang An exited from the moment too soon. We wanted to see him concerned about Qi Bai Cao just a bit more. But, it's okay. Chang An is the lead male character. There will be more opportunities to see Chang An with Qi Bai Cao in scenes like these! :oP :oP.
Main plot development so far: Qi Bai Cao participates and wins her first round of competition, the Pretty Girl Tournament, after being pressured by the public to participate and represent An Yang after fellow An Yang martial artist, Fang Ting Yi (Fang Ting Hao's sister), gets defeated by Jia Teng Xiao Bai He—a seven-time undefeated champion opponent from Japan.
Also, the Song Bai members wasn't so happy with Chang An before the tournament. The Song Bai gang were at odds with Chang An. They saw Chang An as heartless and cold when he went clearing out and throwing away all of the belongings of Ruo Bai and he tore a uniform belonging to Ruo Bai when Chang An fought Qi Bai Cao for possession of it because Chang An saw their affections for Ruo Bai who was no longer present with them a cause for their poor martial arts skills. However, after Chang An proves his skills with instructing Qi Bai Cao to winning the Pretty Girl Tournament against Jia Teng Xiao Bai He, they see Chang An worthy of being their instructor and apologises for misunderstanding him.
ADVERTISEMENT