At this point in the series, Yan Li Zheng is a lot more affected by Zhong Shao Xi and the happenings around her—much more than we have seen so far. There's Wang Jin Li who ruffles Yan Li Zheng's indifference with the like he keeps going to Zhong Shao Xi with.
Wang Jin Li's like towards Zhong Shao Xi is still coming across as playful when he's so forward with it. However, he is looking to be heading towards being serious when he takes the action of changing his ways. He goes from seeing many girls at once to just being interested in one with just going after Zhong Shao Xi. This change comes from after encountering An Xiao Qiao and the fight she has with her boyfriend. Wang Jin Li gains an understanding of what Zhong Shao Xi had said about what it is to like someone after this.
Wang Jin Li:
"A person who has this mentality where they chase a girl like it's a game has no qualifications to say, 'I like you'. When you like someone, you will either be happy by their actions or become upset by them. That means when a person genuinely likes you, they won't go and hurt you so easily. You aren't at fault, though. The one to blame is that guy. He shouldn't have said he liked you so easily. Therefore, I ask you to open your eyes a little wider. Believe that every girl, including you, will have a guy who is truly worth liking and is waiting for you to like him."
This fight between An Xiao Qiao and her boyfriend came from An Xiao Qiao finding her boyfriend kissing another girl. The fight escalated to the point of seeing Wang Jin Li intervening because An Xiao Qiao's boyfriend raised a hand with the want to hit An Xiao Qiao for the hits she was giving him with her bag. Wang Jin Li goes to wonder how An Xiao Qiao could like a guy who hits girls. The explanation An Xiao Qiao gives for this is that her boyfriend had treated chasing girls like a game. He had been sweet at the beginning, but lost interest in her after he got her heart. This explanation brought Wang Jin Li to recall the words Zhong Shao Xi had said to him about what it is to like someone and brought about the lecture to wise up in the future that Wang Jin Li gave to An Xiao Qiao.
Wang Jin Li gains admiration from An Xiao Qiao. She sees him as someone worth liking. Not Zhong Shao Xi, though.
When Wang Jin Li goes to Zhong Shao Xi to show her he has understood her words about like with letting her see the bruises he gained from breaking up with all the girls he wasn't really interested in, but was seeing at the same time, Zhong Shao Xi doesn't give any seriousness to Wang Jin Li's actions. She only finds him being his playful self again and his words are nonsense to her. Wang Jin Li, in response, urged her to see he was serious: she is the only girl he has ever wanted to prove he likes her.
We come to a moment where we see Yan Li Zheng's indifference ruffled. He, who had been standing on the side, patient with Wang Jin Li being around Zhong Shao Xi and withstanding the hands Wang Jin Li had around Zhong Shao Xi's shoulders, became uncontrollably irritated. Yan Li Zheng shoved a strong hand at Wang Jin Li's chest and told Wang Jin Li to stop continuing.
Yan Li Zheng:
"Are you done talking?!"
This reaction from Yan Li Zheng brought Wang Jin Li to become curious.
Wang Jin Li:
"With what status are you saying these words? Zhong Shao Xi's friend? Or is it Zhong Shao Xi's boyfriend? Also, with the things I've just said, will it make her uncomfortable or does it make you uncomfortable?"
We find Yan Li Zheng admitting to hating Wang Jin Li. He admits this to Zhong Shao Xi after she went to him asking if he'd like her to have a talk with Wang Jin Li about working at her family's tea shop. Wang Jin Li working at Zhong Shao Xi's family's tea shop came to be after Zhong Shao Xi's mum provided Wang Jin Li this alternative means to see Zhong Shao Xi instead of visiting her at the home so frequently which was a nuisance for them.
Yan Li Zheng:
"I admit I hate Wang Jin Li. I don't want to see you together with him. However, this does not mean you need to consider how I feel. You just need to know that, in the future, no matter who you like, who you want to be with, you will always be my best friend. This will never change."
New Year's Eve comes around. On this New Year's Eve day, Zhong Shao Xi's parents aren't home. They join in on the celebrations from a view up in a hotel—all expenses paid by Wang Jin Li—who, with this gift, persuaded Zhong Shao Xi's mum to allow him to take Zhong Shao Xi out to celebrate New Year's Eve with him. Wang Jin Li's plan makes way for Zhong Shao Xi to spend New Year's Eve with Yan Li Zheng when he's brought to the hospital to visit his brother who is hospitalised for exhaustion from overworking himself for his father and the company.
New Year's Eve brings Yan Li Zheng to surprise Zhong Shao Xi with a display of fireworks in the park. Both make another promise to let each other know when they have found a person they liked. After welcoming the new year, Yan Li Zheng has us see that the things he has been saying to make Zhong Shao Xi feel he can only see her as a friend and a family member is not actually what he feels.
Zhong Shao Xi had gone to Yan Li Zheng in his room in an intoxicated state. Her movements bring Yan Li Zheng down onto the bed with her on top of him and is close enough to kiss. This teasing and Zhong Shao Xi expressing how negatively she views her act of continuing to secretly like him brings Yan Li Zheng to wanting to steal a kiss from Zhong Shao Xi.
Zhong Shao Xi:
"Yan Li Zheng, you're really good-looking. Why aren't you a little bit uglier? That way, I wouldn't keep… I wouldn't keep foolishly liking you like this. I'm sorry. I clearly promised you that I will only be your friend and family member, but I've been secretly liking you all along. You must find me annoying and disgusting. I was afraid that once you knew you would avoid me. So, I didn't dare tell you. This is my biggest secret. You must not tell others."
Yan Li Zheng:
"I will never find you disgusting. Nor will I feel you're annoying because…"
Yan Li Zheng completed his sentence with that want to steal a kiss. Unfortunately, we don't see Yan Li Zheng manage to steal that kiss from Zhong Shao Xi because Zhong Shao Xi stops it with a smack of a hand in Yan Li Zheng's face to get him away.
Zhong Shao Xi:
"Who do you think you are?! Do you think you're Yan Li Zheng?"
More progress from Yan Li Zheng comes in the remaining parts wrapping up the high school part of the story as it heads into the university part of the story.
After the car accident, Zhong Shao Xi had been rehabilitating her injured leg and training herself back up to a level of fitness suitable for competing in the running competition she must come first in to get into university. The time spent rehabilitating and training was, however, not enough when she couldn't run the length of the track. Zhong Shao Xi limped in pain a few metres in and required Yan Li Zheng's support to get to the finish line. It was heartbreaking for Zhong Shao Xi. This wasn't because her means of getting into university with gaining first place in this running competition was gone. It was rather because she didn't come first in the only thing she was number one in and was the thing her parents could be proud of her for and boast to others with. She ran in a race where her parents saw her come last.
Yan Li Zheng makes a no-play-everyday-studying schedule for Zhong Shao Xi after failing to come first in the running competition. The schedule has Zhong Shao Xi hide from Yan Li Zheng and agree to go hang out with Wang Jin Li to get away when he came looking for her at her house. But this no-play-everyday-studying schedule that Zhong Shao Xi wanted to escape from is Yan Li Zheng fulfilling the wish Zhong Shao Xi made in her intoxicated state on New Year's Day when he helped her into her bed. She wished to attend the same university as Yan Li Zheng.
Yan Li Zheng brings Zhong Shao Xi to the night markets after one of the study sessions. He seemed to have taken her there to cheer her up after noticing Zhong Shao Xi looking back at a group of joggers that passed them by as they walked home. It was some fun playing a round of hitting targets. Zhong Shao Xi showed Yan Li Zheng how many different ways she could hit the targets successfully after Yan Li Zheng flunked on his first go. Seemingly, this was on purpose though when he didn't seem to have any trouble hitting the target when Zhong Shao Xi gave Yan Li Zheng the honour of throwing the last ball. He successfully hits this target without any problems.
The night brings Zhong Shao Xi to find herself struggling with her one-sided like again. Waiting for the bus to head home, Yan Li Zheng offered his jacket to Zhong Shao Xi when he noticed her looking cold. On the bus, Yan Li Zheng brought Zhong Shao Xi to rest on him after seeing her head roll towards the window as she slept. Without detection from Yan Li Zheng, she'd woken up to find herself resting on his chest before falling asleep then waking up a second time and finding herself resting on his lap. An embarrassing moment came for her when she went to wipe the drool off the inner thigh area of Yan Li Zheng's pants with her sleeve, not realising the inappropriateness of the action until she did it.
The event at the end of the bus trip was something that stunned Zhong Shao Xi as well as Yan Li Zheng. A sudden jolt that occurred as they made their way to the front of the bus to get off had made Zhong Shao Xi become unbalanced. Yan Li Zheng's quick reflexes helping to keep Zhong Shao Xi standing upright brought her to lurch forward towards him and their lips made contact.
Zhong Shao Xi describes these heart-thumping moments and those happening in the past since becoming friends with Yan Li Zheng as agonising. They are agonising because they make her think he has started to like her. They also make her feel greedy with the want to be around his warmth and scent. The one-sided love she has, she says it makes her feel lonely because she isn't able to express her like to him. The one-sided like that makes her feel lonely, Zhong Shao Xi says that her only outlet of expressing the like can only be through recording it into something like the doll she had won at the target hitting game. She feels that if she goes to express it to Yan Li Zheng, her ears may possibly hear cruel words that may shatter each of the wonderful moments with Yan Li Zheng. And so, she sees recording it into a doll is the only way to let out what she wants to say aloud to Yan Li Zheng.
We find Zhong Shao Xi isn't able to continue the one-sided like anymore after this. We see her decide she needs to stop liking Yan Li Zheng. On graduation day, Zhong Shao Xi goes to graduate from her one-sided like.
Zhong Shao Xi:
"I need to give you an apology because I didn't go according to the promise we made. I've continually liked you in secret. I've struggled a lot of times and hesitated for a long time. I couldn't cleanly give up, however. But I've made a decision now. From this day onwards, I won't be like this anymore. I won't continue to wonder about whether you like me a little just because you were a bit affectionate. I also won't continue to pretend to be your friend while I continue to like you in secret."
Zhong Shao Xi says this after asking for a graduation gift from Yan Li Zheng and getting that gift from him herself. The graduation gift she asked for and got herself was a kiss.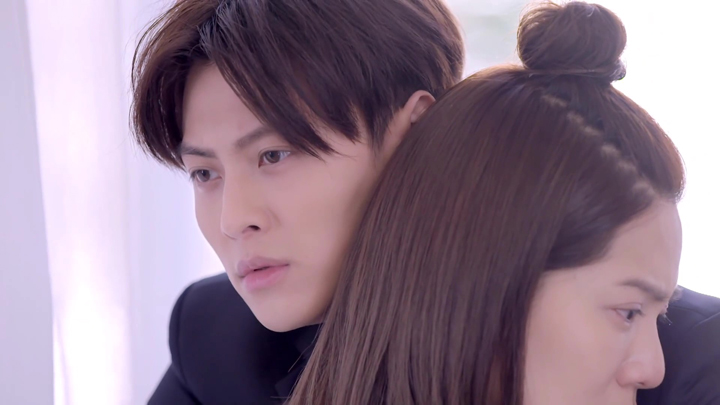 Zhong Shao Xi giving up on liking him doesn't seem to be what Yan Li Zheng wants, though. He got Zhong Shao Xi to reaffirm this decision she's made to give up her like towards him. Zhong Shao Xi nodded to this. When she went to leave, Yan Li Zheng doesn't let her decision be.
Yan Li Zheng:
"Who said you're allowed to give up?"
It feels like the time has come where we get to see Yan Li Zheng finally accept Zhong Shao Xi's like. But, no. It's not time. Yan Li Zheng is made to think a bit more on his like. Zhong Shao Xi's dad halts Yan Li Zheng from reciprocating Zhong Shao Xi's like.
Zhong Shao Xi's dad had found Yan Li Zheng and Zhong Shao Xi in the hug which Yan Li Zheng had used to stop Zhong Shao Xi from leaving. A talk takes place between Zhong Shao Xi's dad and Yan Li Zheng. Zhong Shao Xi's dad wants to know how serious Yan Li Zheng's like is for his daughter. When Yan Li Zheng ponders on his answer to the question Zhong Shao Xi's dad had asked him about his like towards Zhong Shao Xi, Zhong Shao Xi's dad gives Yan Li Zheng a little information on how his dad was when pursuing his mother. The way Yan Li Zheng's dad had gone about pursuing Yan Li Zheng's mum was like how Yan Li Zheng was now: he thought very long about his like. Zhong Shao Xi's dad says he likes that he has such quality of his father's in him.
Zhong Shao Xi's dad lets Yan Li Zheng know he wishes for him to take more time to think about his feelings for Zhong Shao Xi. It's that Yan Li Zheng is like a son to him. Zhong Shao Xi's dad goes to indicate that this view of the relationship he has with him may be different if Yan Li Zheng were to end up hurting Zhong Shao Xi. Zhong Shao Xi's dad then tells Yan Li Zheng that, if his like is in fact serious now, he wishes for him to begin a relationship with Zhong Shao Xi after getting into university because there is the need for them both to concentrate on the exams. This is what sees Yan Li Zheng decide to turn back from what feels like Yan Li Zheng wanting to reciprocate the like Zhong Shao Xi has towards him.
With Yan Li Zheng giving more consideration on his like towards Zhong Shao Xi, and Zhong Shao Xi obtaining advice from her online gaming friend (this is Wang Jin Li) to keep a distance to handle this troubling matter regarding her one-sided like, Zhong Shao Xi requests her parents to allow her to move out of the house and live on her own.
ADVERTISEMENT