A love rival comes in to make it more difficult for Yan Li Zheng to keep continuing to find Zhong Shao Xi as just a friend and a family member. With the entrance of the love rival, Yan Li Zheng shows discomfort, jealousy and all the subtle good relationship developing stuff that comes from a love rival entering!
The love rival is Wang Jin Li (Riley Wang). Wang Jin Li is from a wealthy family. He has a brotherly relationship with his older brother who manages the family company. He's not so great with his father. Wang Jin Li's father has extremely high expectations that Wang Jin Li doesn't approve of. Wang Jing Li doesn't have a good attendance record at university and he has an image of a womaniser.
The character introduction surrounding Wang Jin Li's family doesn't get too much development or focus in the series. It leads to introducing Wang Jin Li's love interest who starts off being not interested in Wang Jin Li, but very quickly takes a liking to him after he takes the blame for a car accident she caused. This creates a secondary pairing in the series.
The love interest is An Xiao Qiao (Guo Shu Yao). She first appears in Episode 6. An Xiao Qiao is also from a wealthy family. Her mother is an honorary board member of directors of the university Wang Jin Li attends. An Xiao Qiao is highly confident in herself. It's a likable confidence. She has a relaxed attitude towards going after Wang Jin Li. She doesn't treat Zhong Shao Xi as an enemy getting in the way of her happiness. In fact, we come to see her become like a second best friend to Zhong Shao Xi.
Wang Jin Li and Zhong Shao Xi get introduced to each other at a group date that Li Ru Ping gets her sister to help set up because she wanted to help Zhong Shao Xi with the one-sided like she has for Yan Li Zheng. Two of the guys are friends of Li Ru Ping's sister. The third one is Wang Jin Li.
Wang Jin Li has come across Zhong Shao Xi already, though. He recalls his first encounter at the movies after a face face Zhong Shao Xi makes is similar to that of a girl who was crying whilst watching the movie he was watching. This was in Episode 4. It's the scene where Zhong Shao Xi was upset over Yan Li Zheng not showing up to see a movie with her. Wang Jin Li was the guy who extended Zhong Shao Xi a packet of tissues. Wang Jin Li remembered his encounter with Zhong Shao Xi at the movies during the blind date. Zhong Shao Xi doesn't realise this until later on outside Zhong Shao Xi's house where, after Wang Jin Li had given her a ride home (something her friends pushed Zhong Shao Xi to accept), Wang Jin Li helped Zhong Shao Xi recall with holding out a packet of tissues.
They'd actually connected even earlier than the encounter at the movies. Wang Jin Li and Zhong Shao Xi had friended each other on an online gaming community. This is something Wang Jin Li comes to realise during the group blind date also. He finds this out when he went to look at the game Zhong Shao Xi played on her phone and he saw her alias.
This moment where Wang Jin Li helped Zhong Shao Xi recall the fact of him being that guy who extended her tissues at the movie theatre had them both chuckling over Zhong Shao Xi finally understanding the reason why Wang Jin Li had said, "So, it's you!" and why he had said how the world was so small to be able to meet her at even a group blind date like this. Yan Li Zheng caught sight of this friendly moment between the two. It's the first display of jealousy from Yan Li Zheng. He looked at Wang Jin Li with a glare and he was unimpressed with Zhong Shao Xi. Zhong Shao Xi got a telling off for going out instead of studying from Yan Li Zheng.
As things get along, we see that Zhong Shao Xi doesn't like Wang Jin Li's person very much. Wang Jin Li is thought of as a nuisance. When Wang Jin Li confesses to her, Zhong Shao Xi gets offended! She's offended by how little consideration Wang Jin Li took before saying he liked her. Zhong Shao Xi found it too soon after meeting her. Wang Jin Li gets a punch to his stomach and a lecture on how little thought he spent on considering the like he says he has towards her.
Wang Jin Li's interest in Zhong Shao Xi seems to have turned into like at the moment when Zhong Shao Xi had noticed and taken the time to try make him feel better.
Zhong Shao Xi:
"Although I don't know why you're crying, I hear that eating something sweet will improve your mood when you're sad. You can do it!"
Zhong Shao Xi had given a box of chocolates to Wang Jin Li after finding him sitting in the convenience store with a TV dinner with a few tears in his eyes. Wang Jin Li's dispirited mood comes from having been tricked by his brother to go home to celebrate his father's birthday. It didn't turn out well. Wang Jin Li's father was unhappy to see Wang Jin Li and Wang Jin Li received an earful about how he's not matching up to his expectations with him not being studious at university. This had seen Wang Jin Li leaving almost as soon as he arrived.
Yan Li Zheng schemes and plans to prevent Wang Jin Li spending time with Zhong Shao Xi. Wang Jin Li wants to go watch a movie with Zhong Shao Xi. Yan Li Zheng makes sure Zhong Shao Xi can't accept.
Yan Li Zheng queries Zhong Shao Xi's dad about a marking on the calendar that Yan Li Zheng already knows to be a reminder about the day being Zhong Shao Xi's parents' wedding anniversary day. He brings Zhong Shao Xi's dad to panic with letting him know that he heard Zhong Shao Xi's mum say she'd be very unhappy with him if he forgot this year and bringing up the fact of him being busy with the tea shop over the weekend so he won't have any time to go look for a wedding anniversary gift for his wife. Yan Li Zheng also says he isn't knowledgeable about what gifts are suitable for women after Zhong Shao Xi's dad asked him to help him pick out a wedding anniversary gift for him. With this, Yan Li Zheng is successful in his plan to make Zhong Shao Xi unable to accept Wang Jin Li's invitation to go see a movie together. Zhong Shao Xi's dad has Zhong Shao Xi accompany Yan Li Zheng on a trip to buy a wedding anniversary gift for Zhong Shao Xi's mum.
This planning and scheming has an unforeseen outcome. Yan Li Zheng and Zhong Shao Xi come across another period of issues between them after Yan Li Zheng witnesses Zhong Shao Xi come into the path of a car speeding towards her as she went to catch up to Yan Li Zheng on the other side of the pedestrian crossing.
The car owner and driver of that car speeding towards Zhong Shao Xi was An Xiao Qiao. Wang Jin Li was in the front passenger seat. An Xiao Qiao had been distracted with retrieving her phone that had slid off the dashboard and her foot pressed harder down onto the accelerator which brought the car speeding towards Zhong Shao Xi. Zhong Shao Xi was brought to the hospital. Thanks to Wang Jin Li's quick reaction of pulling up the handbrake, though, Zhong Shao Xi sustained an injured leg requiring a short stay in the hospital.
This event made Yan Li Zheng close himself off from Zhong Shao Xi. It's after he shows progress towards showing he may like Zhong Shao Xi more than he lets off.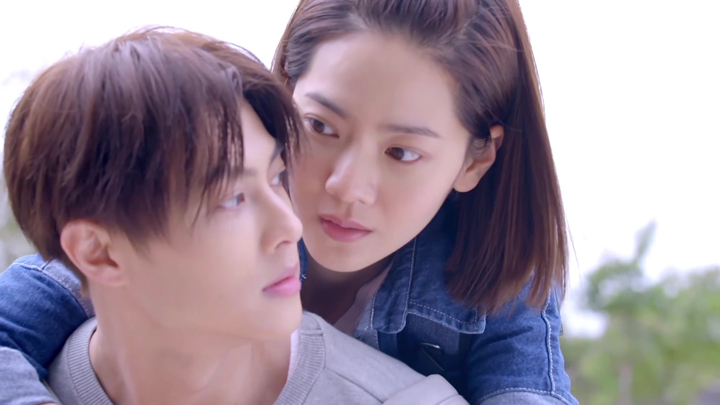 Yan Li Zheng:
"If you like being carried on the back, I will carry you from now on."
Yan Li Zheng carried Zhong Shao Xi on his back after finding Zhong Shao Xi had gotten scrapes at the back of her heel from uncomfortable shoes she walked in on their day out looking for her mum's wedding anniversary gift. Yan Li Zheng helped put a plaster on and carried her on his back. Yan Li Zheng had expressed those words after Zhong Shao Xi expressed how she'd carried a guy on her back before, but never had she had a guy carry her on his back.
Shop Assistant:
"Your boyfriend treats you so well."
Yan Li Zheng didn't worry about this comment that came from the shop assistant of the shoes store he took Zhong Shao Xi to. It comes after Zhong Shao Xi had wanted to try on the shoes Yan Li Zheng picked out for her herself because she worried about the smell her feet would give off after a day's walking around. However, Yan Li Zheng insisted on helping her try them on. Zhong Shao Xi, on the other hand, had worried about the misunderstanding the shop assistant had. The worry might have been more towards Yan Li Zheng's discomfort in being seen as her boyfriend than fact of the shop assistant misunderstanding Yan Li Zheng as being her boyfriend, we would think, though. Zhong Shao Xi had immediately gone to correct her. This was when Yan Li Zheng cut her off when he asked her to extend the other foot so he could put on the shoe on the other foot.
This good progress of Yan Li Zheng showing a bit of reciprocation of the like Zhong Shao Xi has for him disappears after the accident. He comes to appear like his old self. He's inaccessible.
Yan Li Zheng:
"If you only bring misfortune to people, how are you able to own happiness?"
Yan Li Zheng wants to go see Zhong Shao Xi in the hospital after the accident, but he struggles to. We would see him think about heading into her room then stops himself and hangs around outside. Yan Li Zheng only manages to visit Zhong Shao Xi at night when she has gone to sleep. He seems to want to be by Zhong Shao Xi's side when he reaches out to take hold of Zhong Shao Xi's hand. However, he does a U-turn when he takes his hand out of Zhong Shao Xi's sudden clutch of it.
Yan Li Zheng throws the running shoes he gave to Zhong Shao Xi out into the neighbourhood waste collection area after the running shoes stained with Zhong Shao Xi's blood from the accident brings traumatic memories of the car accident he was in with his parents. Zhong Shao Xi was angry when she found he'd thrown them out. She managed to get them back. Yan Li Zheng helped Zhong Shao Xi find them back after she told him off for throwing what belonged to her and after she had him know that the running shoes are something she finds precious because it's something he gave.
An upset stomach bringing on diarrhoea seemed to have been the perfect thing to help speed along Zhong Shao Xi and Yan Li Zheng patching up their friendship. It comes in after the event of Yan Li Zheng throwing out the shoes.
Zhong Shao Xi had passed wind then expressed pain in her stomach after her talk with Yan Li Zheng which saw her demanding answers for his behaviour that didn't match those of a friend. Urgency came from Yan Li Zheng. He carried Zhong Shao Xi to the bathroom then told Zhong Shao Xi to quickly relieve herself. Zhong Shao Xi relieved herself after she told Yan Li Zheng to quickly get out when he stood waiting in the bathroom with her. Yan Li Zheng then waited outside. He heard the unflattering sounds of Zhong Shao Xi relieving herself. Zhong Shao Xi told him to pretend to not hear or smell anything—of which Yan Li Zheng quickly said he didn't hear or smell anything before relaxing and smiling at the situation as he waited by the stairs.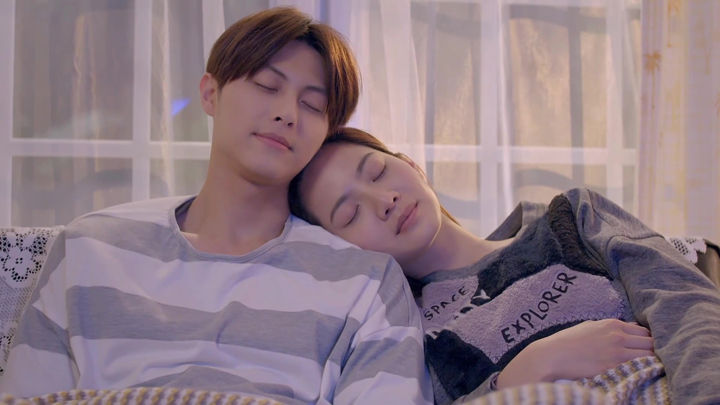 After a visit to the doctors, Yan Li Zheng gives Zhong Shao Xi his reason for the way he's been acting.
Yan Li Zheng:
"I kept thinking that had I not taken you out that day then you wouldn't have gotten injured. Thinking this, I felt I couldn't face you. I'm sorry. Also, I threw those pair of running shoes because I was afraid those pair of shoes would bring you bad memories. I didn't want you to be sad and make you cry. I'm sorry."
With this, Yan Li Zheng and Zhong Shao Xi patch up their friendship. It brings things back on course to progress for the two.
ADVERTISEMENT