Bai Hao Yu's showing signs of jealousy when he sees Li Hui Zhen being fussed over by Lin Yi Mu! She's caught a cold after being out in the rain on the roadside with Bai Hao Yu. It's just a tiny display of jealousy, but we'll take it—especially how after showing this tinge of jealousy, he's off on what is essentially a date with Xia Qiao to thank her for taking care of him the night before when he was sick.
Xia Qiao receives a bracelet as a spur of the moment gift on the date. He thinks to buy this after realising how much she's helped him ever since they were young and hopes that their past and present can now be put together. Bai Hao Yu is still seeing a future with Xia Qiao as he continues to believe she is his childhood friend. However, Xia Qiao slips up quite majorly during their date, which has Bai Hao Yu thinking again.
Pretty Li Hui Zhen Episode 14 Recap
Lin Yi Mu:
"Didn't you say you had something up? You ditched me. Why are you here?"
Xia Qiao:
"I'm really sorry. It's actually my friend who suddenly had something urgent come up, so I came over here."
With Li Hui Zhen agreeing to grant Lin Yi Mu three wishes for running her errand, Lin Yi Mu sets off to deliver the porridge Li Hui Zhen prepared for Bai Hao Yu. On his way up to Bai Hao Yu's apartment, to his surprise, Lin Yi Mu bumps into Xia Qiao outside. It was only a short while ago the two were at a café looking to act as an engaged couple. Without knowing the reason this plan had been aborted was because of the same reason they were now in front of each other again (they both had come to check on Bai Hao Yu), the meeting is taken as a coincidence and they both leave each other to go in their way.
Lin Yi Mu:
"I discovered something really strange."
"There is a note. Something's written on it. Something… clothes are ready… something… something… something… I can't make it out clearly. The water's smudged the words."
"But what I know is someone must have come by."
Lin Yi Mu makes it into Bai Hao Yu's apartment using the access card he'd unknowingly kept from the last time he had to enter his apartment. (This was in Episode 10 when he, with Li Hui Zhen, had brought Bai Hao Yu back from the work function.) In the apartment, Lin Yi Mu's attention catches onto a number of things: the jar housing the puzzle Li Hui Zhen broke apart, the bowl of porridge on the coffee table Xia Qiao made just before she left and her note.
On the note, Xia Qiao reminds Bai Hao Yu to take his medicine and to eat. She also lets him know she'd gone and washed his jacket. Right at the end of the note, Xia Qiao signs it off as "Hui Zhen". Had it not been for Bai Hao Yu who had woken up sometime after she left and spilt liquid over the note whilst reaching for a mug, Lin Yi Mu would've discovered their connection to each other. Li Hui Zhen, who had called Lin Yi Mu shortly after he arrived, would've found out about Xia Qiao's meetings with Bai Hao Yu. As far as Li Hui Zhen is concerned, the mission which Li Hui Zhen had Xia Qiao act as her should have ended when Xia Qiao told Bai Hao Yu she was studying abroad.
Fortunately for Xia Qiao, the most important parts of the note (such as the name) was unreadable. Xia Qiao's secret remains safe and Li Hui Zhen is left to assume it must be that girlfriend Lin Hu Sheng suspected Bai Hao Yu to be dating who had dropped by.
Lin Yi Mu, who's always looking to make her feel better, tries to suggest otherwise. He tells Li Hui Zhen that it's got to be his housekeeper who had dropped by, not that girlfriend he's suspected of having. A rich man like Bai Hao Yu would've hired a housekeeper to help him with the apartment. This seems to have Li Hui Zhen accept the explanation of the situation.
Lin Yi Mu:
"You're great, Charlie. If it weren't for you, I so wouldn't… Fine. You're awesome. Because you're the Deputy Editor in Chief, I have to cook porridge for you. Because someone likes you, I'm even roped in to liking you, too."
Lin Yi Mu stays to take care of Bai Hao Yu the whole night after getting off the phone with Li Hui Zhen. He'd only been asked to deliver porridge, but it would seem his obligation to stay comes from knowing that Li Hui Zhen likes Bai Hao Yu. Since Li Hui Zhen likes Bai Hao Yu, he couldn't refuse doing a good job for Li Hui Zhen.
He feeds Bai Hao Yu medicine, he wipes down the perspiration from his forehead and he makes sure Bai Hao Yu is warm by covering him with sofa cushions (but not a blanket haha) at the end of the night. Lin Yi Mu really cares for Li Hui Zhen! To complete his mission, he just needs to get Bai Hao Yu to eat Li Hui Zhen's porridge the next morning.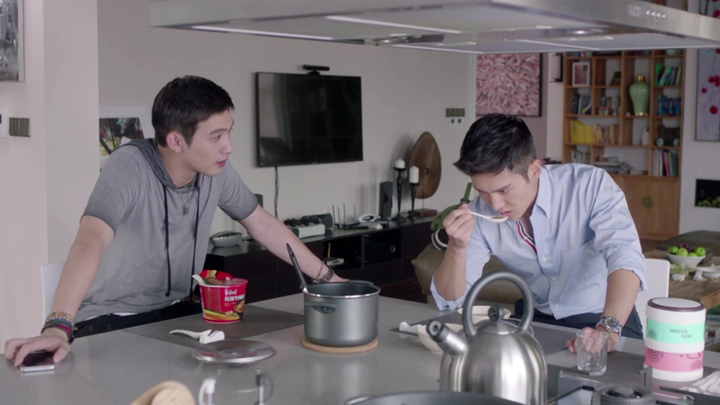 Lin Yi Mu:
"Charlie personally made it for you and you don't want to eat it?"
Bai Hao Yu doesn't make it easy for Lin Yi Mu to achieve his mission when he wakes up. Bai Hao Yu doesn't eat breakfast and refuses the bowl of porridge when Lin Yi Mu places it in front of him. Fortunately, Lin Yi Mu took embarrassing photos the night before to encourage Bai Hao Yu to do as he wants. Bai Hao Yu submits, eating the porridge. Mission complete.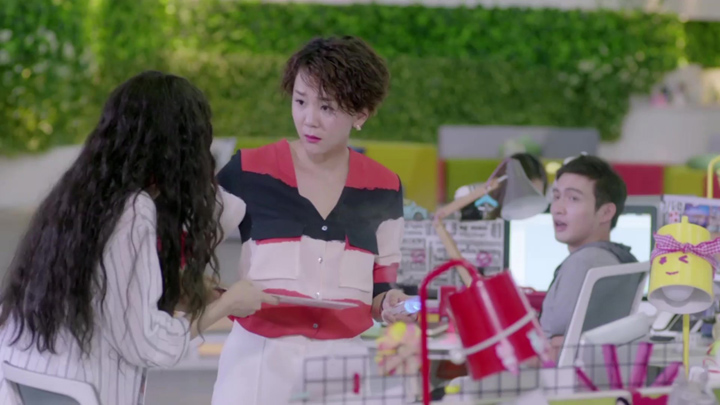 Anna:
"Where a mask. Don't infect everyone."
Lin Yi Mu
"You've got a cold. Hurry and take some medication."
Team Leader Zhu Ying
"Han Xue, along with the antiviral essential oils, add your air sanitiser into our air freshner and have it release its mist to help us avoid catching the cold."
At the Immortal office, Li Hui Zhen's caught a cold which has everyone in her team making quite a big fuss about it. The amount of fuss is so big it's hard for even Bai Hao Yu to walk past when he gets in. But then again, with how he's been paying a lot closer attention to her lately, even without this much commotion, Bai Hao Yu might still have noticed.
Li Hui Zhen's state has Bai Hao Yu off to the pharmacy to get her some cold medicine only to never end up giving it to her. Just as Bai Hao Yu makes his way over to Li Hui Zhen's desk, team Leader Zhu Ying calls for Li Hui Zhen, causing Bai Hao Yu to divert to a nearby worker's desk. He pretends to check on a colleague's work whilst he waits for Li Hui Zhen. When she's finally free and back at her desk, Lin Yi Mu rolls over to fuss over her.
Bai Hao Yu is made to return to the worker's desk. This time, he pretends to be interested in the plot plant on her desk, taking hold of a leaf.
Jealousy makes its way into Bai Hao Yu next. Lin Yi Mu handing her medication, helping her put on a mask to cover her mouth and moving in to put on a bunny ear hairband has Bai Hao Yu squeeze the life out of the leaf and almost take a drink of ethel alcohol when he's called by Lin Hao desk about it. He doesn't wait out Lin Yi Mu's visit after this and returns to his office.
Bai Hao Yu:
"Li Hui Zhen is Li Hui Zhen. Why are you randomly giving her nicknames? Are you close to her? Didn't teachers teach you not to randomly give people nicknames?"
A subtle hint of that jealousy shows up again later in the day when Lin Yi Mu chases Bai Hao Yu down to remind him about returning Li Hui Zhen's thermos. Lin Yin Mu doesn't use Li Hui Zhen's name when he refers to her. Instead, he calls her by the nicknames he gave her: Charlie and Bao Zha Tao (Explosion Head)—which provokes Bai Hao Yu.
Bai Hao Yu's dislike of nicknames could be that he just generally does not like them. His mention about teachers teaching people not to randomly call people nicknames suggest that, but he also seems to think only people who are close can call each other nicknames.
As well as playing on building jealous feelings in Bai Hao Yu, the scene also has Bai Hao Yu learn that the porridge he ate in the morning is Li Hui Zhen's, not Xia Qiao's. However, with Bai Hao Yu's focus gone to Lin Yi Mu's use of nicknames to refer to Li Hui Zhen, there's no acknowledgement or reaction to this fact from Bai Hao Yu.
Bai Hao Yu:
"From when I was a boy right up to now, I'm really grateful."
"We've known each other for so long, and except for that puzzle piece, I haven't given you all that much. Now you have this bracelet, we can connect together our past and present."
Li Hui Zhen doesn't get a thanks (and clearly neither does Lin Yi Mu who did so much!), but the one he believes is Li Hui Zhen, Xia Qiao, does. Bai Hao Yu takes Xia Qiao out to thank her for taking care of him the night before. Xia Qiao is found intently searching on her phone for neck pillows and massager whilst out with Bai Hao Yu. His condition last night—which Bai Hao Yu had explained as being because of fatigue—has caused Xia Qiao to go in search of something that would help him with it. During her search, she happened to come across a bracelet which had her staring at its beauty.
Bai Hao Yu goes off and buys her the exact same bracelet she saw on her phone. He comes back and puts it around her wrist, telling her how thankful he is for everything she's done for him. This is what's gotten him to buy this bracelet for her: it wasn't that he saw she liked it that had him buy it. Xia Qiao's search for neck pillows and massagers had prompted him to think about all the things she did for him during his childhood, right up to this moment, and how little he gave back in return. He expresses his hopes that their past and present be put together when he puts the bracelet around Xia Qiao.
Xia Qiao:
"When I was little, I especially liked the rain because whenever it rained, my mum would take me out to play. Pink raincoat, pink rain boots, and then I'd stomp in the puddles, splashing away. But now, none of this is possible anymore."
The rest of their date sees Xia Qiao slip-up twice. Her first slip-up takes place at a floor fountain where she heads right into the middle of it to enjoy the spray before mentioning her love of the rain. Xia Qiao's forgotten who she is: the real Li Hui Zhen shouldn't like the rain because Li Hui Zhen hates the way the rain makes her hair explode into a head of frizz. Bai Hao Yu reminds her of this fact which has Xia Qiao attempt to save the situation. She tells him that she did used to hate the rain because of her vicious curls, but now she doesn't anymore because her hair is all okay now. She pulls a lock to show him.
Unsure whether Bai Hao Yu bought her story, Xia Qiao changes focus to her bracelet as a way to avoid further reference to the past, which he lets her. However, his straightening expression says it all. Xia Qiao's inconsistencies are back to the front of his mind.
Bai Hao Yu:
"The light's green. The light's green."
Xia Qiao:
"Let's go! Why aren't you crossing? The lights will change soon if you don't."
Xia Qiao makes a second slip-up, but this time she's completely unaware she's slipped up. Standing at the pedestrian crossing together, Bai Hao Yu calls out to a preoccupied Xia Qiao about the pedestrian light having turned green. She's supposed to announce "Safe!" each and every time before stepping off the footpath, but Xia Qiao doesn't. She just acknowledges the call before walking across.
He date ends with Xia Qiao contemplating what she wants to do with her relationship with Bai Hao Yu. Back at the hotel, she gazes at the bracelet Bai Hao Yu gave her then thinks back on the time Li Hui Zhen gave her a bracelet which symbolised their close friendship. Will she choose Bai Hao Yu or Li Hui Zhen? Love or friendship?
Han Xue:
"I'd like to ask if there's a guest under the name of Lin Yimu at the hotel."
"I'm Lin Yimu's sister. I have an urgent matter which needs me to find him, but I can't get through to his phone."
Han Xue's sight is on Lin Yi Mu. Ever since she heard the Editor in Chief talk to her nephew on the phone, she's been on a mission to discover who he is; and it's led her to believe Lin Yi Mu is the heir. In order to try and get some proof, she decides she'd follow him to the hotel he's staying in Episode 14. To learn which room he's in, she attempt to trick front desk staff into giving her this information by telling them she was his sister.
Han Xue gets nowhere, though. Xia Qiao happens to be there and hears the lie. Han Xue is told no such guest is at the hotel and she's turned away. How Xia Qiao knows she isn't legit is through recalling Lin Yi Mu telling her he didn't have a sister and that he is an only-child.
Han Xue's stalking has her run into the Editor in Chief who calls her in to call her out on getting HR to supply her files on possible heirs. The Editor in Chief also has Han Xue listen to some advice. She tells her that love can't be forced. She should use true love as her eyes to look for love. She should put energy into love and be serious, because only then will love recognise her.
Lin Hu Sheng:
"Rumors say that Diviner is a 40 or so year-old Chinese."
Lin Hao:
"You believe that? People also say he's a robot."
In She Was Pretty, it was 'Who's TEN?' In Pretty Li Hui Zhen, it's 'Who's Diviner?' Episode 14 ends with introducing Diviner, a famous writer who's never been seen by the public. No one knows who he is or what he looks like. The Immortal team talk about the speculations going around which has Team Leader Zhu Ying share a theory that this Diviner might be someone close by—within their team in fact. Just based on the traits of the characters in Diviner's book, they resemble many of her team.
Discussions feels like it's shortlisted two with how it was rumoured Diviner is a 40 or so year-old Chinese. So Diviner could be Diviner. The other is hinted to be Lin Yi Mu. Pay attention to whose shoulders Zhu Ying drapes her arm over as she shares her theory. Her arm looks to be the subtle hint, which leaves just two in the running for who the heir is!
It's been a while since we watched She Was Pretty, but we vaguely remember it was during a night out between the two when Min Ha Ri (Xia Qiao) made her move and kissed Ji Sung Joon (Bai Hao Yu). So, seeing the date come in between Bai Hao Yu and Xia Qiao, we were expecting to see if there was going to be a kiss between the two. There was no kiss. Did we remember incorrectly? Was it not this point that Xia Qiao should be making a move? We were kind of curious how Pretty Li Hui Zhen was going to do this scene, but it looks like maybe they won't be including this scene.
Another scene which we were curious to whether Pretty Li Hui Zhen would include or adapt is the part where Kim Shin Hyuk (Lin Yi Mu) comes out of the shower, after which the towel around his waist drops to the ground. This scene isn't there, if anyone is curious, too. Got to say, we're a little disappointed. Just kidding. We're not seriously disappointed, but it was a really funny scene in She Was Pretty. :oP :oP.
Han Xue, we're not fans of this character. She's hard to like. She's shallow with how she's only after Lin Yi Mu because he might be an heir to a conglomerate and she takes advantage of interns, getting Li Hui Zhen to do her task just so she can get off work on time to go out with friends. The Korean counterpart was like this, but somehow she comes off a lot more dislikable than her Korean counterpart. =.= =.= But she does work to continue one of the story's main themes of following one's heart and not what the eye sees.
We can't wait to see Bai Hao Yu start liking Li Hui Zhen. Bai Hao Yu's gift to Xia Qiao, although he may have gone and personally thanked Xia Qiao and bought her a bracelet, it feels so much like it's out of gratitude and debt for the past. Li Hui Zhen might not have gotten a thank you, but his concern for her, the medication he immediately went and got right after he found out she was sick counted a lot more. We think right now, Pretty Li Hui Zhen is around She Was Pretty Episode 6, so it won't be too many more episodes before we start seeing the story track towards some really good parts! As always, cannot wait too see how these parts of the story will be adapted!
ADVERTISEMENT