We try not to buy things from overseas that have batteries in them. We worry that parcels might be stopped at the border because of the shipping restrictions that come with sending anything with batteries in them. But then we came across this interesting gadget online earlier this year—a watch phone which had a lithium battery in it. This watch phone can be paired up with an Android smartphone as well as having the ability to make calls with or without the smartphone. What a cool gift that would make! So, after checking to make sure the phone would work on our mobile networks as well as checking its battery specifications met shipping restrictions, we went and placed an order for the parcel. We clicked our favourite method of shipping—China Registered Post—on Aliexpress.com (this is the place we go to buy most of the goods we can't find here now). Sending via China Registered Post was often offered as a free shipping method, we can track it and we've never had any parcels go missing with this shipping method.
So, after the order is complete, we go through the usual payment verification steps that Aliexpress.com has before the parcel is prepared to be shipped. Everything is as expected until the part where we get the tracking number. Instead of receiving the usual China Registered Post tracking number with its suffix ending in "CN" to indicate the parcel has been posted from China, we receive one where it ends in "NL" indicating that it has been shipping out of the Netherlands. The tracking number still had the standard tracking number format of two letters at the front followed by nine numbers and the country suffix so it's a valid tracking number. So that checks out. The tracking number didn't return tracking information for a number of days though. Normally it takes about 48 hours for tracking to show. We went back to the seller about the lack of tracking information and was advised to wait another few days. A scan appeared the next day (so the third day after receiving advice that the parcel has been shipped) with it saying that the "item is pre-advised".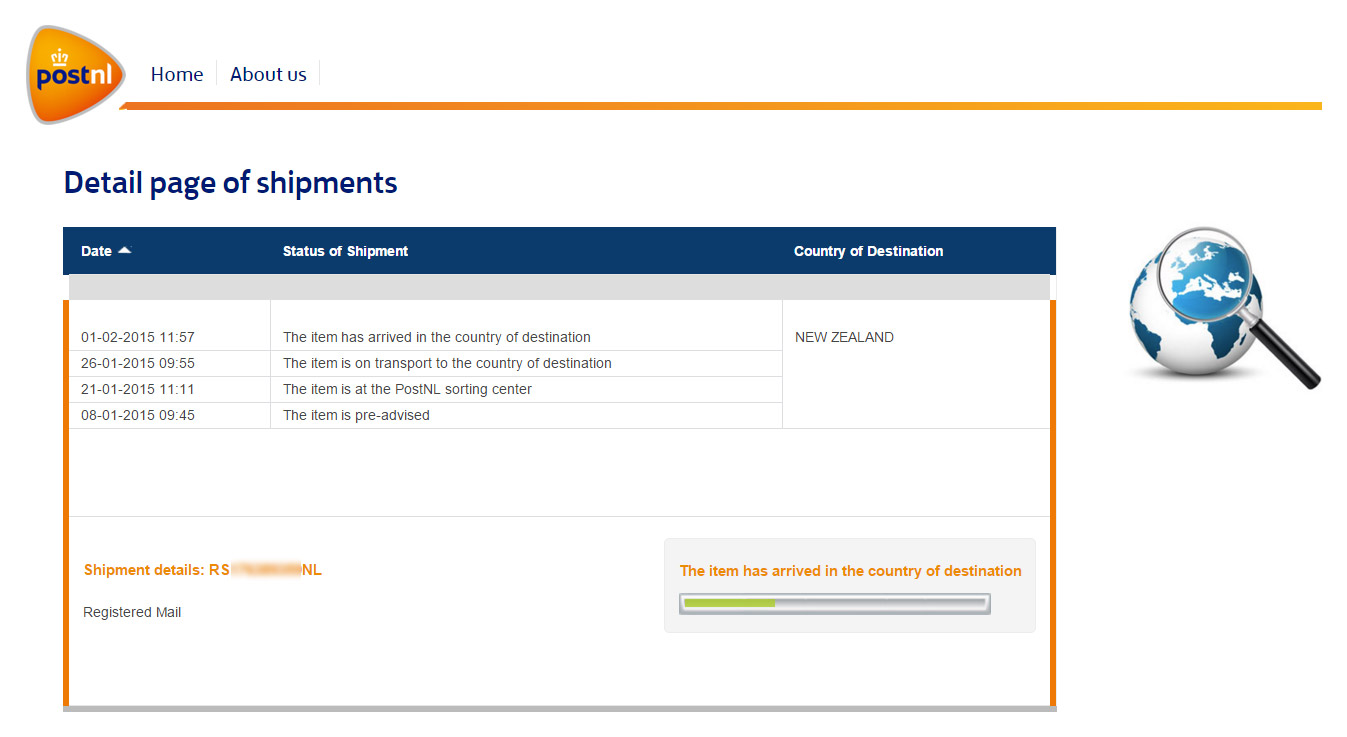 What does 'item is pre-advised' mean? It means that the seller has contacted Netherlands Post and have advised them that a parcel is coming their way, that they should expect to receive it. The parcel will then be processed by their sorting centre, pass the checks and then finally be dispatched to the destination country. The 'item is pre-advised' status stay that way for almost two weeks—13 days to be exact—before it made it to the Netherlands. We couldn't find information on how long parcels take from China to the Netherlands to arrive, but parcels being sent from the Netherlands to China takes about 9 – 15 working days. We imagine parcels being sent from China to the Netherlands would be roughly around those timeframes so if we go off from that, the arrival time is within the estimated arrival times. After that our parcel arrived into New Zealand within the delivery targets of 6 – 10 working days, taking 7 working days! Pretty fast.
So, altogether, from the shipping to delivery, it took about a month for us to get our hands on our watch phone. It's on the longer side for a parcel coming from China—usually parcels from China take around two weeks—but because the parcel was travelling through an extra country longer delivery times should be expected. Just a bit of information which we should mention: the reason why our parcel was forwarded to the Netherlands before coming here is because China Post has classified lithium batteries as a prohibited good since mid-2013 and will not carry and ship parcels containing them. We're not sure how the seller gets the items that contain lithium batteries out of China to the Netherlands, but we're just going to assume they have other methods—perhaps another shipping agent—to get it out of China to the Netherlands and then to us here in New Zealand. This explains why our parcel was being sent to the Netherlands and we were provided a Netherlands tracking number instead.
So, next time you buy anything online from China which contains a lithium battery and the seller claims to offer China Registered Post, you will not receive a China Registered Post tracking number. You could get a Netherlands tracking number instead, or maybe a Singapore tracking number—we've had items with lithium batteries being sent from there. Parcels containing lithium batteries will take quite a bit longer to get to the destination country since it is passing an extra country before getting to the final destination. At the end of the post we've included added a couple links to China Post's delivery times as well as Netherland Post which might help the anxieties that come with waiting for a parcel to arrive :oP :oP. Also is a link to the shipping restrictions for lithium batteries imposed by IATA.
Delivery Times for China Post and Netherlands Post:
China Post Arrival/Delivery Times – This is China Post's latest released report on the shortest, average and longest arrival times for a parcel coming from China Post for January 1st 2015 to May 31 2015. Not all countries are listed.
Netherland Post Delivery Times – PostNL (PDF) -This is Netherlands Post's list of the estimated delivery times for parcels coming from the Netherlands.
Lithium Battery Guidance Document 2015 – IATA.org (PDF) – This is a guide details the restrictions for sending and packaging lithium batteries as well as what documentation is needed to send lithium batteries.
Additional comment – 26 Jan 2017
We had another parcel from China that went through PostNL. This was a parcel containing a power adapter / standalone battery for a laptop. The parcel got to us much, much faster. The 'item is pre-advised' status stayed only for 4 days this time round before it started moving through the postal network and arriving at our doorstep 6 working days later!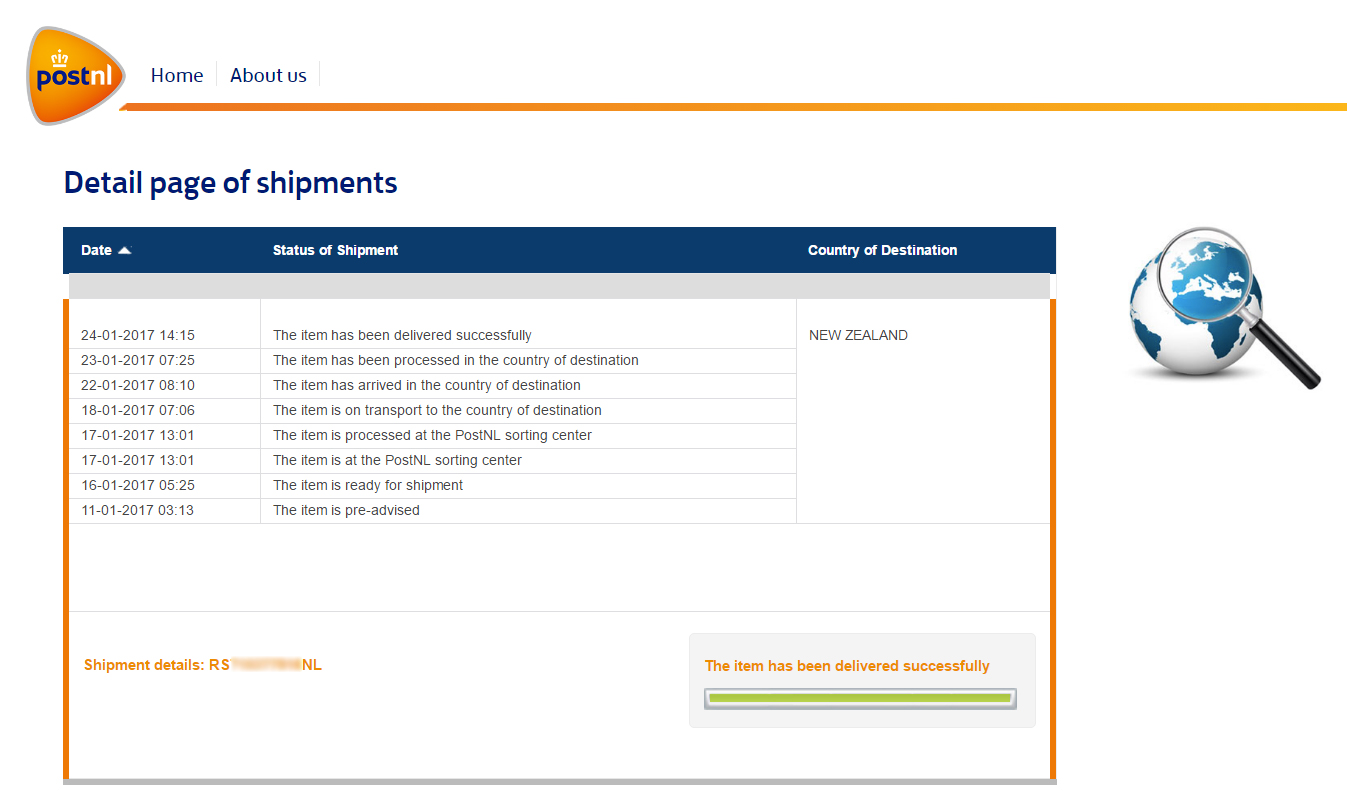 ADVERTISEMENT