Star Trek: Voyager - No One Else
Fans continue a relationship that the producers and writers of the series started, but never explored. We put together an eBook of some of the best Janeway and Chakotay fanfiction out there that we've come across and have enjoyed reading.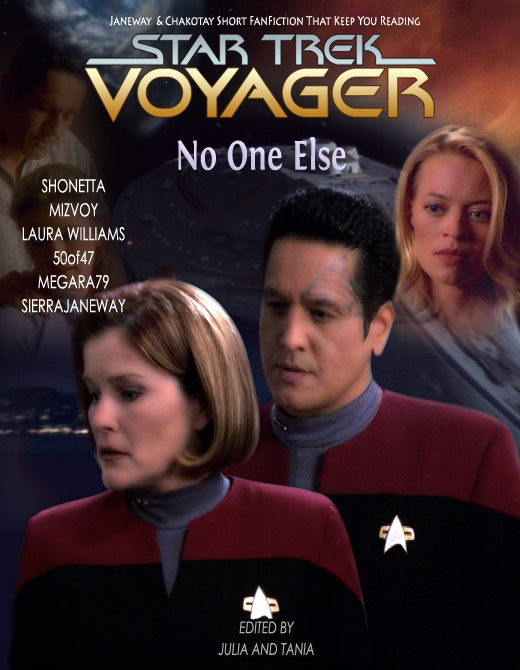 Authors: Various Authors
Publisher: Julia and Tania
Rating: PG
Genre: Sci-Fi, Adventure, Drama, Romance, Fanfiction
Free to Download
Six fantastic Janeway and Chakotay authors, seven awesome Janeway and Chakotay fanfics feature in "Star Trek: Voyager, No One Else". Get ready for a bit of drama, a bit of romance, and a bit of science fiction, adventure and angst. Get ready for Janeway and Chakotay!
Stories in Star Trek: Voyager, No One Else is based on CBS Studios Inc. science-fiction television series, "Star Trek: Voyager".
Available Formats for Downloading
EPUB
(For Apple iPad / iPhone, Barnes & Noble Nook, and devices that support the .epub format; PC and MAC desktop reading.)
Helpful Information
Julia and Tania comments:
Over the years we've read a lot of Janeway and Chakotay fanfiction and have compiled a good list of the most interesting Janeway and Chakotay fanfiction written. Seven or eight were really good one-shots. We had hoped to include them all into a portable eBook form for all you Janeway and Chakotay fans. Unfortunately, the series had ended over a decade ago and a lot of the authors had disappeared off the site we had built up this list on, so we couldn't get a response from them to include them. Still, we are really excited we managed to get these five authors and their fanfics. They are some of the most interesting Janeway and Chakotay stories we've read. The characters are close to the ones on the show; they have a bit of sci-fi (so it feels very much like we're in the Star Trek world and not some alternate reality world where the characters and environment are a bit off or completely different), a bit of drama, and a bit of romance. Most importantly, they keep us reading from start to end.
Update 01.11.2011: We've been fortunate enough to hear back from another author, and she has given us permission to publish her two stories in this eBook collection. So, we have uploaded a second edition of the eBook to include and share more fantastic Janeway and Chakotay fanfiction.
Update 31.08.2012: Error in Friendship story has been corrected.