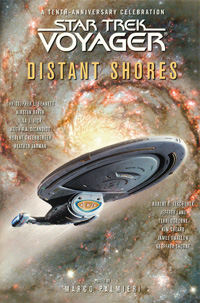 You have to be quite a fan of the CBS science fiction series, Star Trek: Voyager, and to have followed it from the pilot to the finale to truly appreciate Star Trek: Voyager – Distant Shores, with each chapter delving into untold stories of the U.S.S. Voyager crew.
The opening chapter begins with the end scene of the one-hour seventh season and series finale, "Endgame", with the future Janeway releasing a virus into the collective and the Borg, the Borg Queen and assimilated Janeway slowly becoming immobilised by it. Janeway's conscious floats and wanders to places of the past. The stories from points in time in Voyager's journey then begins, telling experiences of particular characters that is not seen in the television series.
There some memorable chapters such as the chapter that focused on Talent Night, an item that was pass-mentioned at the opening scene of the third season episode, "Coda", and a couple chapters that focused on Seven of Nine. Those were captivatingly written and a joy to read. There was one chapter that focused on the relationship of the captain and the commander. It offered more than what the show offered, but fans of the pairing, it was disappointing to say the least. However, as stories in the book are inserts in the timeline and events of the television series, it's understandable as not much could veer from what's already been written.
An interesting relationship that was brought up in the book was B'Elanna Torres and Harry Kim. A chapter revealed B'Elanna's thoughts of Harry as a potential suitor. This was a very surprising thing to have read.
And so, the strength of this book is that it give more development to the characters, describing thoughts, worries and vulnerabilities that wasn't apparent in the show. In this respect, it was what kept pages turning; however, the book as a whole was lukewarm; good, but not spectacular. The book was a good read, a nice collection of stories that brings back fond memories of the show, but not a book that makes you want to go find other fans of the show and talk excitedly about it.
Leave a Reply
You must be logged in; or be connected via Facebook, Twitter, Google, or Wordpress to post a comment.