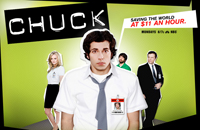 It's been over a week since the last episode of Chuck's second season aired in New Zealand. It's been a tough week; we haven't been able to eat, sleep or carry out basic tasks because we haven't had our Chuck fix—just kidding. We do miss it though. It is such an entertaining series. We love everything about the show: the humor, the action, the characters, the relationships; each and every episode never fails to keep us watching and wanting more.
So to find out that due to low ratings and stiff competition from other networks Chuck had been facing possible cancellation in the US, we were surprised. How can NBC (the network carrying Chuck) think about axing Chuck after revealing that the once clumsy Chuck can now take down a team of trained spies without so much as a bead of sweat appear on his skin?
Fortunately, thanks to a fan-initiated campaign, Chuck was saved from such an outcome. It seems NBC has decided to order thirteen more episodes of the series, making up Chuck's third season. Although the season contains as many episodes as the first, it is definitely not a full season, falling short of nine and with budget cuts. We may have a third season, but Chuck's future doesn't look very promising.
In saying that, we urge fans of the series to sign the online petition to save Chuck from future cancellation located at PetitionSpot.com. Currently there are 41,000+ signatures (target: 100,000). We're not sure if these online petitions get noticed, but maybe with enough signatures, it will; and we fans can persuade NBC to keep it on past this short third season.